Less-is-more Shaker Suffolk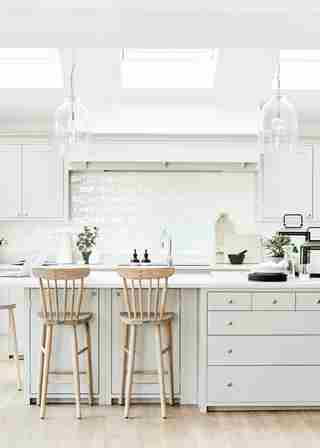 Less-is-more Shaker Suffolk
One kitchen, endless possibilities
If there's one kitchen in our collection that's truly capable of any and every personality, it's Suffolk. Its utter simplicity makes it a blank but beautiful canvas onto which you can create a look that's traditional country, minimal contemporary, colourful and urban, or anything in between.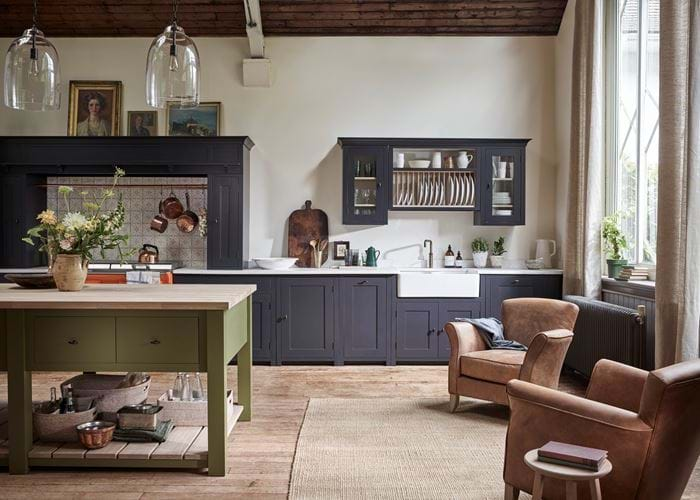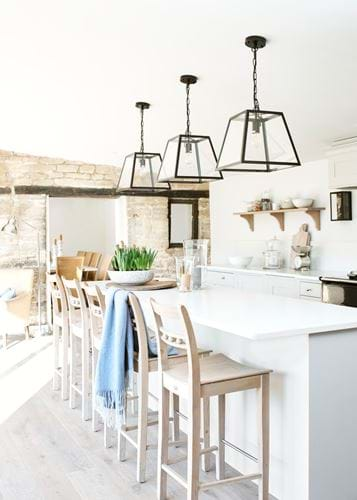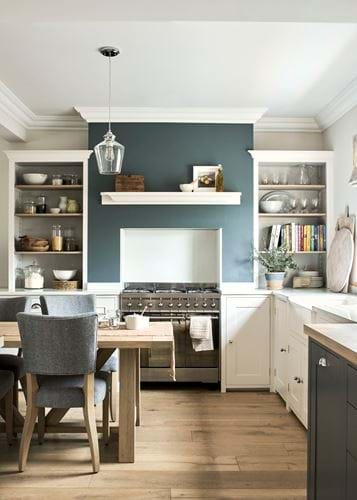 What makes Suffolk unique?
Neptune kitchens have lots in common. They're all made from natural timber, they all have an eggshell painted finish, and they're all designed to be proper pieces of furniture in their own right. But, they've all got a handful of details that make them different to one another too…
Oak interiors
When you open any drawer in Suffolk, instead of a painted interior you'll be greeted by natural, characterful oak. While in the cupboards, it's a combination of the two that'll meet your eyes.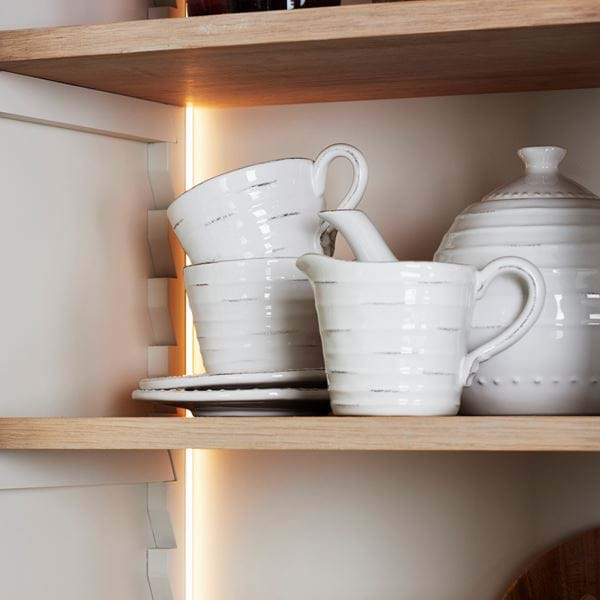 Subtle strip lighting
You can choose to have thin LED strips inside any of your Suffolk cabinets to help you see what's inside. Use them inside glazed cabinets and they'll provide a warm background glow come evening too.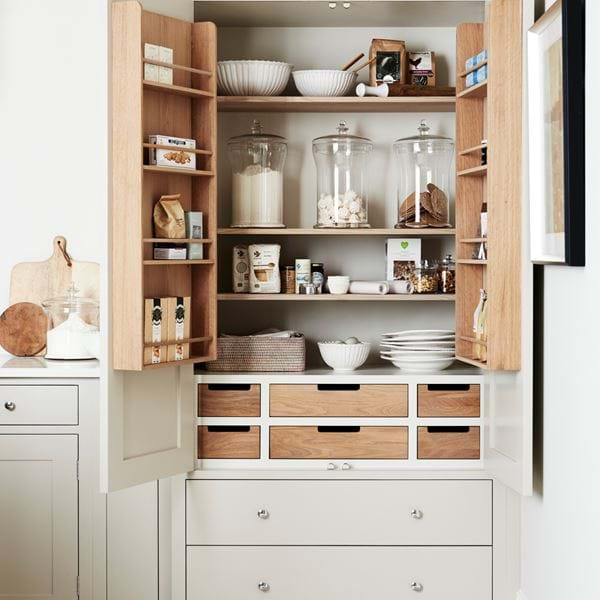 Our largest larder
Suffolk's the only collection with a full height, double door larder. It's a real showcase piece with cavernous storage space, including door racks, vegetable drawers and an optional marble shelf.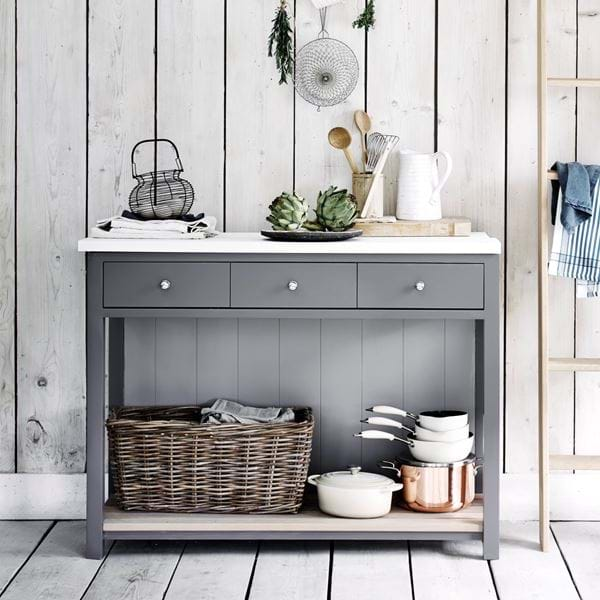 Freestanding potboard
This slim design is almost like a kitchen's console table. Position it on its own or at the end of a kitchen island to give you extra chopping space or, when topped with marble, a spot for making pastry.
Suffolk's colour options
Besides work surfaces, handles and cabinetry configurations, one of the ways you can make Suffolk your own is through our custom paint service. Although it comes as standard in Driftwood with Silver Birch and oak interiors, you can choose from any of the 28 hues in our core paint library (and any of the many more in our archive) to colour your cabinetry.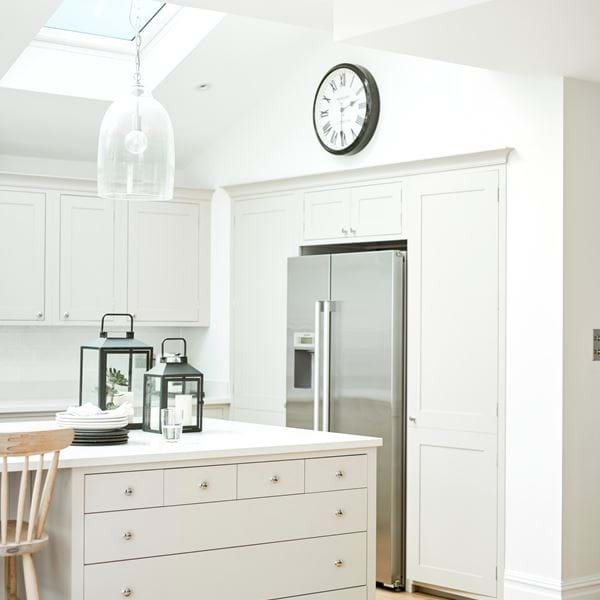 The cabinets
Our designers are there to help you create the perfect cabinetry configuration for you, but so you can see all the different options at your fingertips, we've gathered all the base, wall, countertop and full height cabinets for Suffolk together here.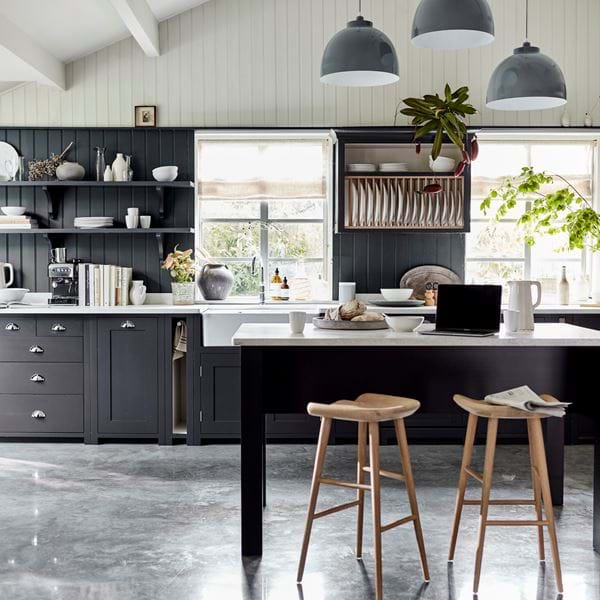 Real Neptune homes
Get extra design inspiration by having a look around some of the kitchens designed, lived in and loved by our customers.
Claire, Alastair & their Suffolk kitchen
A Cactus green kitchen that blends seamlessly into a living space.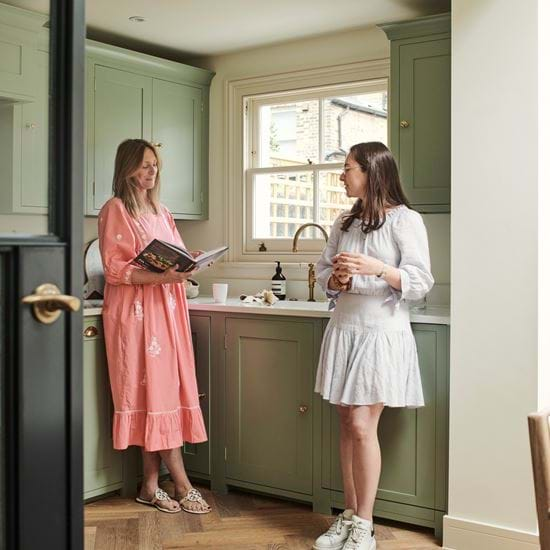 Izzy and her Suffolk kitchen
The renovation of a small London kitchen that was a truly collaborative family project.
Keep reading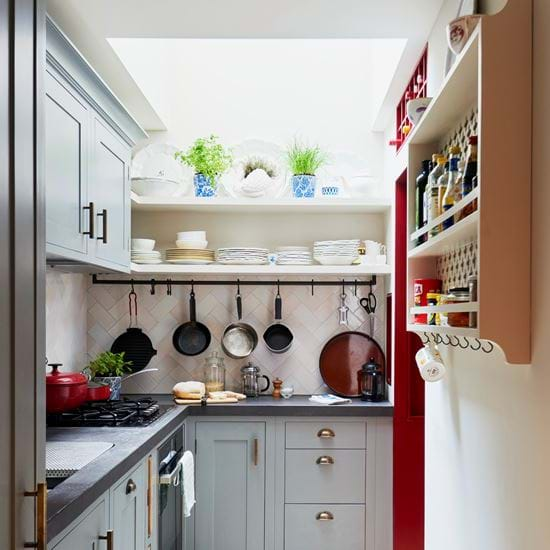 Sue Crewe & her very small, very bespoke Suffolk kitchen
Former editor of House & Garden magazine, Susan Crewe, invited us into her Regency townhouse …
Keep reading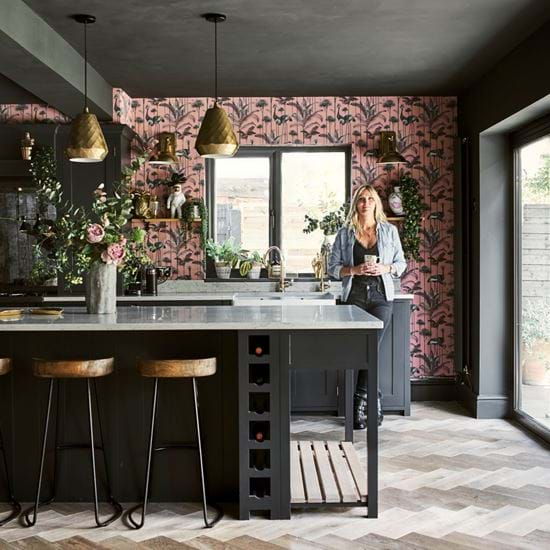 Vicki & her Suffolk kitchen
Behind the doors of this Surrey home is a not so muted, not so understated, not so classic Suffol…
Keep reading
The Charlecote island
While your designer can build you an island using fitted Suffolk cabinetry, there's also the option of our freestanding Charlecote design. It can be configured in various ways, to suit kitchens large and small and needing storage or seating (or both). Charlecote can pair with any of our collections but, being equally as disciplined in its design, it's Suffolk that is its perfect partner.
See our kitchens in store
Our website is a good introduction to our kitchens, but nothing beats seeing them in person. You can explore all four of our collections in just about any of our stores (where rooting through cupboards and peering into drawers is very much encouraged), and you'll also find that each one usually sits side-by-side with a dining area or perhaps even a laundry room to give you a real feel for how they'll look in your own home.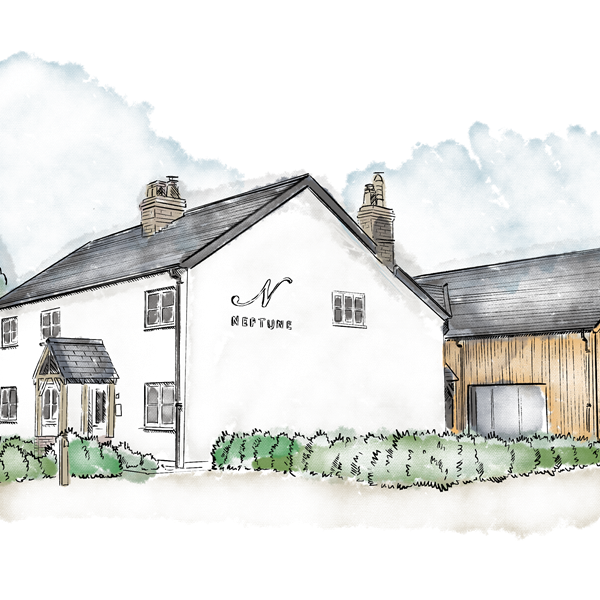 Discover all our kitchens
There are three more designs in our kitchen collection, each with its own cabinetry style and personality, but each as timeless and beautifully built as the next. So if this one isn't quite right for you, another might be just the ticket.