Claire, Alastair & their Suffolk kitchen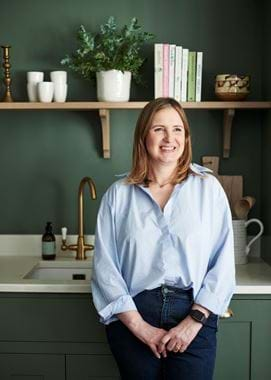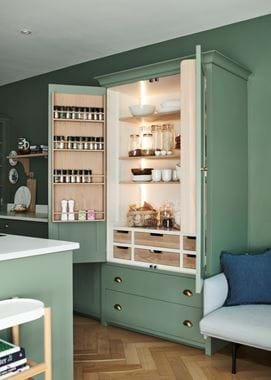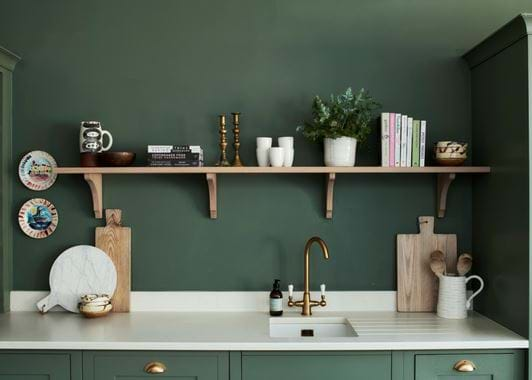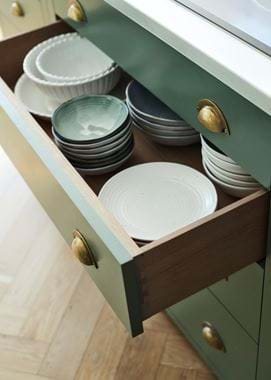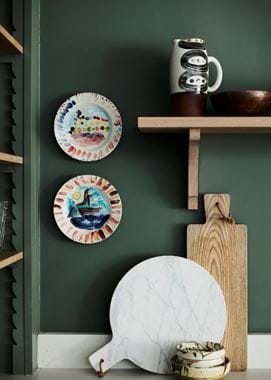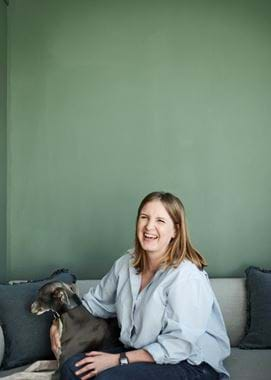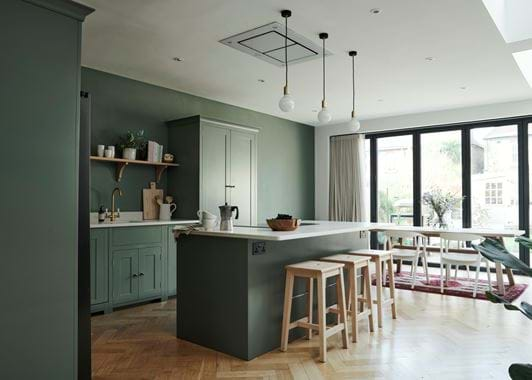 Claire, Alastair & their Suffolk kitchen
For professional organiser Claire, founder of My Favourite Space, and her husband, Alastair, reconfiguring the ground floor of their west London home afforded them a generous open plan space for family life. The challenge? Creating a kitchen that was functional and easy to keep in order, but that also worked as a whole with the rest of the room.
Home profile
Nestled in the leafy west London suburb of Ealing is the Victorian semi-detached, five-bedroom home of Claire and Alastair, daughters Rose, Ella and Maija, and Otis the dog. Works began some years ago with a loft conversion to create two new bedrooms and a bathroom. A first-floor utility room followed later, taking the place of the smallest of the property's bedrooms. Finally, in 2019, Claire and Alastair embarked on a ground floor side return extension, creating one expansive space to encompass their sitting room, kitchen and dining room.
The project
Though the upper floors of Claire and Alastair's period home have seen much change over the years, the ground floor remained largely untouched. The layout – comprising a large (but mostly unused) sitting room and a dining room leading into a small kitchen with little light – had become increasingly impractical. And so, in 2019, the couple set about rectifying the issue. 'It was a project several years in the making,' explains Claire. 'But we finally committed to gutting, extending and reconfiguring the entirety of our downstairs space.'
Once the structural works were complete, Claire and Alastair were rewarded with an expansive, open plan layout. 'We opened most of it right up. You can now see from the front of the house all the way through to the garden! It did force me to consider exactly how I wanted the kitchen to be laid out though. I didn't want it to look too "kitcheny" because it was also now a part of our living space,' she reflects.
This in mind, and armed with a recommendation from Claire's mother (herself a Neptune kitchen owner), the couple chose Suffolk for their cabinetry, painted in deep Cactus green. 'We worked with Neptune Chiswick on the design, and their kitchen designer, Ieva. I like Shaker style, and didn't want anything too fussy, so Suffolk felt like the perfect balance,' explains Claire. 'As for the colour, we'd seen so many inspiring green kitchens and decided it was time to try it for ourselves. By painting the cabinetry and part of the wall in the same colour, it's helped to make the kitchen feel more integrated into the room.'
While considering the amount and location of the cabinetry, the couple applied the same thought process. Opting for drawers over cupboards and shelves over wall cabinets, along with a less-is-more approach to the amount of cabinetry, they've ensured there's just enough, but not too much, storage space. 'When you have a large area, it's tempting to simply fill it with cabinetry. I wanted ample work surfaces, but not surplus storage encroaching on the room,' she clarifies. 'We have a generous island with drawers, and Ieva designed a bespoke piece for the corner of the L-shape layout for storing glassware. Knowing I wanted a sofa to nestle in at one end of the run of cabinetry meant we had to find just the right cut off point.'
Being in the business of organising, for Claire, functionality was always going to be a primary concern. 'There were a couple of things I wasn't willing to compromise on,' she says, smiling. 'Firstly – drawers not cupboards. I find them much easier to keep clutter-free. You can never find things at the back of cupboards anyway! The same goes for open shelving over wall cabinets. Shelves are much more accessible, and you can dress them to suit your style and space. The second was our double-door larder, which I wouldn't be without. I didn't want our appliances out on the work surfaces, so they live here along with all our dried goods.' Alastair, meanwhile, had his own stipulation: 'He was very firm when it came to the location of the hob. It's integrated into the island, which looks onto the room – and towards your family or guests – while the sink faces the wall. Family life seems to rotate around the island now.'   
Life in their new kitchen
What's your favourite thing to do in your new kitchen?
'I do a lot of gardening, so I'm often busy planning my next project at the table, helped by the view onto the garden through our bifold doors. As a family, we seem to spend more time socialising around the island or on the adjacent sofa than anywhere else!'
How do you keep your kitchen organised?
'For me, it was about having an edit, not an excess, of things – and of storage. The Neptune drawer inserts have been brilliant. And I love the spice racks on the inside of the larder doors – they're invaluable. I do have one cupboard above the cooker, but I only use it to store things that are used daily. It's tempting to fill it with more, but then it wouldn't be as practical.'
Any further plans?
'We'll be tackling our bedroom next. It has a built-in wardrobe that precedes us and isn't the best use of space. There's also a non-original fireplace with a large chimney breast taking up prime floor space, so we'll be removing that too.'
To start designing your own kitchen, book your first, free consultation with the designer at your nearest store, or take a closer look at our collection and what to expect from the design process here.