Material matters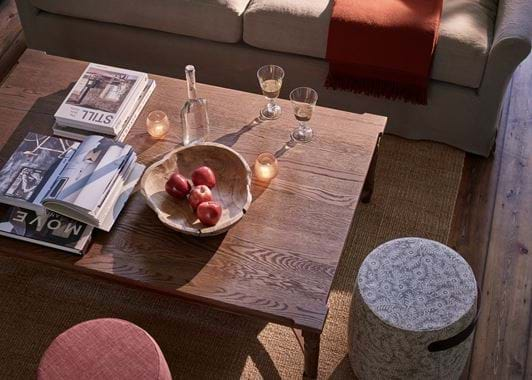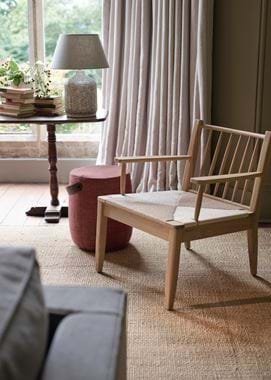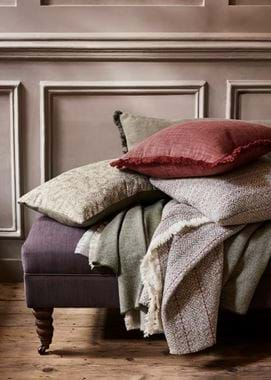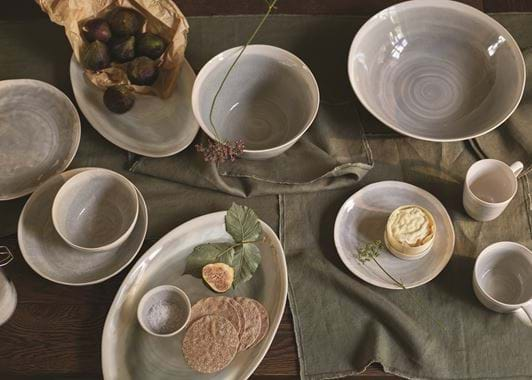 Material matters
Good design asks for the right materials to elevate it into something special. So, we've turned our attention this season to creating new textures and finishes – combined with our trusted woods and fabrics – to make our autumn collection more exciting than ever.
We love wood
The raw warmth, the unique grains, the versatility – it has so much going for it, which is why we've been working with different timbers for over 20 years now. Honing, refining, staining, smoothing. And we have favourite woods – tulipwood for its fine finish that's easy to paint, American oak for its solid reliability, character and sense of heritage. But this season we wanted to combine those trusted woods with new finishes and textures to increase that sense of tactility on everything we create. From natural linens and wool, sheepskin, bronze and stoneware, to hardwearing hemp and jute, all tell stories of craftsmanship and creativity that have stood the test of time.
For years, we've mixed natural and painted wood finishes in our collections, (notably in the Henley kitchen, where you can combine oak and painted cabinetry), but our new Ardingly drinks cabinet is the perfect example of established and new materials coming together harmoniously. Painted tulipwood cabinetry, darkened oak legs and cool Carrara marble are the building blocks, finished with Black-Bronze hardware, mirrored panelling and subtle lighting. It's a combination that makes Ardingly uniquely adaptable: the optional marble worktop is great if you're using the cabinet as a larder or for serving drinks but can be removed, revealing the timber surface, if your Ardingly is destined to be a TV cabinet or desk.
Elsewhere in the collection, the new Wycombe occasional chair is an elegant combination of a traditional oak frame with a seat woven from rush fibre – a durable, twisted paper cord which is as giving and comfortable as it is sturdy. This seating technique was used regularly at the beginning of the 20th century after being made popular by Arts & Crafts champion William Morris, and revived again from the mid-1900s by Scandinavian designers.
Our ceramics
Our ceramic tableware also looks back to traditional craftsmanship and focuses on stoneware which is strong, waterproof and durable. While the Fenton collection is made from fine bone china for slightly more formal dinnerware, the organically shaped, stoneware Lulworth collection, the patterned Olney collection and the Lowther mugs are hardy enough to be used in the dishwasher and microwave. And the Stanton display bowls are a show-stopping addition to any tabletop. Carved from the roots of sustainably managed teak trees, they're a brilliant way to bring lots of natural texture into your home.
Our textiles
Textiles focus on natural finishes too: the pure Harris Tweed Olive wool is soft, strong and breathable, keeping you warm in winter but cool in warmer months – just the thing for sofa upholstery. And the Harry Belgian linen collection has been re-imagined in Rose Hip, a crimson red that feels richly historical, especially combined with walls painted in Olive. Our new Redford log baskets are made from beautifully textured seagrass rush, handwoven in Bangladesh, while for flooring, the Whittington is a rug woven from hemp, a plant-based, vegan-friendly material stronger even than wool and very forgiving of marks thanks to its variations in tone.
The focus on materials and textures has never been more important. Not only are they a way to bring depth and texture into a room, but natural fibres, organic materials and sophisticated finishes like marble and brass can turn beautiful shapes into extraordinary objects. Pieces that you – and future generations – will treasure forever.
You can explore all our new designs online here but we know that, when it comes to materials, nothing beats in-person. You can see (and touch!) our autumn collection in store, but just call ahead if there's a particular piece you'd like to see, as some will be arriving in store a little later than others this year.