Bonfire Night feasting: 'toffee apple' tart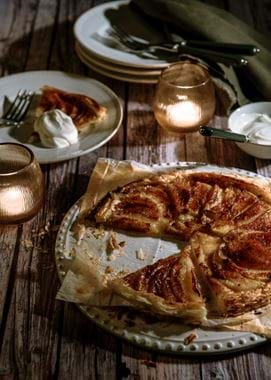 Bonfire Night feasting: 'toffee apple' tart
Crisp autumn apples dipped in toffee have always been – and will always be – one of our favourite Bonfire Night traditions. But for those of us that might prefer a more sophisticated dessert this 5th November (or one that's less likely to send us to the dentist), the team at our café, The Provenist, have created this tart recipe that captures that delicious sweet-sharp, honeyed flavour, without quite so much sugar. It's the dessert to their other seasonal tart for this year – pumpkin, goat's cheese, thyme and red onion – which you'll find here.
'Toffee apple' puff pastry tart
Makes enough for: four–six
What you'll need
3 cooking apples peeled, cored & thinly sliced
½ a lemon
A ready-rolled sheet of puff pastry
1 tbsp milk
30g soft, light brown sugar
5g cinnamon
1 tbsp honey warmed
Plain yoghurt
(You can quite easily make this tart suitable for vegans – you'll just need to swap the milk, honey and yoghurt for your favourite plant-based alternatives. Many ready-made brands of puff pastry are already vegan-friendly, but do check the label.)
What to do
Preheat the oven to 200°C. Peel, halve, core and thinly slice the apples then place them in a mixing bowl filled with water and the juice of ½ a lemon to stop them browning.
Roll the puff pastry out and cut a large circle measuring 24cm wide.
Drain the apples and carefully layer them onto the pastry in a circle so they overlap, leaving a two-centimetre border around the edge.
Crimp the edge of the pastry and brush with a little milk, then mix the sugar and cinnamon together and sprinkle over the apples.
Bake your tart in the oven for about 35–40 minutes or until the apples are caramelised, brushing on the warmed honey as a glaze for the last ten minutes.
Remove from the oven and serve straight away with a dollop of yoghurt.