Hornbeam Lane & their Chichester kitchens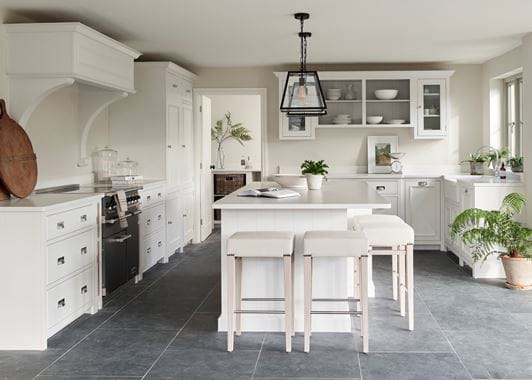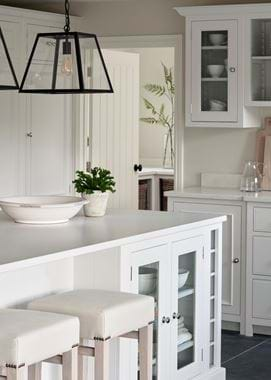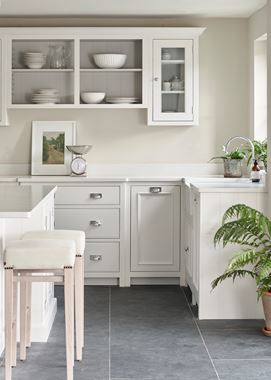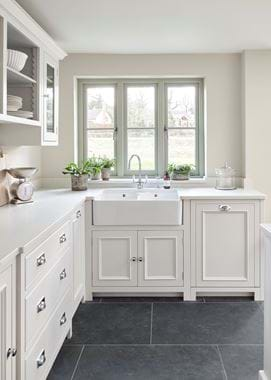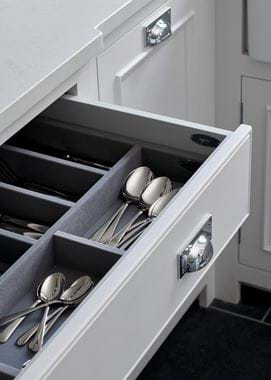 Hornbeam Lane & their Chichester kitchens
Our real Neptune home stories generally follow the path of speaking to people who have chosen to bring Neptune into their homes, be it a kitchen, a bootroom or any room in the house. But in this article, we hear all about a new-build property that comes, ready-made, with our classic, country-inspired Chichester kitchen.
Home profile
Hornbeam Lane is a new development of eco-conscious properties – the idea of James and Will Habershon, the developers and brothers behind the project – tucked away in a small village called Leigh-on-Mendip near Bath. And, in one of its seven properties (five of which have already been sold and range from luxurious two-bed bungalows to sprawling five-bed detached homes), lies a meticulously-designed Neptune kitchen waiting for its new owner.
The project
Habershon Land is a development company that designs well-appointed, highly considered, new-build properties for people wanting the convenience and reliability of a brand-new home, but one still with integrity and character. "We like to think of ourselves as a niche, boutique developer that's more about beauty than bog-standard box buildings," explained James, co-founder of Habershon Land. "We try to always build on brownfield sites to protect the countryside as much as we can, we champion renewable energy in all of our homes (so that our home owners also benefit from cheaper energy bills), and we're not all about profit margin. We actually take a hit on profit a lot of the time because of these aspirations."
James and Will found the site for Hornbeam Lane and knew it was perfect for them straight away. "Of course, we had to do some digging – figuratively and literally – to be sure it was right, but we grew up not too far from there. We have a real love for the area," James continued.
When it came to designing the interiors for its properties, Habershon Land took pride in choosing fixtures and finishes that were anything but run-of-the-mill, but equally suited the different price points of the buildings. "For our two largest homes, we wanted to explore our kitchen options further to see if it was possible to have a local, high-end kitchen brand design, supply and fit," James explained. Neither James nor Will had in fact heard of Neptune, it was by pure chance that James met Neptune's co-founder John on a sailing holiday in Sardinia and got talking. "As John spoke, I kept thinking to myself, this is everything I believe in. He invited us to Neptune's HQ in Wiltshire and we were blown away. It felt very much meant to be and we begin designing our two kitchens almost straight away."
James and Will chose the Chichester kitchen collection, feeling that it suited the countryside setting of their development and offered a touch of traditional character to offset it being a new-build. "We wanted to make sure it felt like the future owners were getting their dream kitchen – or as close to it as we could because nobody has the same dream after all. An island was a must, the uplifting Shell colour palette too because it's so light and airy, and Kelly – the designer at Neptune who worked with us – suggested a laundry room for each home too. It was an aspect we hadn't considered and it elevated the kitchen even further. The kitchens are a work of art, the design process was unbelievably well-handled and smooth. The fitters painted the cabinetry so meticulously post-fitting too so that they were literally perfect. I honestly couldn't complain."
Out of the two properties on Hornbeam Lane with a Neptune kitchen, only one remains. "The lady who bought the other plot told us that it was the kitchen that sold the house to her," James added. Perhaps when the final Neptune kitchen meets its new owner, we'll be able to come back to hear all about life in their made-to-measure Chichester kitchen.