Nessi & her Suffolk kitchen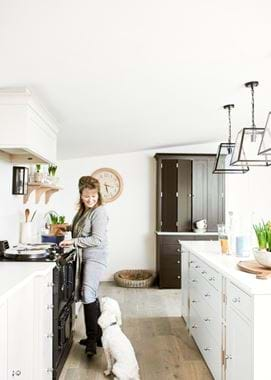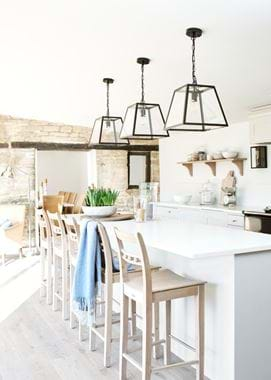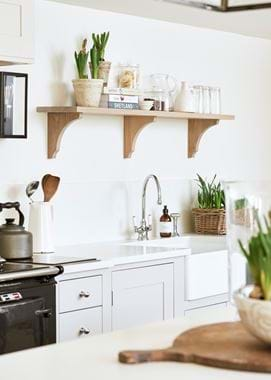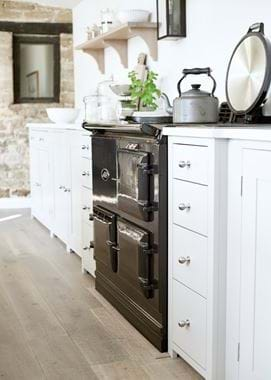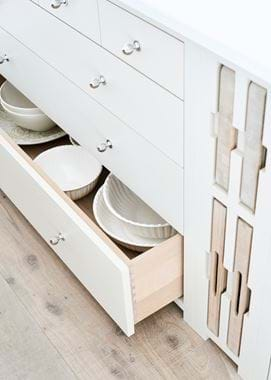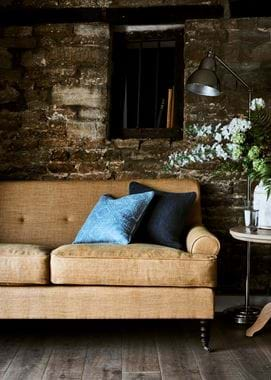 Nessi & her Suffolk kitchen
Light, bright, spacious and airy – it's an environment that always suits our Shaker-inspired Suffolk kitchen. And in the home of Nessi and her family, its simple, linear layout only adds to the less-is-more character of the Suffolk collection.
Home profile
This Suffolk kitchen is home to Nessi, her husband Simon and Monty the Cockerpoo. Then there's their 'part-time children' as Nessi refers to them – Will and Grace, who are busy studying at their respective universities, Cardiff and Newcastle. The family moved into their thatch-roofed and honey-stoned home in the village of Oundle near to Peterborough in June 2017. It was formerly owned by two artists who had extended past the carport to create an at-home studio, which Nessi and her family transformed into a large, open-plan kitchen.
The project
Nessi's kitchen renovation was one that involved much more than cabinetry decisions. They began by redefining the entire space and did a huge knock-through so that the artist studio was connected to the main house. It gave the kitchen a far bigger footprint and also created room for a downstairs loo and separate utility room. "One thing we couldn't change because of planning restrictions however, was the sloped roof. It's one of the reasons we don't have any wall cabinets – there isn't really the room. Our Neptune designer also advised it would look too bulky in our room and oak shelving would be better. And I couldn't agree more," Nessi explained.
It was our Reading store where Nessi first became familiar with Neptune. Before the move, she lived further south and it was her local store. One that she visited many a time to browse our designs and get inspiration for her home. "It's where my aspirations for interior dreams really kicked in. I would think to myself, one day, that's what I want. Once I'd seen the kitchens that was it really. I didn't even want to look anywhere else. Seeing them all in-situ was a turning point for me. Decision made. Neptune are a bit of a drug really aren't they? I'm addicted for sure," she continued.
It was the Suffolk kitchen that Nessi chose for her family's home. She liked Chichester, and wanted a look that was country, but it was Suffolk's simplicity that appealed most. "I loved its clean lines and I thought it would help me to become the tidy, organised person that I long to be!" she laughed. On her wish list was a large breakfast bar or island so that there was somewhere that people could gather. "We're always entertaining, and you know what it's like when you do. Nobody leaves the kitchen, which is lovely, because you don't want to be forgotten about at the stove, but at the same time, people get under my feet and so I needed a layout that was communal but zoned." Nessi uses it as a food prep area, a dining area and a drinks bar. She also knew she wanted a big Belfast sink and some form of pantry or larder section, but they were her only three 'must-haves'. "I left the rest to Neptune. It took one drawing and I fell in love," Nessi remembered.
Colour was a big topic of conversation is Nessi's kitchen too. She was unsure of what colour she wanted, feeling cream wasn't right, and that grey might be, but she didn't want it feeling too trendy. "In the end, we chose neutral Driftwood which I'd never have considered but I love it. And we have a Walnut larder area at the end that's painted Chestnut inside. Never in my wildest dreams would I have thought of any of that. It's like a standalone, statement piece that just works incredibly well in every sense. And they also suggested a glazed dresser in another area. It's fantastic because not every part of the kitchen is fitted cabinetry, which totally changes the feel of the room. I have all my gins on the bottom, all my glassware on show and my wedding china underneath. I have lighting in the back of it too which brings a gorgeous glow at night time. I just love it. My poor friends, bless them, must be sick of me saying it. So obsessed that I am, one friend saw our Neptune oak chopping board cabinet and thought I'd had them monogrammed. I laughed so much and said, it's not N for Nessi! It's N for Neptune!"
For Nessi, the entire kitchen design process ran smoothly and happily (she even told us how the Neptune fitter was a joy to have in her home: "He was like Michael McIntyre. I loved him being around and was sort of sad when he left," she said, laughing.), and it's become her favourite room in her entire home. "Every day, I'm happy. It makes our house. Every day, I walk in and go, god I love it."
Life in her new kitchen
What's your favourite thing to do in your new kitchen?
"Entertaining. I love it when people come around and we all sit around the island. Even now, it's amazing the reaction I get when people see the kitchen. I know it's naughty, but I love saying very smugly, it's Neptune don't you know."
What's your favourite part?
"It might sound weird, but I do love my spray tap. It's so quick and clean. I use my chopping boards every day too – because they have my initial obviously."
What could you now not live without?
"The double bin," she said in a hushed voice. "Is that sad? I like it because I have normal waste in one and recycling in another and I can't see either. They're buried deep in my island."
What's next? 
"We've since had bi-fold doors fitted so we can have an indoor-outdoor kitchen. The patio is being done next and the whole kitchen, dining room (complete with Neptune's Balmoral table dare I say) and garden all knit together as one big, beautiful space. I feel very fortunate indeed."