Lisa, Andrew & their Suffolk kitchen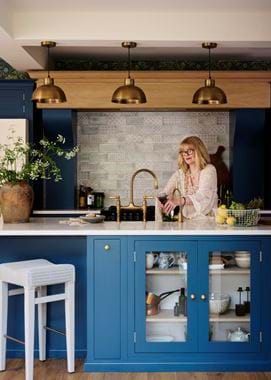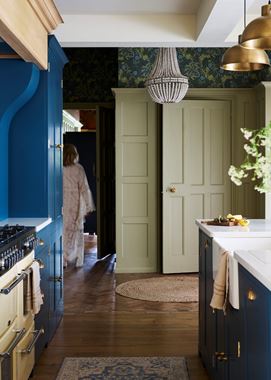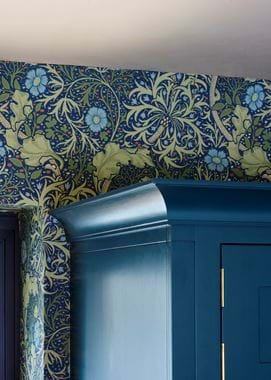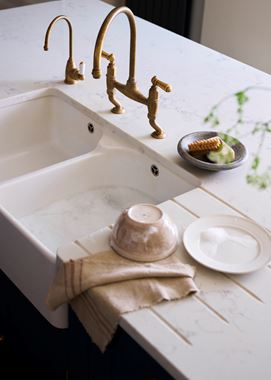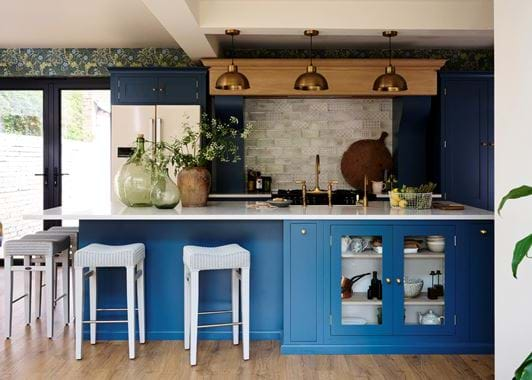 Lisa, Andrew & their Suffolk kitchen
We often see our kitchen collections in a palette of serene, neutral hues, but sometimes a bolder take comes along and catches our eye. Lisa and Andrew chose Teal, our stormy-seas shade, for their Suffolk kitchen; a colour they first saw on a visit to Neptune Hailsham. We stopped by to find out more about the story behind this characterful project.
Home profile
Located in the seaside town of Eastbourne, Lisa and her husband Andrew live in this listed Edwardian house with their daughters Aleisha and Leona, Betsy and Albert the dogs and cat Blake. Built by the owner – a local architect – in 1910, the detached Arts and Crafts property subsequently ended up in the care of the council, at which point it was turned into bedsits. Later still, it was sold at auction. In 2017, Lisa and Andrew bought the property from the auction winners and set about turning it into a contemporary family home with considered nods to its origins.
The project
Lisa and Andrew's existing kitchen was, in Lisa's words, 'a small, dark and very utilitarian room.' Intended to be used by the earliest owner's two live-in staff ('one of our joiners actually recalls his great aunt working here'), function undoubtedly took precedence over form. 'The kitchen simply wasn't the main focus when the house was built,' Lisa explains. 'So, we melded what was originally the wine cupboard, butler's pantry and the utility together with an extension to create a new, bigger space.'  
Having already tackled many of their home's other rooms, including converting the top floor (once the billiards room) into a self-contained flat for Yorkshire-based visiting family and friends, the couple turned to the team at Neptune Hailsham for help with the design of their new kitchen. 'A neighbour of ours has a Neptune kitchen and she only had good things to say, so we popped over to have a look, and loved what we saw,' says Lisa. 'When we then visited the Hailsham store, a Teal-coloured kitchen was on display and our minds were made up. I'm very into blues and greens – it's a palette I've used a lot around the rest of the house.'
Keen to retain a sense of openness, Lisa and Andrew opted for a less-is-more approach to their Suffolk cabinetry: 'We didn't actually need a huge amount of storage – we turned what was once a wine cupboard into a roomy pantry – so we were able to be quite luxurious with the space,' explains Lisa. The island, however, was a must. 'It's where we eat most of the time, and where everyone gathers when we entertain.'
Light was also carefully considered. 'The bifold doors leading to the garden, which we installed as part of the extension, help to funnel more natural light into the room. Without the doors, it would've been a fairly dark space,' muses Lisa. Meanwhile, three striking brass pendants illuminate the island. 'Making sure the kitchen was well-lit was a priority.'
A clever and charmingly unexpected design feature comes in the form of two bespoke-made doors. But cabinetry this is not. 'We already had so many other doors in the room leading off to other areas of the house, so we decided to make the doors to the utility look like cupboards instead, just to break things up a bit.'
Characterful design details are clear to see elsewhere in the room too. From the contrasting Buckland oak cooker surround, to the reclaimed tile splashback complete with subtle patterning, and the striking William Morris Seaweed wallpaper – chosen in homage to the period of the property. There's no doubting that Lisa and Andrew have put their own stamp on their home, and on Suffolk.
Life in their new kitchen
What's your favourite thing to do in your kitchen now?
'Listening to music and having a good old kitchen disco! We've kept it low-tech – instead of a TV we have a vintage record player. It's a sociable space where people talk, eat and dance together.'
Is there anything you could now not live without?
'The aged brass Perrin and Rowe hot tap – we chose the finish to complement the period of the property.'
What's next?
'The utility. The idea is to carry through elements of the kitchen design – I've ended up with Teal in so many spaces in the house, so I'm sure it'll make an appearance in the utility too!'
Ready to begin planning your own kitchen? Start exploring our collections online here.