Spring feasting recipes: a trio of salads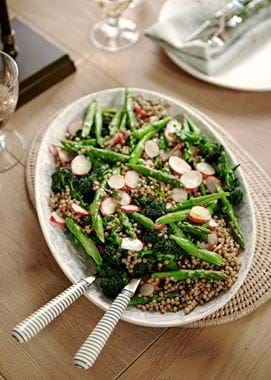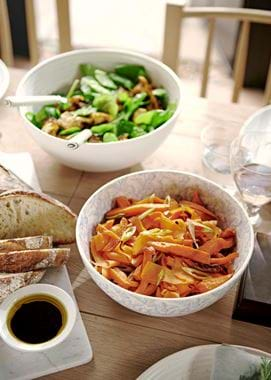 Spring feasting recipes: a trio of salads
Spring marks the start of salad season proper (although we are partial to a warm salad in autumn and winter). Whether raw or gently cooked, spring and summer vegetables shine their best in a lightly dressed salad, and brighter days put us in the mood for something fresher yet fragrantly spiced. Which is why, together with our Bath café, The Provenist, we're getting the season off on the right foot with this trio. You could make each alone, but we think they're especially brilliant served together for a real sense of a feast. Each is plant-based, but if you're not, you can partner them with our whole side of salmon.
Roasted and pickled carrot salad with spring onions
Makes enough for: six, as a side
What you'll need:
1kg carrots, washed and peeled
2 tsp fennel seeds
1 tbsp white wine vinegar
1 tbsp soft brown sugar
2 tsp paprika
100g spring onions
A drizzle of olive oil
Sea salt and cracked black pepper
What to do:
Preheat your oven to 180°C fan (that's about 200°C if you have a convection oven, or gas mark four).
Take around two thirds of the carrots and cut them on an angle into slices about two centimeters thick.
Toss these on a large baking tray with two tablespoons of olive oil (thereabouts), the paprika and a sprinkling of salt and pepper. Roast in the oven for about 30 minutes.
Meanwhile, using a vegetable peeler, create ribbons from the rest of the carrots then place these into a mixing bowl with the fennel seeds, vinegar and sugar. Give everything a good stir and leave to sit while the other carrots are roasting.
Slice the spring onions – on an angle again – and set aside.
Once the roasting carrots have softened and are beginning to colour and caramelise, take them out of the oven.
To assemble your salad, simply layer up the roasted and pickled carrots (try and avoid adding too much of the pickling liquid) together with the spring onions.
Giant wholewheat couscous, tenderstem broccoli, asparagus & radish salad with wild garlic dressing
Makes enough for: six, as a side
What you'll need:
150g giant wholewheat couscous
150g asparagus
150g tenderstem broccoli
100g radishes
A large bunch of wild garlic (or spinach and a clove of garlic)
20g basil
Extra virgin olive oil
1 unwaxed lemon
Sea salt and cracked black pepper
What to do:
Cook the couscous according to the packet instructions (normally this is about ten minutes) until it's al dente. Once that's done, rinse it and drain off any excess water.
While the couscous is cooking, trim the broccoli and asparagus and cook these in boiling water for about two minutes, before quickly removing and plunging into ice cold water to stop the cooking. You want them to keep their greenness and bite.
Slice the radish as finely as possible and set aside.
For the dressing, place the wild garlic (or spinach) in a bowl and pour boiling water over so the leaves wilt. Remove from the water and rinse under cold water before draining. Place in a food processor with the basil leaves, the zest of the lemon and about two tablespoons of olive oil (add the garlic clove at this stage too if you're using spinach). Blitz to a smooth paste and season with salt and pepper.
Add all the vegetables to a large serving bowl and toss together with a couple of tablespoons of the dressing. Check the seasoning and serve.
Green salad with turmeric roasted cauliflower and a lemon & honey vinaigrette
Makes enough for: six, as a side
What you'll need:
200g mixed baby salad leaves
1 small head of cauliflower
1 tsp turmeric
Olive oil
1 tsp honey
Sea salt and cracked black pepper
1 unwaxed lemon
What to do:
Preheat the oven to 200°C/180°C fan/gas mark four.
Cut the cauliflower up into small florets, including any of the outer leaves that aren't too tough.
Toss together on a baking tray with the turmeric, a tablespoon of olive oil and a generous pinch of salt and pepper.
Roast in the oven for about 20 minutes or until the cauliflower florets and leaves begin to colour.
 In a small bowl, zest the lemon and add in its juice, two tablespoons of olive oil and a teaspoon of honey. Season with salt and pepper and set aside.
Place the baby leaves in a salad bowl, top with the cauliflower and dress with the lemon vinaigrette. Give everything a good stir and serve.
Should you be planning a day trip to the beautiful city of Bath, do stop by The Provenist for a bite to eat. You'll find the café right next door to Neptune Bath.