Spring feasting recipes: whole side of salmon with lemon and dill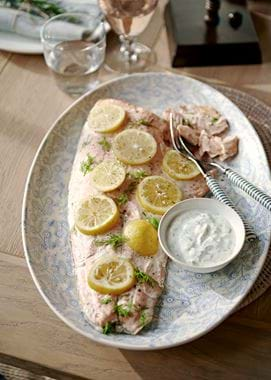 Spring feasting recipes: whole side of salmon with lemon and dill
With garden get-togethers back on the agenda and the weather looking up (fingers crossed – no more snow please), the chefs at our Bath café, The Provenist, have whipped up a bevy of dishes that are perfect for sharing. First up, there's a whole side of salmon – utterly simple but luxuriously generous. It's perfect for serving alongside our trio of salads (which you'll also find on our journal) or such spring classics as new potatoes and British asparagus. Happy feasting!
Whole side of salmon with lemon and dill
Makes enough for: six–eight
What you'll need:
A whole side of good quality salmon
1 lemon
A bunch of dill
A drizzle of olive oil
Sea salt and cracked black pepper
What to do:
Preheat your oven to 180°C fan (a bit hotter for convection ovens or gas mark four)
Line a large baking tray with greaseproof paper and drizzle a little oil over it to ensure the salmon doesn't stick
Place the salmon skin side down on the tray and drizzle with a couple more tablespoons of olive oil
Finely slice the lemon and arrange it all across the salmon
Sprinkle over a generous amount of sea salt and cracked black pepper before placing the salmon in the oven for about 25 minutes
You can tell when the salmon is cooked by pressing on the middle of the fillet: it should feel firm to touch but the salmon should flake easily. Take it out of the oven and scatter it with the dill.
You can bring your salmon to the table straightaway or leave it to cool. Either way, we'd suggest plating it up whole on a large serving platter so it's a real centrepiece to your feast that everyone can tuck into themselves.
If you're ever in Bath, be sure to stop by The Provenist for brunch, lunch or simply just a locally-roasted coffee to go.