Choosing the colour of your kitchen cabinetry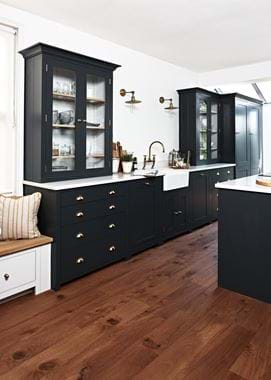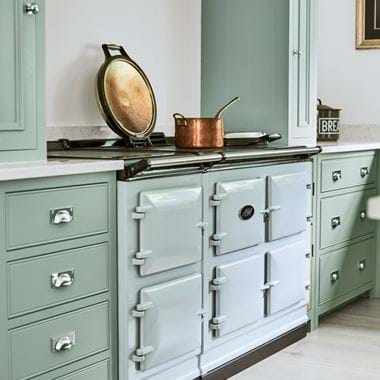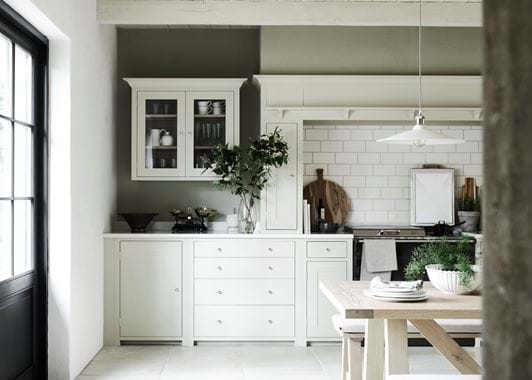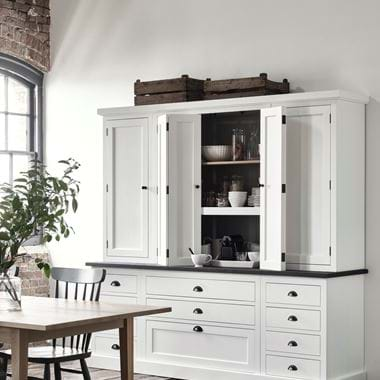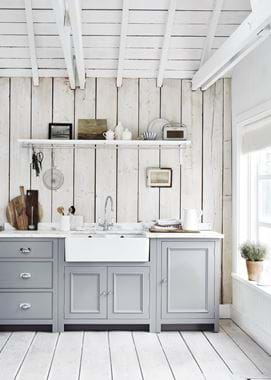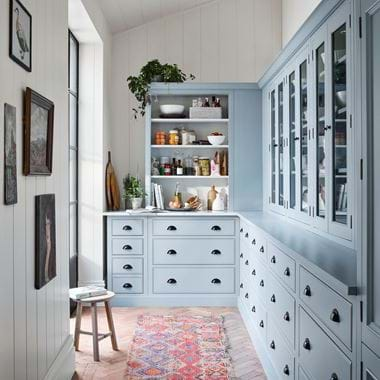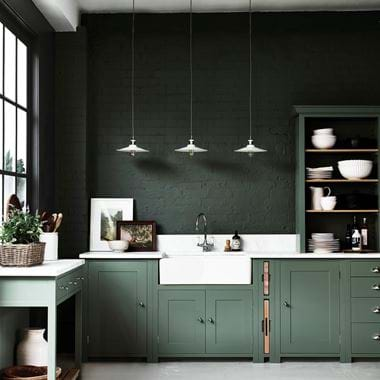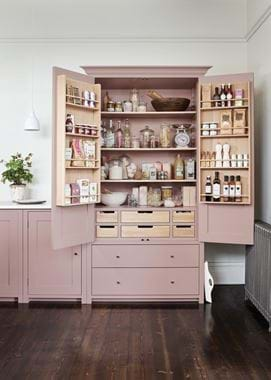 Choosing the colour of your kitchen cabinetry
While white might be your first port of call for kitchen cabinetry, it's not always the colour that best reflects your home and your family's personality. Colour is one of the most effective tools you have when it comes to creating atmosphere in your kitchen, and it pays to think about it carefully from the get-go as it'll have an effect on everything from furniture and appliances to accessories. Here, we take a look at some of our go-to kitchen colour schemes for cabinetry and, in turn, all that goes with it.
How to begin creating your palette
Cabinets will account for most of the paint surface in a kitchen, so they're a good place to start a scheme which is why we're focusing on them here. But they're not the only way to begin.
If you're including an investment piece of furniture or an appliance like an AGA in your kitchen, you might want to start with this first. It'll be much easier to match your paint colours to your AGA's enamel finish or a sofa fabric for instance (for more on how to choose AGA colours, head to this blog on their own journal). And the same goes if you have an existing piece like a statement painting or a vintage rug – even colourful crockery – that you know you want to include.
The creative possibilities of colour
Your main cabinetry colour is important, but it's only just the beginning and there are lots of other surfaces in your kitchen where you can play around with colour.
Next to cabinetry, your colour choices for walls will also have an impact. For instance, a similar wall shade to your cabinetry will make the room feel wider and possibly larger as the lines blur. While a contrasting wall colour will frame the cabinets, giving depth to the scheme.
And then of course, there are pieces like islands and dressers. If you'd prefer to opt for something more classic and neutral on your main cabinetry, these are great places to have a bit more fun without so much of a commitment. A strong colour for an island against softer tones of cabinets could be exactly the thing to give your space just the right amount of personality.
Our go-to cabinetry colours
Okay, back to the main matter at hand: your cabinetry colour. At Neptune, we have 28 carefully edited paint shades in our core collection, not to mention our seasonal shades, all of which can be mixed to order from our archive. There are lots of possibilities (although, we hope you'll agree, not an overwhelming amount). To guide you on your way, here are, in no particular order, some of our favourite suggestions:
Pale but interesting
White or off-white kitchens feel light, airy and clean. They're popular because they're so versatile, working with any floor and work surface, and you can always add colour through accessories. But which white to choose? A clean – but not brilliant – white like Snow will feel fresh, though its warm undertones will stop the room feeling clinical. Off-whites like Salt have a creaminess to them (without straying into clotted territory) so will work well with warm woods or even red-based colours such as Pink Peppercorn or Paprika.
Black & white elegance
A monochromatic scheme is sophisticated, precise and clean, but how you balance the percentages of black and white will push the look further. Lots of white with dashes of black looks smart and crisp; an even balance of black and white feels harmonious; while more black will look strong but you'll need plenty of natural light to stop it feeling gloomy (unless, that is, you want to embrace the gloom). Rather than going for a pure black and white combo which might feel a tad harsh, try mixing Snow with chalky, off-black Charcoal.
Going grey
Grey is delightfully versatile – it has more personality than plain white and adds depth and history but is also happy to be a foil to brights like our yellowy Saffron. In kitchens, greys work well with stainless steel appliances and tone with marble work surfaces. Consider Shingle, a pale grey, on cabinetry with a Teal island or go darker with the mid-toned Cobble and a warm neutral like Lily.
Feeling blue
Blue covers so many moods, from sunny coastal vibes with shades like Flax Blue to sophisticated depth in colours like Ink. Blue and white feels crisp and clean in a kitchen and mixes well with brass handles and a lighter work surface, while a blue-green shade such as Aqua Blue will energise a space and work with woods, leathers and black-bronze hardware.
Green rush
Deep greens like Cactus pair well with smoked glass and burnished metals, giving an opulent edge to a kitchen-diner. At the other end of the scale, softer greens like Sage and French Grey feel calming and tranquil. Try relaxing Sage with darker woods and bronze hardware to ground the scheme, or pair the vintage tones of French Grey with paler woods and white work surfaces.
Pretty in pink
Maybe not the obvious option for cabinetry, pinks, such as Pink Peppercorn and Old Rose, can be amazingly effective in kitchens. They work beautifully with the undertones of Carrara marble and mix with pale or darker greys to create a calming cook space. You could introduce black accessories through lighting or black-bronze handles to keep the look sophisticated.
If you're not sure which colour to paint your kitchen, don't worry – that's exactly what our kitchen designers are here for. Get started on creating your space with a free, 90-minute consultation in store or over video call, which you can book here. And if you're choosing an AGA for your kitchen, don't forget that you'll find lots of colour advice over on their journal here.