Broad bean & pea crush with ricotta, flat breads and crudités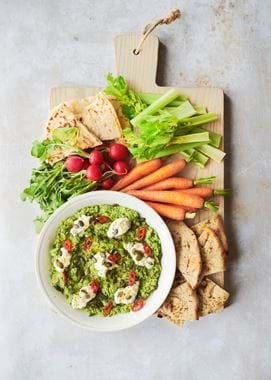 Broad bean & pea crush with ricotta, flat breads and crudités
However many the pleasures of the other seasons, summer eating is surely the finest. Produce is as garden fresh as it comes, and lighter dishes mean ingredients are served in full technicolour vibrancy. And then there are the various al fresco opportunities. In the garden, at the beach, with a view… This dish, taken from the sixteenth volume of our seasonal lifestyle anthology, Stories, is ideal for taking on a picnic, or even enjoying as a midweek lunch on the terrace. It'll serve four people as a light lunch or appetiser, but will also keep in the fridge if you're feeding less.
What you'll need
250g broad beans, shelled
200g green peas
2 tbsp white wine vinegar
4 tbsp extra virgin olive oil
1 tsp sea salt
1 tsp cracked black pepper
2 cloves of garlic
1 small bunch of mint (roughly 40g)
2 tbsp finely chopped parsley
200g ricotta cheese
1 tbsp pumpkin seeds
1 red chilli, finely sliced (optional)
Toasted flatbreads and your choice of raw vegetables, to serve
What to do
Bring a small pan of water to the boil and add the broad beans. Cook for four–five minutes until tender, then drain and set aside.
Tip the beans into a food processor along with the peas, vinegar, oil, salt, pepper, garlic, mint and parsley (save a little of the herbs for garnishing later), and pulse until roughly crushed and everything's combined.
Spoon out into a large serving bowl and dollop generously with the ricotta cheese. Scatter over the pumpkin seeds, a little more fresh mint and parsley, and a touch of finely sliced red chilli if you'd like a hint of heat.
Serve alongside crudités and a stack of toasted flatbreads for dipping.
This recipe was created by the team at our Bath-based café, The Provenist. We'd love you to stop by and see us for brunch, lunch, afternoon tea or even a glass of wine if you're ever in town. Find us off Walcot Street, next door to the Neptune Bath store.