Emily & her Chichester kitchen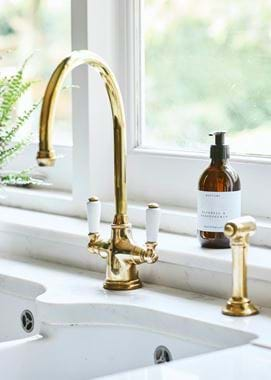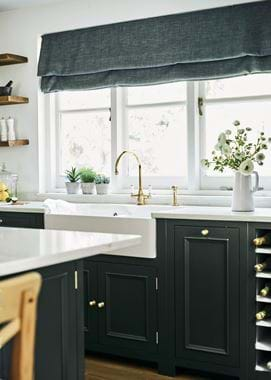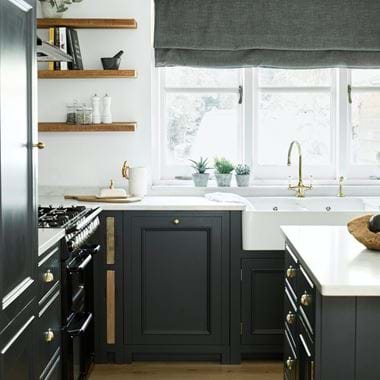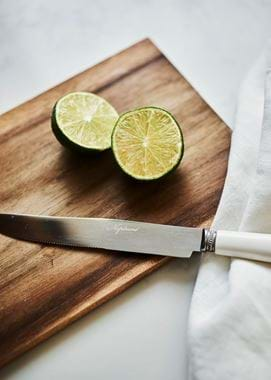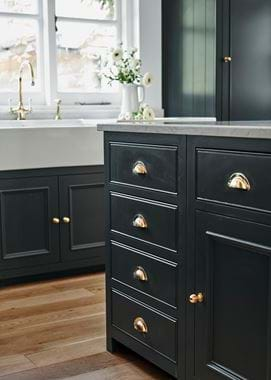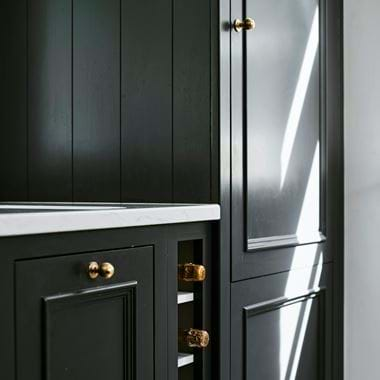 Emily & her Chichester kitchen
The Chichester kitchen; often considered our most classic collection with refined details and restrained aesthetic. Yet in this country cottage-style home, Emily chose to create a modern take on the design that would soon become the heart of her family's home – and here you can see just how wonderfully it paid off.
Home profile
The New Forest, one of the UK's most beautiful and unspoilt woodlands, where ponies and cattle roam free in the ancient heaths, is also home to Emily and Nathan, their six-month-old twins, Stanley and Maisie and their first (and often favourite) child, Busy the beagle. Having moved just a few miles down the road from a Victorian townhouse on Southampton's bustling common, this older 1910 property was quite a change in terms of location and style, but the idyllic, cottage-like feel and open space surroundings seemed to be just what they were after.
The project
When Emily and Nathan moved into their new home back in 2017, a kitchen was top of their priorities. Although ample in space and with plenty of natural light (which lent itself perfectly to the dark units that Emily had in mind), the style of the existing kitchen wasn't quite what they'd been dreaming of. Thankfully, Emily had come across Neptune several times through the creative design agency, Us Creative, that she founded, and having collected many of our home accessories already – which she described as 'timeless' yet in keeping with her 'quirkier' style – she was no stranger to our Bournemouth store. So, when it came to renovating their kitchen, she made a beeline.
The vision for the kitchen was very clear. It needed to capture Emily's individual style – her heart was set on Charcoal units and brass hardware – whilst being timeless and classic. With that in mind, they fell in love with the Chichester collection: "The traditional features suited the older style home, but with a modern twist of Charcoal and brass, I could easily accessorise around it."
Emily's wish list was quick and simple: she wanted a freestanding kitchen island, so the family had a central place to gather. Previously, they had a breakfast bar which they never really used. So, with Neptune Bournemouth's kitchen designer, Lowenna, on hand to help, they centered the whole design around their dream island.
Although Emily and Nathan had a clear vision of what they wanted from the space, Lowenna helped to utilise every corner of the room, ensuring the family had everything on their wish list and bringing the concept to life. "When you see those 3D renders, it just brings it all together!" Emily recalls. Adjoining the kitchen is the family dining room that hosts a Chichester dresser in the same Charcoal and brass theme and bridges the gap between the two spaces while acting as extra storage for the family.
For some, projects like this can be a stressful experience, but for Emily and Nathan, it was somewhat seamless. Emily explained that everything was measured to perfection: "The way Neptune works allowed us to fit the cabinetry perfectly into the space. It was so easy; we didn't have to make any compromises." The only hurdle had been with the oven door handles which protruded too far out to allow the chopping boards to slide in seamlessly, but Lowenna and the kitchen fitters were on hand to fix it straight away and it wasn't a problem.
Speaking to Emily six months after her kitchen was installed, she tells us how it's the social hub of their home and has transformed their lives. "It's brilliant!" she laughs. "We all congregate in the kitchen now and especially with the babies, we just prop them up on the island while we chat. It's just working really well, and we don't want to change a thing!"
Life in her new kitchen
What's your favourite thing to do in your new kitchen?
"Cooking! An easy one."
What's your favourite part of the new kitchen and why?
"The island, it's just so useful. We use it to cook, to socialise, to have dinner, it does everything. And there's so much storage space. It's the heart of our home that we didn't have before."
What could you now not live without?
"The little shower tap. We've never had one before but now we love it. And I love our larder and all its vegetable drawers, it's just such an economical use of space."
What's next?
"We have two rooms to go – the bathroom and the utility. I just love Neptune's utility collection. The cupboards have a place for everything, and I like that. Having the right shelf for all your bits and bobs is just what you need in a utility room."