A Bonfire Night supper: mulled pear & ginger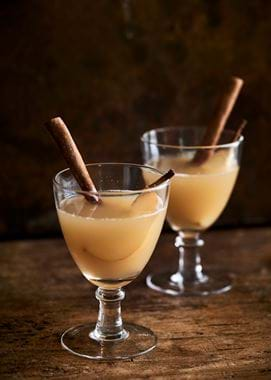 A Bonfire Night supper: mulled pear & ginger
There's something to really savour when it comes to Bonfire Night. Perhaps it's because by then, we've all begun to embrace the darker days, the crisper air and the staying-put of our winter wardrobes for the foreseeable months. And so, come 5th November, the prospect of wrapping up and heading out into the evening to stand around crackling flames is a charmingly traditional one.
What better way to make the festivities even more enticing then than a belly full of seasonal fare?  To go alongside the Bonfire Night recipes whipped up by our resident nutritional therapist and cook, Georgie Prowse, you'll surely need something warming to wash them both down. This year, we'll know what we'll be serving – a mugful of mulled pear and ginger with a dash of rum for good measure. Or serve it without for something a notch less naughty.
What you'll need
2 litres apple juice the cloudy kind

2 thumb-sized pieces of ginger peeled and sliced

2 ripe pears quartered

2 cinnamon sticks plus extra for serving

3 cardamom pods

3 tbsp light brown sugar

5 limes the zest of two and the juice of three

500ml Bacardi Oro
What to do
1. Take a large saucepan and put it over a medium heat
2. Pour in the apple and lime juice, then add in the ginger, pears, lime zest, sugar and spices.
3. Bring the mixture to the boil and let it summer until all of the sugar is dissolved – you'll know as soon as it stops feeling grainy.
4. We like to serve it in our Barnes tumblers with a single shot of rum in the bottom if you're going for the alcoholic version. Pour the warmed cocktail over the top with a cinnamon stick dunked in for decoration.
You could always…
Serve it in mugs instead of glasses. Or even in a flask to take with you to sip and share around the bonfire.
This recipe is from chef, writer and author of A Modern Way to Eat and a Modern Way to Cook Anna Jones.