A Bonfire Night supper: lentil & squash stew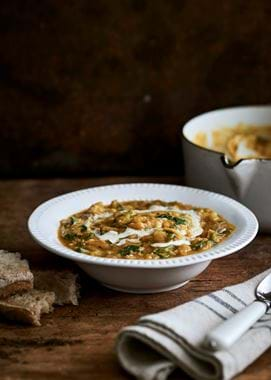 A Bonfire Night supper: lentil & squash stew
There's something to really savour when it comes to Bonfire Night. Perhaps it's because, by then, we've all begun to embrace the darker days, the crisper air and the staying-put of our winter wardrobes for the foreseeable months. And so, come 5th November, the prospect of wrapping up and heading out into the evening to stand around crackling flames is a charmingly traditional one.
What better way to make the festivities even more enticing then than a belly full of seasonal fare?  Our resident nutritional therapist and cook, Georgie Prowse, has been busy rustling up three new recipes just for Bonfire Night. Each one gluten free and, needless to say, scrummy.

Here, she shares her mightily moreish autumn stew. Made using a mixture of squash sorts (we're partial to pumpkin and butternut squash) and hearty lentils, it'll fill you up before you step out into the night. Hosting a garden bonfire? Then ladle it into mugs to devour beside the fire.
Lentil & mixed squash stew
Makes enough for: six
Put aside: 20 minutes for prep and 50 minutes for bubbling
What you'll need
1.3kg mixed squash peeled, deseeded and cut into chunks
1 onion red or brown – whichever you prefer – and finely diced
3 celery stalks finely diced
2 cloves of garlic minced or finely diced
3 bay leaves
2 sprigs of rosemary fresh and finely chopped
25g butter
10ml olive oil
1.2l vegetable stock
250g red lentils
25g parsley fresh and roughly chopped
1 lemon juiced
A dollop of sour cream or yoghurt for serving
What to do
1.    Start by heating a large non-stick pan – a medium heat will do. Then, add the butter and oil, allowing it to melt.

2.    Tip in the garlic, celery and onion to sauté for 10 minutes until soft. Next, add the fresh rosemary and bay leaves, along with a good grind of black pepper, cooking them out for a few more minutes.

3.    Now for the main stars of the stew. Tumble in the chunks of squash as well as the lentils. Give them a good stir, ensuring everything is coated before pouring in the stock.

4.    Bring the stew to the boil and let it gently simmer for 35 minutes, or until the squash is tender. When you're happy, turn off the heat and add in the fresh parsley, lemon juice and a generous pinch of salt.

5.    Serve with a drizzle of sour cream or a dollop of natural yoghurt (and a hunk of bread if you're extra hungry).
You could always…
Make double and freeze the leftovers in a Tupperware for up to one month. That way, you'll have supper sorted one night in the weeks to come, meaning you can just put your feet up and wait for it to warm through.