Creative ways with kitchen cabinetry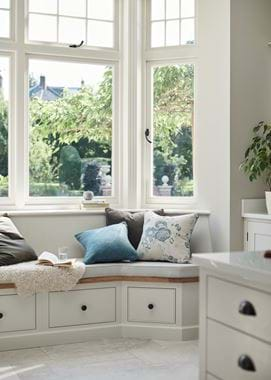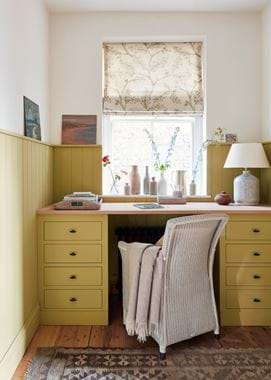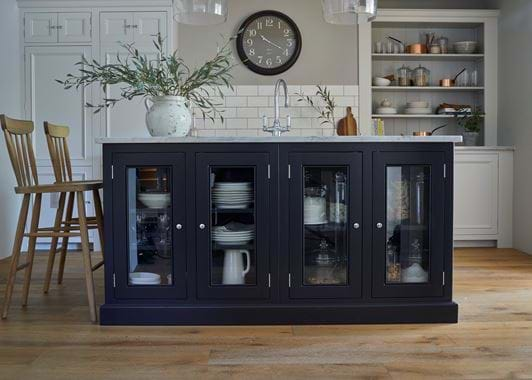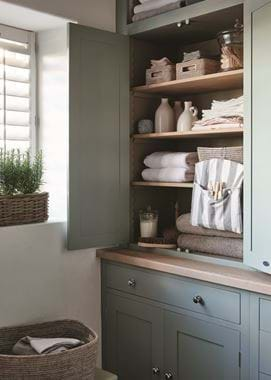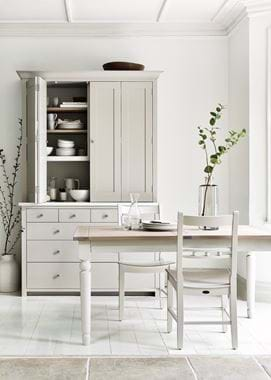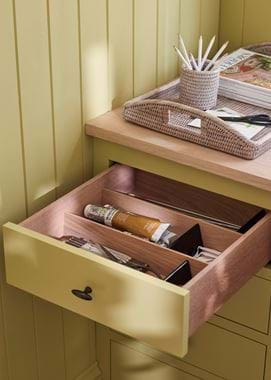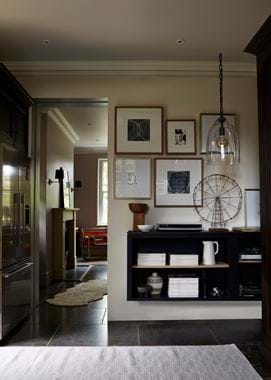 Creative ways with kitchen cabinetry
Sometimes, when it comes to interiors, it pays to embrace the unconventional. We're not talking style-wise here (although if unconventional is what you like there, we're all for that), but more in terms of how you make the most of designs and spaces in your home. Take our kitchen cabinetry for instance: because it's made using proper timber, eggshell paint, and robust joinery techniques, there are many more possibilities for it inside and outside the kitchen than you might think. Each with the potential to make your home a more functional, flexible and well-designed place.
Build an island from glazed countertop cabinets
When you're short on space, think big. The idea may seem absurd, but you'll be surprised by what a single statement piece can do. That doesn't mean it's about adding more to an already tight squeeze. But the greatest gift an island can give is the solution to a lack of space, with impact. The key is to look beyond the obvious.
Speak to your designer about using cabinetry that's a bit unexpected. Countertop cabinets placed on the floor may feel counter-intuitive, but they're storage saviours and creators of options. Think large glazed doors with narrower frames for a refined, elegant look. And, being glazed, you'll get to appreciate the form that rows of shelving bring to your room – they're not just for walls. Use your 'counter bottom' cabinets to display treasured pieces together that you'll get to see as soon as you walk into the room, and on the other side, fill them with the things that you want to keep close to hand. Or, turn them into a mini library with all of your cookbooks stored safely behind glass, ready to be thumbed.  
Convert your larder into a linen cupboard
Another kitchen storage staple, larders may have been around a long time, but they haven't stopped gently evolving. Ours (particularly the double-door Suffolk) are cavernous inside with a cabinet face that's discreetly minimal at the same time. It's a lovely juxtaposition that feels quite contemporary. Of course, it's not just their design that nods to today, it's the new uses you're finding for them in your homes.
One idea is to turn your larder into a linen closet. This could be inside the kitchen or out – the most sensible option would be closest to wherever you do your laundry, although any corner upstairs or down will do. With layers of adjustable shelving and useful details like pull-out drawers and back of door racks (for folded towels and bottles of linen spray respectively), a larder can offer ample and easily organised space for even the most extensive linen collection. Either make neat piles of towels, tablecloths and bedding on each shelf (sort by set and add little labels to the shelf fronts so you know what goes where), or use baskets to help arrange everything. You can then choose to tuck your larder into a cubby, designing it to blend seamlessly into the walls either side, or make it a standalone piece in the tradition of the linen press.
Create a custom dresser
Along the same lines as the linen cupboard, kitchen cabinetry can also play the part of storage piece in other rooms – namely a dining space. This is another place where our countertop cabinets are particularly useful, and especially the bi-fold designs. By sitting one of these on top of the wide drawer designs, you can create the look of a freestanding piece of furniture. Unlike a standard dresser though, you can alter the countertop (marble, timber, something more contemporary…), and choose the combination of drawers and open, closed or glazed shelving that suits you best.
Construct a big as you like bookcase
How about refashioning kitchen cabinetry into a wall to wall library? We're big believers in creating continuity – both in materials and design – throughout your home. And especially so if you've embraced open plan living. Should your sitting space be next to your kitchen, using matching cabinetry to make shelves for your book collection will help develop a balanced aesthetic.
And, again, the possibilities of kitchen cabinetry (and the expertise of our designers and bespoke workshop) mean there are many options when it comes to combining open shelving, glazed sections, closed doors and drawers.
Fashion a made to measure home office
When kitchen cabinetry really comes into its own is when it's making the most of your space. That could be a small area – like under the stairs, in an alcove, or in a hallway nook – but it could equally be along a bigger expanse. Either way, the myriad size options and bespoke possibilities of our kitchen cabinetry collection means you can utilise every last inch for storage. We've done just that in an awkward tight spot in front of a window using, quite simply, two slim drawer cabinets from our Henley collection and a length of oak stave worksurface. The result is a desk that not only uses the space effectively, but also creates a more harmonious feel by slotting in perfectly (painting the cabinetry the same colour as the panelling on the walls helped too).
Another plus point of our cabinetry is that we've designed all sorts of organisational pieces to fit inside. In this set up, it's the Orford and Barlow drawer dividers than bring order to a drawer full of artistic supplies.
Some other thoughts
Why not: hang wall cabinets low down to create a floating sideboard; or use just one to create a bedside table; line a hallway in tall cabinets with shelves inside for shoes and baskets of outdoor accessories; create fitted storage for your bathroom (a great opportunity, if you have the space, to move your washing machine up here too); or fill a bay window or alcove with lower cabinetry to make a seat (our Chichester drawer seat cabinets are designed just for this, or you could work with one of our designers to create a bespoke cabinet in your choice of collection).