Combining rugs to make flagstones and floorboards cosier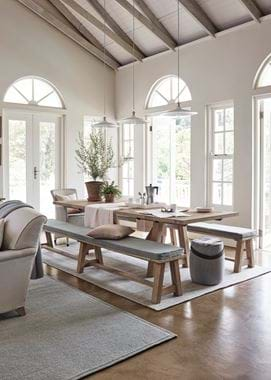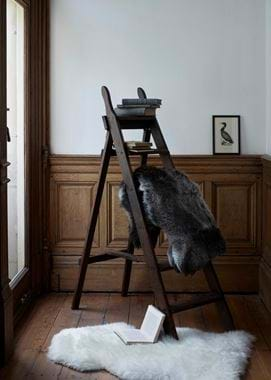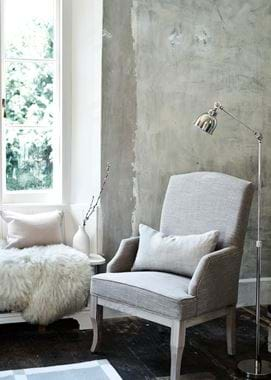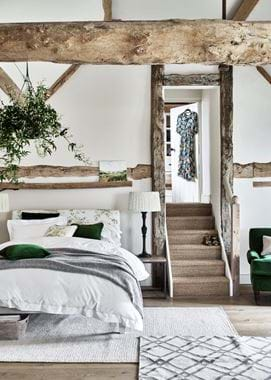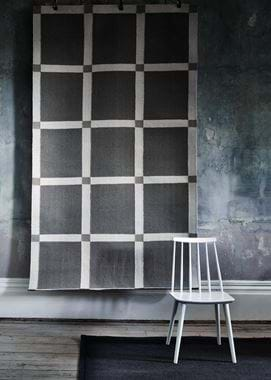 Combining rugs to make flagstones and floorboards cosier
Gone are the days where carpet reigned supreme in our homes. Timber floorboards from planks to parquet, natural flagstones from limestone to slate, and striking materials and finishes from contemporary poured concrete to polished marble tiles are being loved and used in every room of the house – instead of or as well as carpeted floors. No longer do we only see these wipe-clean floors as options for kitchens, bathrooms and hallways where their low maintenance nature makes life far easier. Now, we appreciate them from sitting room to bedroom for their beauty, their resilience, their contrasting textures and mottled hues. But, in the absence of underfloor heating, how do you stop them from feeling too cold underfoot? The answer isn't rug. It's rugs, plural.
How much is too much?
It's tempting to think that if you have an expanse of timber or stone flooring, using one rug will be plenty. It's not simply about making the flooring warmer to walk on, but making it look warmer too. And one rug is surely enough to do the latter. Except it's often not. While you don't want to use so much rug that you might as well have had the room carpeted, you do want to make sure you've covered enough floor space. Consider a rug that you'll see as soon as you enter the room – because first impressions really do count for a lot. And then look at using another around a key piece of furniture, such as by a sofa, a bed, or a dining table – places where your feet will definitely travel and appreciate it being there. So long as the rug isn't stealing the focus from your main flooring, then you'll know you've not gone too far.
Bringing out a rug's subtle side
Another point to remember when positioning your rugs, is to let one of them be tucked under your furniture so it's not fully on display. If one of your rugs starts under the sofa, then it means you'll still feel the benefit of it when you stand up and its softness is ready and waiting for you. And you'll still see it as it emerges from beneath. But its presence is much subtler and helps to not cover too much of the oiled parquet or tumbled flagstones that make your floor special.
Using the same rug twice
Some homes prefer things to look more coordinated, and so choosing the same style of rug to use more than once in the same room is no bad thing. But look out for whether the same style and size of rug comes in a different colour. One that's still suited to your colour palette, but that gives a slight point of difference, like our Elgin rug in Birch and Grey Oak. Or our loop-pile and plaid Tolsey rugs that come in four complementary shades. The difference in colour has another plus point too; it really emphasises the rugs in your room so that their warmth is all the more present.
Trying a patterned rug with a plain
And for homes that are the reverse, welcoming contrast and difference, wooden and stone flooring gives you great reason to try two entirely distinct rug designs. Try a plain rug like Tolsey in Off-White against a geometric design like Whytock, or Elgin in Grey Oak with Laverton, whose pale grey threads in the weave work well with Elgin's grey tone. You can position them in different parts of the room, but if you overlap the two designs, you make a real feature out of their difference and can also help to make a clear path for how you want to encourage people to move around the room.
Contrasting textures
Much like how two rugs in different colours will stand out more than two replica rugs, two rugs in contrasting materials will have the same effect. Chunky wool weave rugs and fuzzy sheepskins (like Herdwick and Southdown) are a happy combination, building layer upon layer of texture on your flooring.
Rethinking rugs
And don't underestimate the effect that the way your room looks has on how it feels. Picture a smaller space with dark slate flagstone flooring that only has the capacity to comfortably fit one rug. You can still bring in more than one though, and it doesn't necessarily need to be floor-bound. A sheepskin rug is the easiest to relocate – over a chair's back, draped over a dining bench, laid over a window ledge. Or, create a wall-hanging by suspending your rug so it hangs down vertically and brings warmth to your entire room.
Explore our rug collection