Antonia & her Suffolk kitchen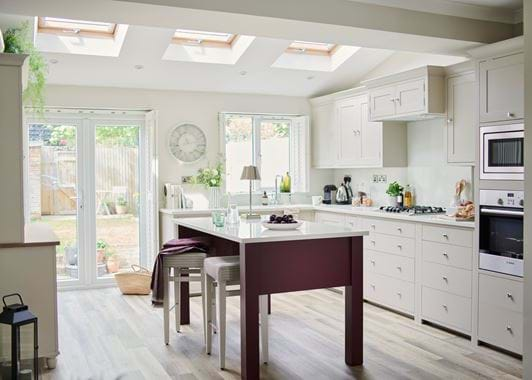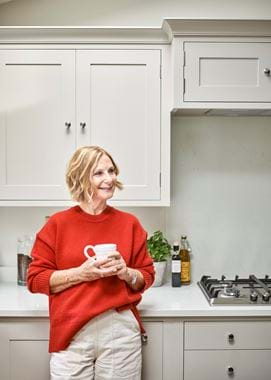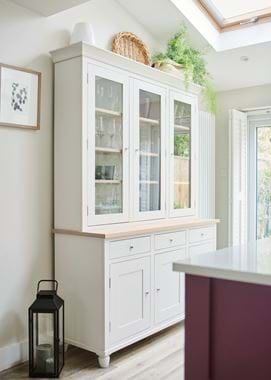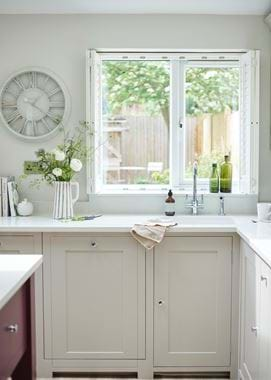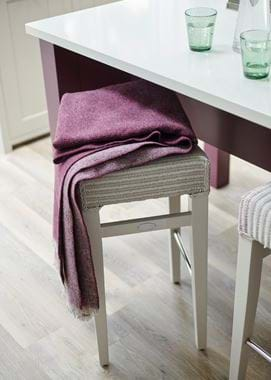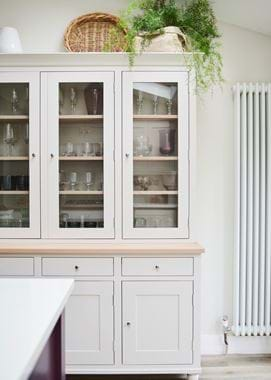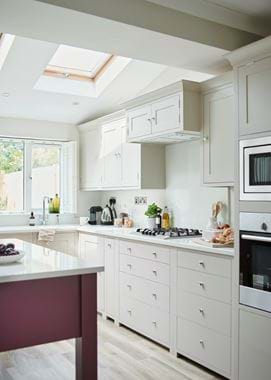 Antonia & her Suffolk kitchen
A kitchen redesign is one of the biggest undertakings you can carry out in your home and, often, it can be a venture years in the making. Such was the case for this south west London kitchen project. A project centered on replacing unloved gloss cabinetry – installed on a shoestring a decade earlier – with the understated simplicity of our Suffolk collection.
Home profile
Home to Antonia for the last eighteen years, this terraced house in Wimbledon has seen much change in its time. After the previous owners altered its layout and removed most of the original features (bar the hallway checkerboard floor tiles), Antonia chose to make the property her own rather than embark on a period restoration project. First remedying the tired décor and dated kitchen and bathrooms with budget-friendly fixes, a rear extension and subsequent loft extension followed in later years.
The project
Though the kitchen extension to the rear of Antonia's home went a considerable way to improving the existing space ('It had been a galley kitchen, but the previous owners had knocked the wall between the kitchen and dining room down. Even so, it wasn't big, and the U-shaped layout didn't work well,' she tells us), with a tight budget, compromise came with the quality of the cabinetry. Fast forward some ten years, and Antonia was ready to tackle her kitchen once more. But this time, with the help of Neptune Wimbledon.
Intent on finding a style of cabinetry that suited her timeless, less is more approach to decorating, Antonia heeded her sister's tried-and-tested recommendation and found herself (not for the first time) in the Wimbledon store. 'I worked with kitchen designer Michael to bring my wishes and needs to life. My existing cabinetry was completely different – white gloss, flat units with black granite work surfaces. And I didn't have an island. This time around, I wanted to do things differently,' she explains.
With her desire for simplicity forefront in her mind, Antonia opted for a Suffolk kitchen painted in Driftwood. 'The Shaker style – it's very me,' she states. 'My house isn't fussy and I don't really like a lot of pattern or too much fiddly detail. I also wanted to be able to see the legs of the cabinetry, so chose not to have the skirting fitted.' A similar design decision was likewise made for the island – a must for her new space. Choosing the leggy Charlecote design, Antonia has ensured the space retains a sense of openness. 'It's not a huge room, so I wanted to be able to see as much of the floor still as possible.' As for the bold Juniper finish, this is the way, Antonia explains, that she prefers to introduce interest into a room.
Wishing to steer clear of a tiled splashback that felt too 'kitcheny', Michael helped Antonia to settle on an alternative for the design. 'Michael had the idea to carry the quartz upstand all the way up behind the hob. As luck would have it, the kitchen fitter was there on the same day, and he suggested that we also use the quartz for a windowsill. It was a collaborative effort to get what I really wanted and I'm thrilled with it. It's so easy to clean too as it's one solid piece.'
Deep drawers rather than cupboards for the bottom cabinets were another must for the project. 'The thing about drawers is you can get so much more in them, and you can easily see what you've got,' she muses. What's more, a generous dresser on the opposite side of the island houses her glassware, freeing up 'about two cupboards worth of space' elsewhere. 'We did toy with incorporating additional cabinetry in that area, but I liked the openness and flexibility that came with a dresser.'
Today, with the project complete, Antonia's outlook on her kitchen is as bright and breezy as the space itself: 'This may sound a little cliché, but when I walk into my kitchen in the morning, my heart sings. I spend so many enjoyable hours dressing my work surfaces and dresser too.'
Life in her new kitchen
What's one of your favourite design elements from the project?  
'The Juniper painted island. It's one of my favourite colours. I already have soft furnishings in a similar colour, and it's a shade that I'm really drawn to. Although it's a very deep tone, it's actually quite neutral and versatile and works well with a lot of other colours.'
Is there anything you could now not live without?
'Again, the island. And the quartz work surfaces that are just so easy to maintain.'
What's next?
'My home's a never ending project! Even if it's just changing the colour of the cushions with the change of seasons.'
Discover all our kitchen collections and find out more about our design service here.