Meet the designer: Poppy Sturley & our alpine wreath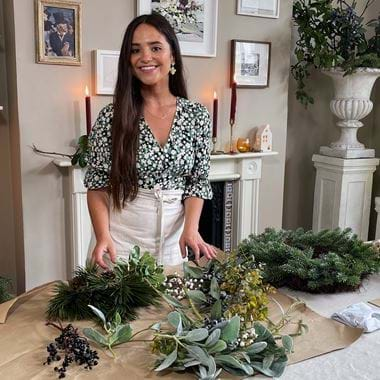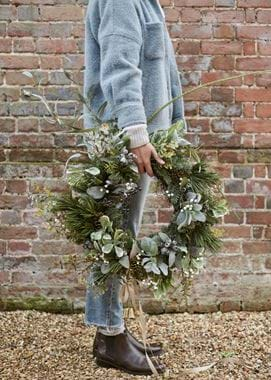 Meet the designer: Poppy Sturley & our alpine wreath
This festive season is all about the personal touch: handmade gifts, home-baked treats and, thanks to florist Poppy Sturley, our 'build your own' wreath. She's carefully chosen from our collection of life-like stems to create an elegant arrangement. When put together, the evergreen wreath is rich in verdant greens – from frosty eucalyptus to dark pine – reminiscent of wintery mountain forests and the cool, crisp air of the Alps.
'Over the past couple of years, so many more of us have enjoyed crafting and making things by hand as a much-needed distraction,' says Cassie from our product development and design team, 'so we knew we wanted to bring an element of that into our Christmas collection. A life-like wreath that you can make yourself – even sharing the experience with a friend perhaps – and then remake and add to year after year seemed perfect.'
Rather than put together the elements in the kit themselves though, the design team saw an opportunity for collaboration. 'We love to support emerging designers and artists,' Cassie tells us, 'not least because it brings in a fresh perspective. We'd already worked with one young designer, Francesca Wardle, on our autumn collection, and wanted to do the same for Christmas. And Poppy's affinity for the natural world and the way she reflects its changing colours in her work just fitted so well with our own approach.'
Poppy also knows a thing or two about festive decorations – in fact, a chance leap into Christmas wreath making was the impetus to establish her own floristry business. 'I was applying for jobs but also thinking about setting up on my own when I decided I'd make some festive wreaths and see how things went,' Poppy recalls. 'I sold so many, and here we are six years later with a growing business!'
Poppy's entry into the world of floristry was similarly down to an element of chance. Having studied fine art and illustration at university and explored a career styling food and interiors, she decided to apply for a range of roles in the creative industry. 'The only business that replied to me was a florist,' she explains, 'and while I knew nothing about flowers, the owner was willing to teach me.' Over the next few years, freelancing with different florists to observe how other creatives worked, Poppy developed a style she describes as 'naturally beautiful', with loose groupings of seasonal stems. 'I want arrangements to feel like they grew naturally in situ, so I like to work with the more interesting, wiggly stems and shapely branches.'
It's a style that Poppy's very much carried through to our wreath kit – 'I wanted it to feel loose and to have movement.' She's included bundles of eucalyptus, pittosporum and pine foliage that you can group together – 'as they'd grow naturally' – longer berry stems to create a sense of depth and wild drama, and architectural olive twigs and sea arrowgrass 'to create an area that swoops up and around, spilling off the side.' Poppy then recommends that the final stems, delicate white berries, are scattered 'like snow' throughout.
As the final touch, Poppy chose two of our brass Clement bells and a length of subtly gold ribbon to tie around the bottom of the wreath. 'I'm very decorative so was keen to embellish the alpine greens,' she adds. 'The bells and ribbon bring a note of warmth as well, in contrast to the frosty forest palette the stems create.'
As for where to hang it? 'There are so many homes this wreath would suit,' says Cassie. 'It has a sort of understated luxury that would work just as well with a Cornish cottage as it would a Chelsea townhouse.' Poppy agrees: 'Wherever your home is, whatever its architecture, this wreath will feel big and inviting on a front door. A wonderful way to welcome guests this Christmas.'
Take a closer look at our everlasting alpine wreath kit online here.