Arranging autumn & winter flowers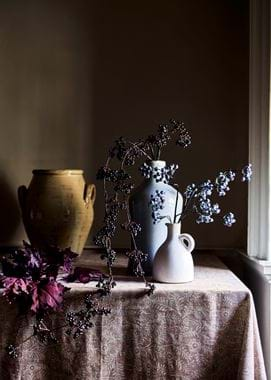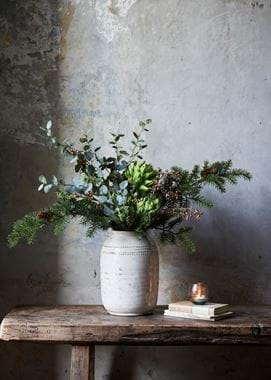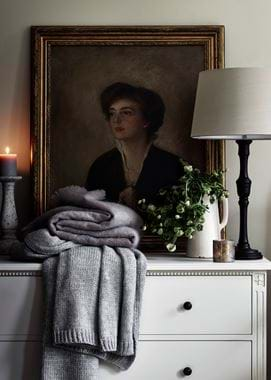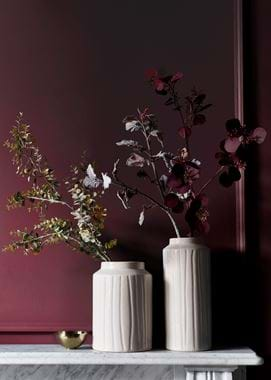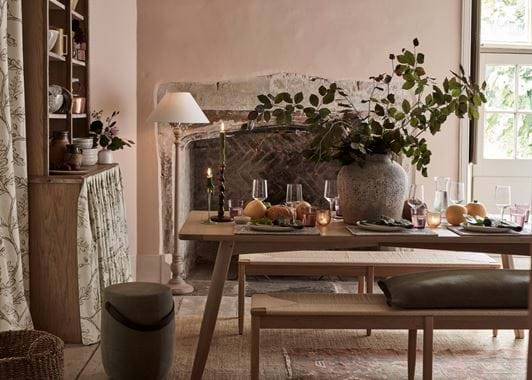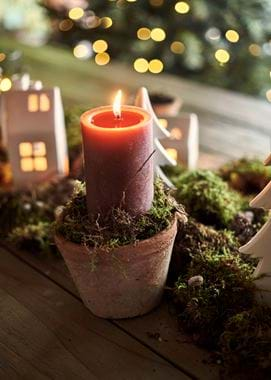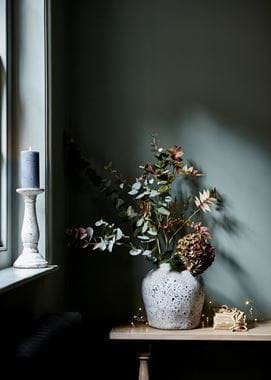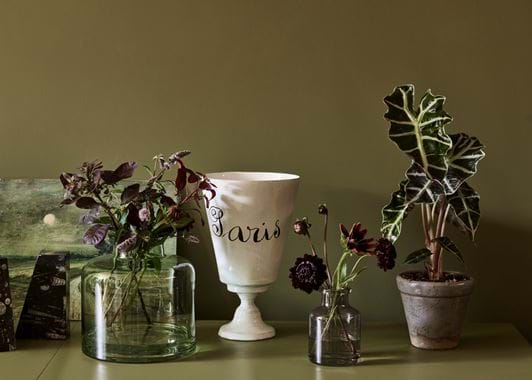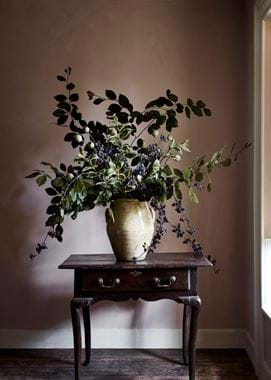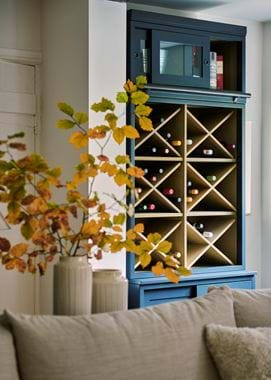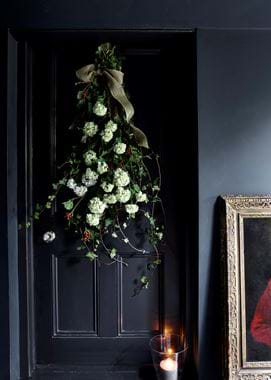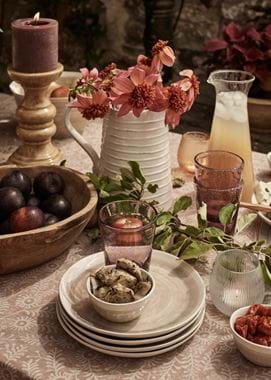 Arranging autumn & winter flowers
Autumn and winter are seasons deserving of flowers and foliage in the home. As much as spring, as much as summer. Mary Norden, flower arranging expert, author and stylist, shares with us her insights into how to bring them into each room through autumn, into Christmas and in the winter weeks beyond, as well as her advice on making the most of life-like blooms.
Faux flowers have come on a – very – long way from the plastic dust collectors of the 70s. Many are so good it's hard to tell whether they're the real thing or not. Neptune calls theirs 'life-like' as opposed to 'faux' – a distinction that feels quite lovely. One of their greatest appeals is the fact that they'll last forever and ever, and can be used again and again. They've become an investment piece. And don't think the arrangements you create with them always have to centre around flowers. A glorious mix of different faux leaves and twigs can be just as interesting.
If you want drama, choose single stems of just one flower or foliage type and use en masse. It's all about scale. A large vase filled with hydrangeas, berried ivy or russet oak leaves is far more effective – and modern – than a display consisting of a bit of this and a bit of that. But if you like the idea of mixing, use two or three varieties of contrasting shapes and sizes. Structured flowers like roses need something light and delicate to break up the formality, while a darker flower can take a heavier evergreen leaf.
Create a style. The easiest way is by your choice of vessel: for a rustic country feel, fill an earthenware pot or an enamel jug with a mass of winter hellebores; for something more 'of the now' choose glass, keep lines clean and blooms sculptural and exotic. Delicate vintage or antique-style glass vases filled with roses or a stem of magnolia, on the other hand, are wonderfully romantic. Terracotta and earthenware pots are perfect for winter displays too. Place a pillar candle in the middle (secure with small stones or earth) and surround it with sprigs of rosemary (perfect for scenting the room), winter berries and ivy, allowing the latter to cascade down to soften the edges. Make several and arrange in a pretty row on a windowsill.
Single stems are brilliant for little touches (if you need to shorten the stems of life-like flowers, use wire cutters or long-armed shears as their stems can be quite thick). Just add a sprig of foliage and stand them in a bud vase. These can either be placed individually on bedside tables, in bathrooms or in intimate corners, or grouped together on mantelpieces, on sideboards or down the length of a dining table.
For a bigger display though, place vases of different heights and shapes together, each one filled with just one type of flower or greenery to create blocks of colour and texture. If the vases are pretty, you could leave one or two empty. Group the vases on a large tray, or even better, a mirror. This will beautifully frame the flowers.
Not only is the appeal of life-like flora to do with their longevity but also with their ease, for they don't need to be in water, making them ideal for long-term decorating that needs little tending to. For a festive table or mantelpiece, place a row of stems down the length, adding tea light holders for extra twinkle. For a centrepiece, fill a beautiful bowl with seasonal fruits and tuck in sprigs of greenery. Or group together several candlesticks on a large platter, and arrange around the base a mass of foliage and berries.
When Christmas comes, consider evolving your winter arrangements to combine stems of eucalyptus, ivy, rosehip and hydrangea to make your own displays or Christmas wreath, or to add extra interest to a ready-made wreath. Some wreaths are almost too beautiful to leave on the front door. Instead, hang them inside where they'll create a focal point in a room, and where they can be appreciated. A giant wreath (a hula hoop can be used as your frame if you're making your own) would look spectacular above a fireplace, even more so if it was in front on a mantle mirror. Or, rather than one large wreath, I also like using three smaller ones in a row. If you fancy something different on your festive front door though, and are lucky to have access to lots of trailing ivy, gather a big bundle, add stems of snowball (the pretty white flowers as opposed to actual snowballs!), and secure at one end with wire or string. Add plenty of ribbon tied into a generous bow, and attach to the front door just as you would a wreath, allowing the ivy and the ribbon ends to trail down the door.
My final thing to say, for winter and indeed for Christmas, is never dismiss twigs. Look out for oversized, twisted lengths, and place in a large container. These make a great statement piece for a hall or on a table. If you feel you want something less minimal and more woodland-inspired, add some foliage, ferns, trailing ivy and berries. Smaller twigs covered with lichens or moss gathered from hedgerows will certainly look interesting stacked vertically in a shallow rectangular glass vase, or tied into small bundles and used to decorate place settings or a window sill.
Practical points
Vases. You can never have too many vases. It's worth building a collection of different sizes, colours and textures. From simple bud vases for just one or two stems, to huge vessels for flowers in bulk. Different shaped vases suit different flowers, and different coloured and patterned vases will add a certain style to your arrangement, as well as enhancing or adding drama to the flowers. You want vases to suit your mood and the season.
Alternative vases. Just about anything can be made into a vessel for flowers. If the container isn't watertight, simply place a glass vase or jar inside to hold the water.
Preparation. If using real foliage, strip the stems of any lower leaves that'll be submerged in the water (they'll rot and start to smell) and re-cut the ends. This will encourage the foliage to take up more water.
Change the water. This is particularly important if you're using a clear glass vase. Flower water, especially in a warm room, can start to smell and go murky, so change the water frequently.
Care for life-like flowers. And finally, to care for your faux flowers, a quick weekly dust with a clean feather duster, a make-up wipe or a hairdryer switched to a low setting to blow the dust off all work perfectly well.
Mary Norden is co-author (with photographer Polly Wreford) of Gathered – a book that celebrates the beauty and joy of flowers. It's available from uspublishing.co.uk.