Our Christmas pudding recipe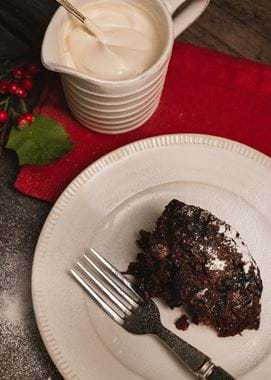 Our Christmas pudding recipe
Don't be daunted by the foot-long ingredients list for our Christmas pudding – as with all the best, it's filled to the brim with jewel-like dried fruits, warming spices and fragrant citrus. Unlike most though, it's also free from gluten and dairy (not that you'd know it). In keeping with tradition, make it on the last Sunday before Advent – Stir-up Sunday, this year on 21st November. You should also gather everyone in the house around for the stirring, with each person taking their turn from youngest to oldest, and always stirring east to west (to symbolise the journey taken by the Three Wise Men). Steaming your pudding can be a tad daunting if you've never done it before, but this step by step here should guide you through.
What you'll need
110g dairy-free baking spread
1 tsp ground cinnamon
1 tsp ground nutmeg
1 tsp mixed spice
110g gluten-free flour
55g gluten-free breadcrumbs
110g soft brown sugar
110g grated apples
110g grated carrots
110g mixed peel
110g currants
110g raisins
110g dried cranberries
55g dried apricots
55g chopped almonds
55g chopped pecans
2 eggs
1 small lemon, juice and zest
1 small orange, juice and zest
1 tbsp molasses
140ml brandy, sherry or port
What to do
Melt the baking spread in a small pan with the spices and then set aside to cool.
Add the mixture to a large bowl along with the rest of the ingredients, stir thoroughly. Pour into your pudding bowl, cover and leave overnight.
The next day, cover the top of the pudding bowl with a layer of baking parchment and a layer of tin foil, tie in place with string, then steam for eight hours, making sure to keep the water topped up.
Allow the pudding to cool completely before re-wrapping it in greaseproof paper, tin foil and string like previously. Store in a cool dry place.
On Christmas Day, steam the pudding again in the same way for an hour and a half, before turning out and serving. Traditionally, this would be with a sprig of holly on top, doused in a ladleful of your chosen alcoholic drink and then promptly – and carefully – set aflame as you bring it to the table.
Pudding sorted, it's time for the cake. Find our recipe – a ginger and pecan fruit cake – here.