Plant-based chocolate truffles for Easter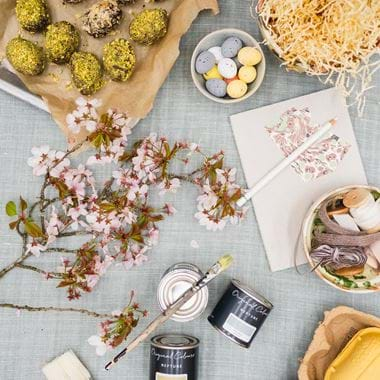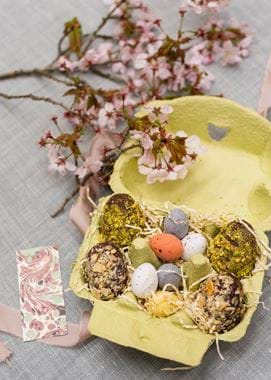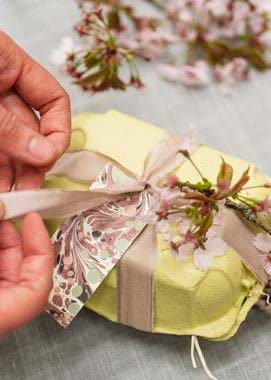 Plant-based chocolate truffles for Easter
This Easter, we're treating our friends and family to a handful of these homemade chocolate truffles, nestled in a decorated egg box. You'll find the step by step to creating such a pretty presentation over on our Instagram, and the recipe (which happens to be dairy-free and plant-based) from our café, The Provenist, below. It should make enough for about 45 truffles.
What you'll need
240ml coconut milk
300g dairy-free dark chocolate
3 tbsp coconut oil
1 tsp vanilla extract
A handful of finely chopped pistachios and almonds
2 tbsp cocoa powder
What to do
Place a small pan over a low heat and pour in the coconut milk.
While that's warming through, break up the chocolate into a bowl. Add the coconut oil and vanilla extract, then pour over the warm coconut milk. Stir gently (be careful as you don't want to do this too quickly) to melt the chocolate and coconut oil and combine everything together.
Allow the truffle mixture to cool then cover the bowl and place in the fridge to set for about four hours (although don't worry if it's longer).
When the truffle mixture is set, scoop out small amounts using a teaspoon and roll each around in your hands to create smooth balls (or egg shapes!). We've found it's best to do this stage all at once, arranging the truffles out on a tray as you go, before you decorate.
Spread the chopped nuts out over one plate and the cocoa powder on another. Decorate your truffles by rolling half of them (or thereabouts) in the chopped nut mixture and then the others in the cocoa powder.
The truffles will have warmed up a little while you're doing this, so pop them back in the fridge for ten minutes or so before serving. If you're planning on giving yours as a gift, we suggest doing this before wrapping them up or else they'll stick together (or to the wrappings), and then keep them in the fridge until you're ready to give them to their lucky recipient.
Don't forget to head on over to our Instagram account to see how our stylists created the decorated egg boxes we've presented our truffles in.