How to: no-sew fabric bunting for a summer celebration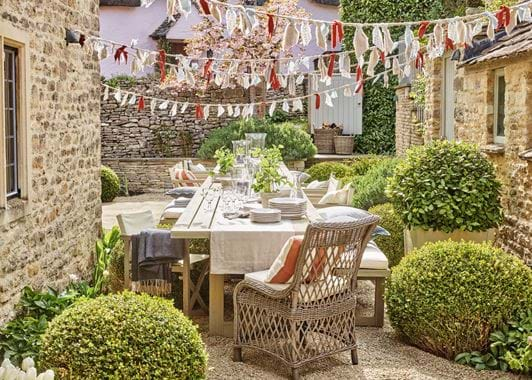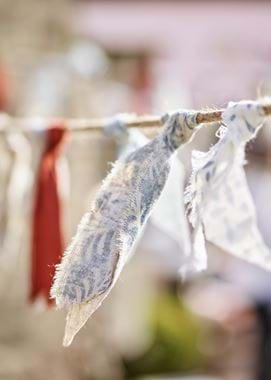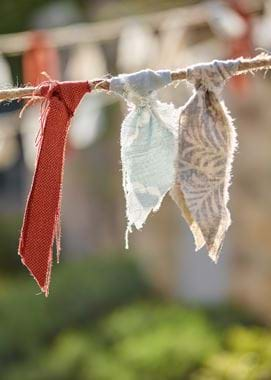 How to: no-sew fabric bunting for a summer celebration
The sight of bunting – strung up in abundance, fluttering gleefully in the breeze – has long been synonymous with celebrations. Our own no-sew take on bunting is loosely inspired by the upcoming Platinum Jubilee (we've used fabrics in subtle shades of red, white and blue), but its uses far extend this occasion alone. Easy to make and oh-so effective, hang in your home or garden (or even string between two trees in the park) to bring a sense of jubilation to your festivities this summertime. Follow our simple step by step guide to create your own, or pop over to our Instagram for a how-to video, if you'd prefer.
What you'll need
A selection of fabrics
Sharp scissors or fabric shears
Jute rope (cut to your preferred length, allowing extra at each end for tying up)
What to do
Begin by choosing your fabrics – we've used leftover pieces from past projects, but you could also buy a few favourite materials for the occasion if you don't have any spare to hand. You'll want to use fabrics that rip easily for this type of bunting (we found cottons were best and heavy linens a little too tricky). It's up to you how many patterns and colours you use – you may even want to stick with just one fabric. We've used three different designs here.
Next, you'll want to make sure that your fabric is no more than thirty centimetres in width. Measure and cut to size if necessary (otherwise you'll end up with strips of fabric that are very long).
Make small cuts of about an inch at frequent, but irregular, intervals down the longest side of the fabric – this will vary the widths of your fabric strips, bringing a relaxed, informal look to your bunting.
That done, tear your fabric from end to end along each of these cuts to create your fabric strips. The edges will be frayed, which is part of the look, but trim off any much longer threads.
Arrange your strips into piles by design/colour.
Now, begin tying the strips onto your rope using a lark's head knot. Fold your fabric strip in half lengthways and hold behind the rope, in the centre of your strip (the two loose ends should be pointing above the rope and the fold below). Use your hand to open up the fabric loop formed by the fold. Bring it up and over the front of the rope, grabbing hold of and pulling the two loose ends through the loop in a downwards direction as you do. Pull the ends to secure the knot. (You can watch a demonstration of this knot in our how-to video on Instagram.) 
Repeat this process, leaving a small gap between each strip, alternating your fabrics as you go.
Finally, trim the ends of the strips diagonally, before hanging up your bunting.
You'll find the video tutorial for this bunting over on our Instagram.