Blackberry, whipped ricotta and honey toasts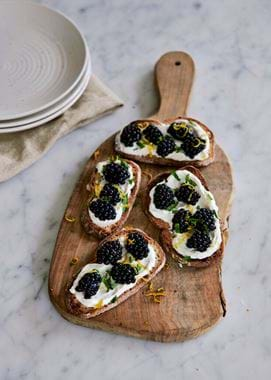 Blackberry, whipped ricotta and honey toasts
Crumbles, cakes, puddings, jam…there's no shortage of traditional recipes for that most autumnal fruit, the blackberry. But its culinary possibilities lie beyond baking alone. Here, we're sharing a simple recipe that puts the blackberry in a new, fresher light.
What you'll need
150g ricotta
1 lemon
½ tsp vanilla extract
1 tsp runny honey, plus extra to drizzle
7 thin slices of sourdough
150g blackberries, cut in half lengthways
A few mint leaves
What to do
Place the ricotta in a muslin cloth or very fine sieve over a bowl and allow it to drain for about 30 minutes.
Tip the drained ricotta into a bowl and add the zest of half the lemon, the vanilla extract and the honey. Whisk together for a couple of minutes until well combined and smooth.
Toast your sourdough.
Spoon the ricotta onto the bread, top with the blackberries, drizzle a little honey on each toast, and finish off with the zest of the lemon and some finely chopped mint.