Anne-Marie, Nigel & their Suffolk kitchen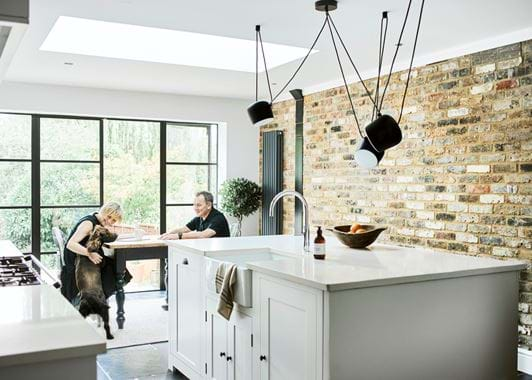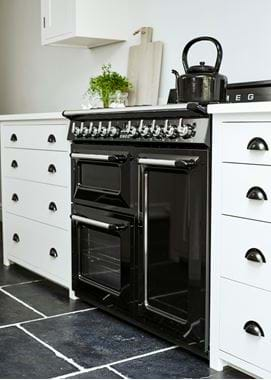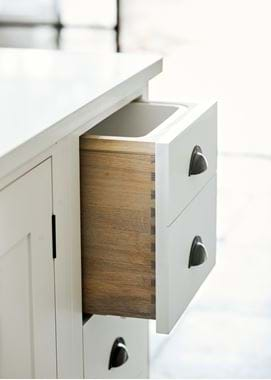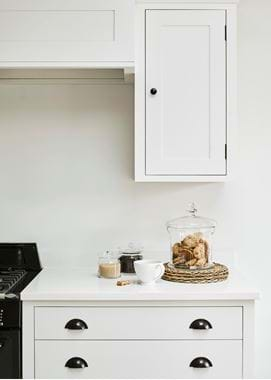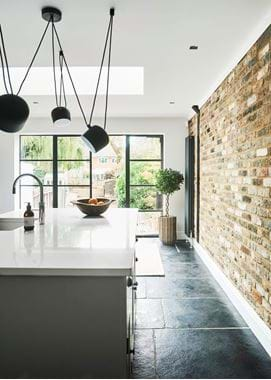 Anne-Marie, Nigel & their Suffolk kitchen
There's being neighbourly and then there's embarking on a dual extension and renovation project with those who live on the other side of your kitchen wall. That's precisely what Anne-Marie and Nigel decided to do with their next-door neighbours back in 2018 to ensure their home evolved in a design-conscious way from the outside-in, and to make way for the light, airy dream kitchen they'd been longing for…
Home profile
Once upon a time, Annie-Marie and Nigel's semi-detached Victorian home was a classic two-up, two-down cottage in the village of Lightwater in Surrey. But, after 21 years of living with a terribly tiny kitchen, they decided to set about a home renovation project to transform it into the four-bedroom, three-bathroom and capacious kitchen home that it is today – under the watchful eye of their beloved working cocker spaniel, Fred.
The project
It was three years ago that Annie-Marie and Nigel moved out of their cottage home to begin building work on the extension they'd been hoping for and planning out in their minds for some time. Being a semi-detached cottage, they were wary of creating such a difference in the exterior to the property that adjoined their own, so sat down with their neighbours to talk it though before deciding to go it together. As Anne-Marie explained: 'We wanted to do everything we could to protect the charm of the cottages, and for them to be in balance with one another so the extension worked as well from the outside as it did to live inside it. People said to us, are you mad? You're bound to fall out. But we didn't have any problems in the slightest; it was all very smooth.'
No strangers to Neptune, the couple had a dining room full of Neptune furniture, from a dining table to a sideboard, and so knew firmly in their minds where they wanted to go when the time came to choose their new kitchen. Neptune Farnham had not long opened and was only a twenty or so minute drive from their village, so they took a trip for a design consultation and the rest was soon history. 'We knew we didn't want an ultra-modern kitchen, though we did want a few modern touches like the Quooker tap and contemporary lighting,' said Anne-Marie. 'It was the Limehouse kitchen that initially had our attention,' added Nigel, 'however, we ended up choosing Suffolk as we felt it would be more in-keeping with the character of the cottage because it bridges old and new. We also wanted something that would be low-maintenance to look after, because, being a working dog, Fred brings in lots of muck and dust that gathers, so we were keen to avoid a design with trims that would need dusting down all the time.'
The couple were clear on wanting a kitchen with an island, but were quite happy with a small breakfast table in their new kitchen's layout rather than a big dining table. They had decided to keep their separate dining room and so, being just the two of them, felt a further big table in the kitchen wasn't needed. Connie, their kitchen designer from Neptune Farnham, designed the space so that it could easily take one should they one day decide to move on and the space become occupied by a bustling family. 'The island is the centre of our kitchen really because there's so much that it provides. Surface area for food prep, optimised storage and then there's the dishwasher, fridge and sink all packed in too,' Nigel pointed out. 'At one point, we were concerned the island might look too large for the room, but Connie reassured us it was in balance and she was right. It's perfect,' chipped in Anne-Marie.
Pure and simple white is the fundamental colour in their home's palette, with colour and interest being added through soft furnishings or fixtures, making Salt a natural choice for their kitchen cabinetry. The white quartz worktop, however, was at first a feature Nigel and Anne-Marie were questioning, but with Connie's guidance, they felt confident it was the right choice, and it teams beautifully with the black-bronze hardware. The monochrome palette is a quietly contemporary element to the kitchen alongside the authentic Crittall window, but the varied textures of timber cabinets, polished worktops and metal hardware adds charm and character that prevents it from becoming too modern. Add to that the exposed brick wall that nods to the Victorian red-brick exterior, and the kitchen's aesthetic very clearly has one foot in the here and now but with a purposeful backwards glance at the past.
'We absolutely love it,' concludes Annie-Marie. 'I love it when people who knew what it was like before first come to visit, and they come through the front door where nothing looks too different, but then you open the door to the kitchen and it opens up into this huge, beautiful, exciting space. It gets quite the reaction! It's transformed.'
Life in their new kitchen
What's your favourite thing to do in your new kitchen?
'As daft as it sounds, because it's what a kitchen is made for after all – cooking. We both love it, and even made pasta in here from scratch the other day. One of us will be cooking and the other sits at the table helping or just listening. It's lovely.'
What's your favourite part of the new kitchen and why?
'The island because it really does make the whole room work. The flow feels right, and we have loads of space to do things and to store things.'
What could you now not live without?
'The Quooker tap. Nigel has them at work and said they're the best thing, and they sort of are. Why would you ever have a kettle? So either that or the amount of space. Going back to our old, little kitchen now is almost unthinkable.'
What's next?
'The garden's being landscaped as we speak, so we'll be filling it with plenty of Neptune garden furniture of course!'