Bonfire Night feasting: pumpkin, goat's cheese, thyme & red onion tart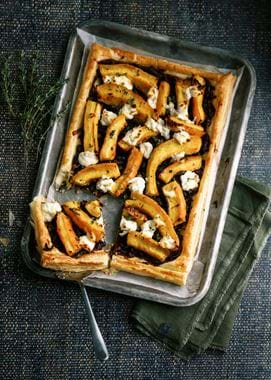 Bonfire Night feasting: pumpkin, goat's cheese, thyme & red onion tart
A Bonfire Night at home can be just as thrilling as any large fireworks display – a crackling fire that everyone can gather close to, your garden dressed up in candles and festoon lights, the simple joy of a fizzing sparkler held in mittened hands, and, above all, the opportunity to really celebrate autumn with a hearty, soul-warming feast. On that note, we asked the team at our café in Bath, The Provenist, to create a couple of recipes for your Bonfire Night table, and they returned with a suitably seasonal duo of tarts. Keep reading for the first – which makes use of any pumpkins not already serving as Halloween lanterns – and find the dessert tart (a pastry-wrapped take on the toffee apple) here.
Pumpkin, goat's cheese, thyme & red onion tart
Makes enough for: four–six
What you'll need
½ a small pumpkin peeled deseeded and cut into chunky wedges
2 tbsp extra virgin olive oil
Salt and pepper
A few sprigs of thyme leaves removed and stalks discarded
4 red onions
1 tbsp honey
A ready-rolled sheet of puff pastry
100g goat's cheese
1 egg beaten
(To make this tart vegan, simply swap the goat's cheese for a dairy-free version, the honey for another sweetener such as agave nectar, and the egg for a little plant-based milk. Most ready-made puff pastry is suitable for vegans, but be sure to check the label.)
What to do
Preheat the oven to 180°C. Spread the pumpkin on a lined baking tray, drizzle with olive oil then season with salt and pepper and sprinkle with the thyme leaves.
Roast in the oven for about 30 minutes or until the wedges are beginning to brown.
While the pumpkin is cooking, start preparing the onions. Thinly slice them into half-moons and place in a large saucepan with a tablespoon of olive oil and a generous pinch of salt. Cook on a gentle heat for about ten minutes.
Once the onions have softened, add in the honey and allow to cook for another five minutes until the onions darken and begin to caramelise, at which point take them off the heat.
Lay the puff pastry out onto a lined baking tray. Spoon the onion mixture all over the pastry, leaving a one-inch border around the edge. Then scatter with the roasted pumpkin and top with crumbled goat's cheese.
Score the one-inch border with a sharp knife – ensuring you don't go right through the pastry – and brush it with the beaten egg wash.
Place your tart in the oven and cook for 35 minutes or until the pastry is golden brown and the goat's cheese is beginning to colour.
Remove from the oven and slice up into even squares.