How to make a moodboard and when to use one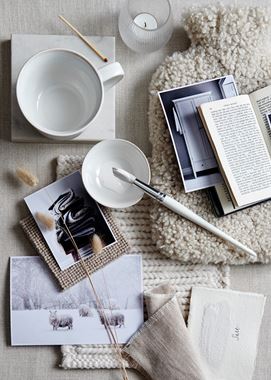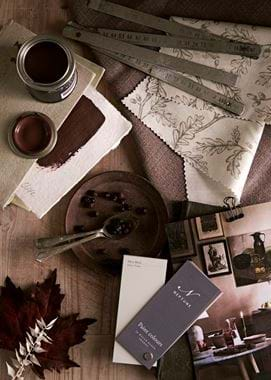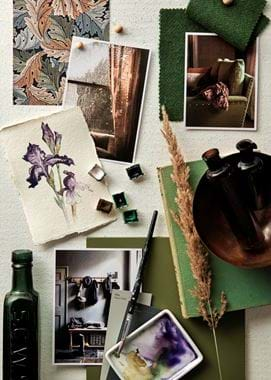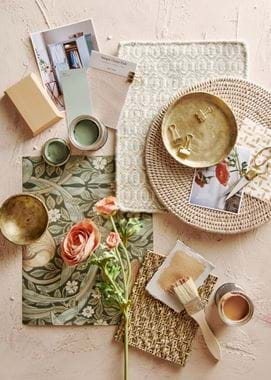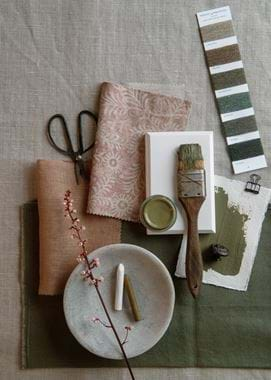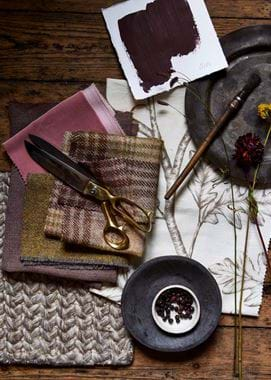 How to make a moodboard and when to use one
Rethinking your home's interior, be it one of your smallest spaces or a whole home overhaul, always needs a starting point. Inspiration is everywhere and can easily overwhelm, so a melting pot of sorts gives you somewhere to gather it all together, to edit it down, to make sense of what aesthetic speaks to you most, and to begin to shape the style of your space. Cue moodboards. Whether you're new to the curating game or are simply keen for a few tips on how to make the most out of yours, we caught up with Jessica (one of the home designers at Neptune Cheltenham) to discuss the why, the when and the how of moodboard-making.
Why is it that a moodboard is a designer's go-to creative tool?
Because they let you experiment without spending a fortune, without needing to put swashes of paint colours on the walls, without rearranging furniture and without sitting surrounded by magazines feeling a bit stumped about where to go next! A moodboard is like one big blank canvas where you can pool all of your ideas and understand what works best together and which collection of cuttings makes you feel most excited. For designers and clients, it's a playground in which you can safely and easily test the water to help you envision your space and feel more confident in your choices. I never design an interior without one.
At what stage of the project should a moodboard come into play?
At the beginning for sure. The first step is to always hunt and gather, as whatever you find is what will end up on your board. Sometimes clients come to me armed with magazine cuttings, print-outs from Instagram, photos and all sorts. Together, we'll work through what they've found and build on new ideas that stem from their initial inspiration. Other times, people come empty-handed and totally unsure of where to start and so we begin that hunt together. Your moodboard is your project's catalyst and it's important to get that spot-on before you move onto the next stage – sample boards – as it informs the entire interior decoration vision.
What's the difference between a moodboard and a sample board?
A moodboard is more conceptual – it's your space for displaying the tone, the overall style, the way in which you want to use the space. Should you feel like your moodboard is running away with itself at any point, step back and think to yourself – inspiration and atmosphere. That's all you're trying to present here. A sample board comes next and is essentially a development where you start to incorporate the actual paint colours, fabrics, wood finishes and so forth that you intend to use. I'll include actual brushes of the paint colours we've chosen, I'll pin fabric swatches to it, and make it a very visual and also a very tactile tool so that my clients can imagine all of the elements in the room much more clearly than if they were simply photos. With both boards, the aim is to try to evoke all five senses, just as your resulting room will.
Should a moodboard always be a physical entity or can it be done digitally?
Either or both! Pinterest is, of course, a wonderful digital tool for creating a moodboard, as is a tool called Canva which has lots of templates to play with. At Neptune, we'll always create a physical board as well however, because it's lovely to present a moodboard and a sample board to the client in their local Neptune store and to then move elements about together, and to be able to touch and feel all of the pieces on the board. It's a more immersive exercise in this way and feels more collaborative too, especially if I'm designing a children's bedroom – they seem to really enjoy playing about with a real life board. But a digital board is a wonderful place to begin.
If you had any tips on what to bear in mind when designing a moodboard, what would they be?
When gathering your inspiration images, try to be disciplined with yourself and choose images that reflect your actual space. By this I mean, if you live in a Cotswold cottage, avoid pinning images of a Manhattan loft space as it will be a vision that is almost impossible to achieve. So look out for images that are a similar scale to your room or that have similar features such as arched windows or beams. Consider including usability images too that remind you of how you want to live in the space, such as a family curled up under a blanket watching a film or a large dining table with a supper party taking place. And finally, it can be really helpful to create smaller, simpler moodboards of the other rooms in your home, even if you're not redecorating those. This will help you get a good feel for how well your soon to be renovated room will flow from the other living spaces to ensure your whole home feels in harmony. And who doesn't need some harmony in their lives?
For more details on our Home Design Service, speak to the designers at your local Neptune store.