The last days of summer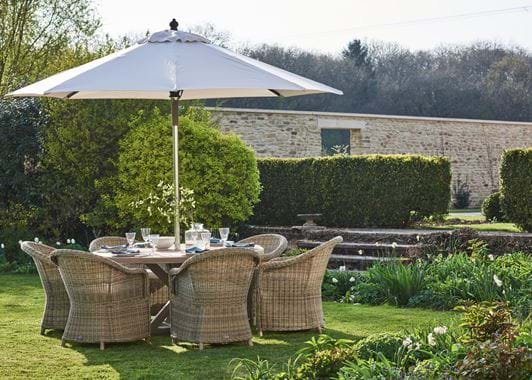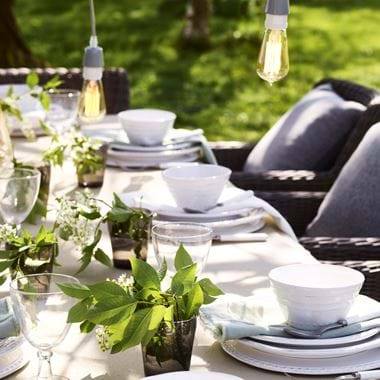 The last days of summer
Early autumn often brings with it the happy surprise of an Indian summer. Unexpected clear skies and late sunshine at this time of year are to be savoured – a last chance to spend time out of doors before the temperature drops and the evenings darken. As it's no longer baking hot (remember, it was for those few weeks in May and June), it can even be nicer outside. Sometimes it's hard to know how to make the most of this time, though; going to the beach feels a little odd, and changeable weather can make you think twice about travelling out to the perfect picnic spot.
The answer, we think, is to enjoy the last of the sunshine close to home, in our own gardens and terraces. This way it doesn't matter so much if there's a sudden shower or a chilly spell. Extra throws, shawls and cardigans are all on standby should they be needed, and it's simple to arrange your garden so it's a little cosier than it was in midsummer. When it gets a little cold, you can do all the things you'd do indoors – turn up the heating, switch on the lights and take shelter – and better still, there's no drive home afterwards. Here are our suggestions for ways to spend time in your garden as summer wanes.
Set the table
The time for picnicking on the grass may be over (unless there's been a sunny spell long enough to keep your grass nice and dry), but that's no reason to dispense with the picnic spirit. Pack away the paper plates, Tupperware boxes and disposable cutlery, but keep the home-made lemonade and sandwiches; all that's required is to change the location. Decorate your garden table with a linen tablecloth and napkins, add real china and sit down on proper chairs to dine in comfort. To preserve the authentic picnic feel, serve lots of finger food and place a flask of ice cubes on the table (it saves to-ing and fro-ing between the garden and the kitchen).
Swap sun loungers for armchairs...
Now that the temperature has dipped a little, you want to curl up, not stretch out. Outdoor armchairs give more protection from intermittent chills than sun loungers, especially if you bring extra blankets and cushions outdoors just in case. Cluster chairs around a dining table as an indulgent alternative to outdoor dining chairs to give a warmer, more intimate feel to garden gatherings.
...and cocktails for afternoon tea
Tea (or coffee) and cake just feels right at this time of year – again, flasks are handy if you want to keep them hot for longer. As afternoon turns to dusk, outdoor fire pits and chimeneas come into their own – not just for warmth, but also for a spot of al fresco cooking. Toast some marshmallows and serve some hot chocolate, and spend an evening under the stars.
Escape the breeze
Bringing throws and blankets outside is one way to shelter from cool breezes, but a summer parasol can come in useful too. The parasol at the centre of our Harmondsworth table, for example, is a generous size that protects you from bright sunshine, but it also acts as a windbreak – just as if you were sitting beneath a tree canopy. It can make all the difference when you're trying to decide whether to dine outside or retreat indoors.
Add a warm glow
Light garlands threaded through tree branches and candles in hurricane lanterns not only add atmosphere to your garden, they also encourage people to linger outdoors after sunset. Light candles on tables, away from plants, where they can be admired safely – a group makes a great centrepiece for an al fresco dinner party.