A meadow blanket: rooftops in bloom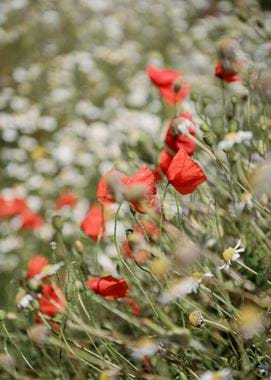 A meadow blanket: rooftops in bloom
There's a simple way we can enjoy the pastoral joys of nature right outside our windows, no matter where we live, as design journalist Amy Moorea Wong discovers
The historically stark contrast between the hustle and bustle of town and city life and the calming crops and cottages of the countryside is merging. As our knowledge of human impact on the world increases, our urban spaces are growing reassuringly greener, with plants beginning to break up the harshness of British cityscapes with hopeful, verdant flashes.
For meadows are taking to our rooftops; delicate blankets of grasses, herbs and wildflowers, growing in all their random beauty, just as they would be naturally found in our fields and forests. Indeed, the whimsical, Arcadian view of gently swaying plant life is heightened when transposed against a backdrop of bricks and mortar, and having such a seasonally-changing scene in one's busy routine is enchanting, soul enriching, and enlivening.
As any town or city dweller knows, ground floor garden space is at a premium, while it's highly likely that somewhere within the boundaries of the home there's a disregarded raised area, be it a slice of space over a door or window, the top of a shed or garage, or the projecting roof of an extension. Where there's a flat(ish) space, make way for the mesmeric meadow.
Roof meadows, which can be bought as turf or sown in situ, lessen the visual impact of sprawling grey development in a way that's undeniably beautiful and beguiling, while also doing their bit to combat the climate crisis. They can improve air quality by absorbing carbon, toxins and pollution, provide heat insulation, reduce noise, and soak up excess water. Another climate change-fighting consequence of meadow roofs is the boost they give to biodiversity, providing crucial habitats for birds, insects and those all-important pollinators.
'Meadow roofs are attractive but, more importantly, support wildlife, which is absolutely vital as we're in a biodiversity emergency,' explains garden designer and BBC presenter Arit Anderson. 'UK meadows have declined by nearly 97% in the last ninety years, and our native flower species play a key role in restoring this fragile ecosystem – roof meadows provide shelter, nesting space and food sources for birds and butterflies, bees, moths, and a wide range of insects associated with dry grasslands.'
Under-the-radar roof meadows are quietly sprouting up and down the country, utilising empty roof space on corporate structures and small residential patches alike, helping the earth and simultaneously impacting our mental health. 'Being close to nature is intrinsic to a healthy life,' says Anderson. 'In urban homes, it's easy to feel out of touch with the natural world, but waking up to see the vitality and beauty of a meadow from your window positively resonates with us all, instantly reducing stress levels and increasing optimism.'
While the ecological, world-saving benefits of a meadow roof on your garden shed may be minor in the grand scheme of things, such initiatives are a positive step we can take towards a new, greener way of living, and a modern, progressive way of viewing and designing our towns and cities.
Honeyed roofs
Look up as you walk through our towns and cities and you might get something of a surprise. For, as well as being transformed into pastoral meadow fields, our rooftops are also, excitingly, providing new homes for our dwindling bee population.
Fortnum & Mason led the way when it positioned four beehives on the roof of its iconic Piccadilly store over a decade ago. Painted in Fortnum's signature eau de Nil hue with copper-clad pagoda roofs and tended by bee-master Steven Benbow, these are no run of the mill beehives. The honey produced by these Buckfast bees (a breed of honeybee), 'Piccadilly London Honey', varies each year depending on the flora available to them in the nearby gardens of Buckingham Palace, Clarence House and Green Park, but usually has a pale toffee colour with subtle traces of chestnut, lime and garden flowers.
Following the success of the Piccadilly hives, other such bee dwellings are springing up on rooftops across the country, from Birmingham's Custard Factory building to the Royal Hotel in Cardiff. Meanwhile, Fortnum's bees now also have prestigious outposts atop the roofs of St Pancreas and the Royal Albert Hall, ensuring a steady flow of honey and a thriving bee population.
Amy Moorea Wong is a freelance journalist and interiors editor at The Glossary magazine. She was also previously features editor at ELLE Decoration and news editor at Livingetc. @amy_moorea