Reaching new heights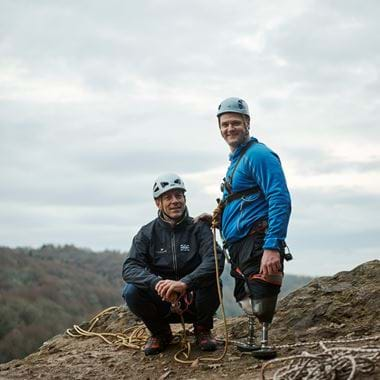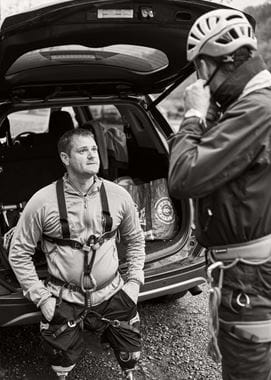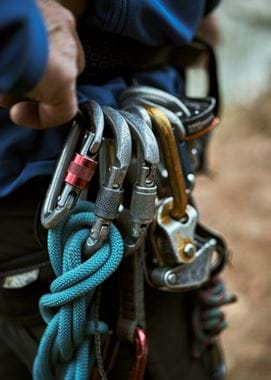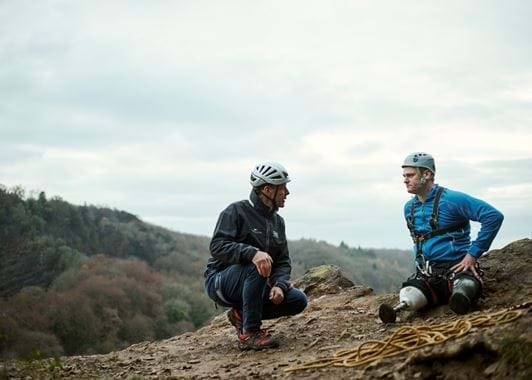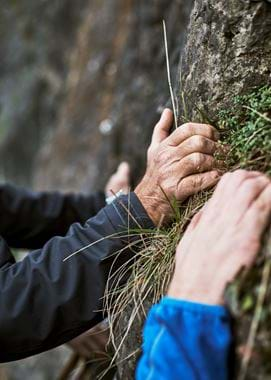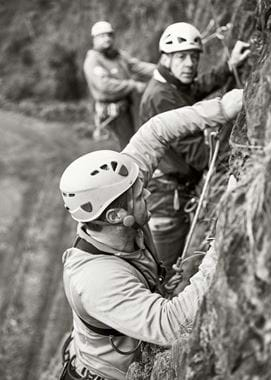 Reaching new heights
Two years ago, Neptune co-founder John Sims-Hilditch began mentoring Neil, an ex-soldier who lost both his legs in Iraq. Here, they talk with journalist and former Lebanese hostage John McCarthy about the journey they've all shared since then and the challenges they're looking forward to.
In 2004, just 24 years old, Neil Heritage was serving with the Royal Signals in Iraq when he had both legs blown off by a suicide bomber. How could you come to terms with such a terrible and terrifying event?
Neil smiles gently, nods and says, with remarkable understatement, "Obviously it was a shock. I didn't see it coming, it just happened… and that was it, yeah."
I didn't see my Lebanese kidnappers coming and can now look back at those long hostage years as something that 'just happened'. But I came home physically intact, able to restart my life immediately. I'm awed by Neil's lack of bitterness or self-pity.
"To be honest, what happened should have killed me, so my outlook is everything is a bit of a bonus – get the most out of having more days than I'm owed."
We're in the elegant Neptune kitchen of John's house. There's clearly a strong rapport between the two men, who met two years ago. They laugh easily and listen intently as the other speaks.
John, some ten years older than Neil, served in the Coldstream Guards in the Far East and Northern Ireland. The three of us share memories of living in a state of constant tension – me in captivity, John and Neil on the frontline – and how a sense of optimism helped during the toughest times.
Given his experience in the army and as a successful businessman, the charity Supporting Wounded Veterans thought that John could be a good mentor to Neil.
"I thought Neil would be teaching me things, not the other way around! But having found ways of taking my life forward since leaving the army, maybe I could help Neil with his plans," he explains.
Neil wasn't expected to walk again, but thanks to modern prosthetics – and phenomenal will power – after five years, he was doing just that.
But he didn't stop there, deciding to join a team to row the Atlantic. An extraordinary challenge for a fully-fit, experienced rower, but for a double-amputee? Why did he do it?
"I was pretty well rehabbed physically, but not quite there mentally, so the row was about getting some confidence back."
John cuts in teasingly, "You didn't know how far it was, did you?" Both men erupt in laughter.
Their banter touches me – shared humour was a vital part of life with my fellow hostages.
John turns to me, "On top of what he's come through, Neil is always looking to help others. That rowing team included other wounded veterans – raising money to help others still in rehab."
Leaving the army in 2006, Neil had no real plan. After a brief spell as a financial advisor, he worked as a school sports coach and went on to be a fitness trainer.
Likewise, John had no clear career path to follow in civilian life. With little understanding of the financial world, he saw that his strengths lay in lessons learned in the army: teamwork and planning.
"People said industry was a dog eat dog world, but esprit de corps was probably the thing I loved most in the army and I wanted to recreate that in a commercial environment – build a successful business, but one which aimed to improve things."
John started selling hammocks, then garden furniture, with his friend and Neptune co-founder Giles. It wasn't long before garden furniture morphed into kitchens, and the Neptune brand was born.
"The Neptune journey has evolved," admits John. "Initially, it was about survival, keeping afloat. It was then about making the product in the best possible way. Then thinking how we could be more supportive of our team. And now there's the environment – our supply chain stretches to Asia. What can we do to leave the world a slightly better place?"
Clearly, John has a refreshing approach to business.
"Numbers need to add up," he says, "but only so we can do what we want and need to do. What's exciting is how we take our ideas forward as a team."
John has been sharing that philosophy with Neil in developing his charity, Climb2Recovery.
Neil explains, "The basic concept is to get people who've been wounded physically or mentally to learn a new activity.
"We've focussed on climbing, but it's much more about making friends. Some of these guys haven't been outside for months. Now they're meeting up regularly."
"Climb2Recovery builds an incredible esprit de corps." John enthuses.
"They talk about climbing and that leads to sharing their trauma. It's about knowing you're not alone."
Climbing strikes me as an incredibly difficult sport for someone who's lost both legs. But Neil designed special prosthetics that give him greater sensory response when on a rock face. He's already made two attempts to summit the Matterhorn.
His determination, his energy, is amazing – where does it come from?
"I don't want to be defined by that incident. That was a split second in my life. I want to look back and know I went on and did something worthwhile."
John looks at Neil as he speaks, head bowed slightly, listening.
"Neil's story is inspirational. It helps us think 'maybe I can do that'. And that's all you need – to think 'Maybe I can do that, to challenge yourself to do more, do better."
Indeed, knowing the challenge of life-changing experiences, I think I'd be taking life a bit easier if I were him. So what are his plans for 2020, I wonder?
"Well, next July there's another go at the Matterhorn."
"Wow!" I say.
"Yes," Neil continues, "and this time John's going to come as well!"
John laughs, "Initially I just wanted to support Neil, but now he's dragging me up the mountain. It's going to be an interesting challenge!"
Indeed.
"Yes," Neil says, completely deadpan. "And then in August I'll be kayaking down the Amazon."
I look at John, who shrugs, smiles and nods.
John McCarthy CBE is a journalist, writer and broadcaster who was held captive during the Lebanon hostage crisis. John was the UK's longest-held hostage in Lebanon, where he was a prisoner for more than five years.