Jess & her Henley kitchen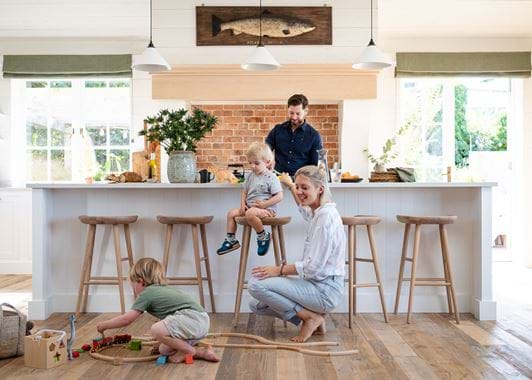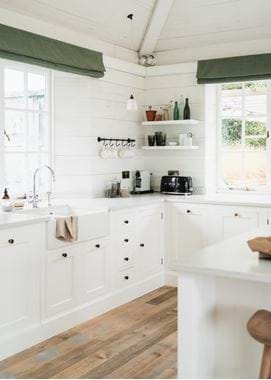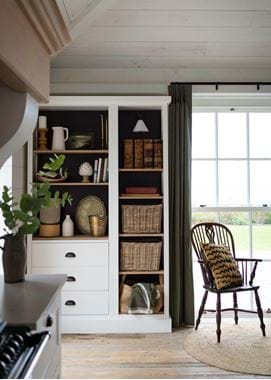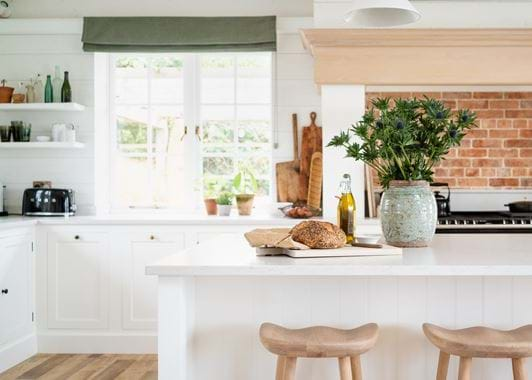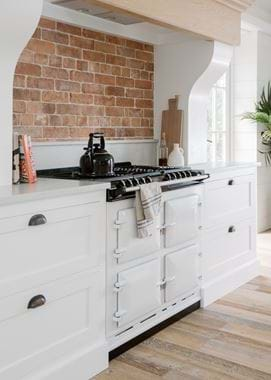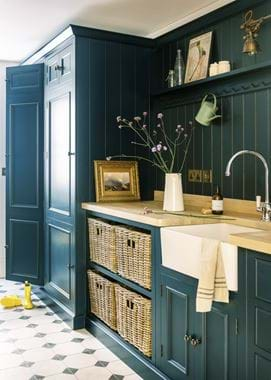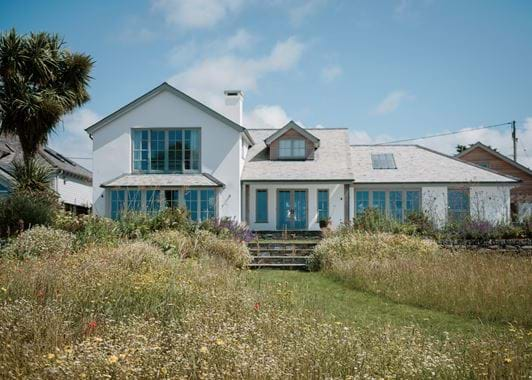 Jess & her Henley kitchen
What do you get when you cross a coastal, Cornish, built from scratch home with a New England meets the Hamptons-style moodboard? The answer is Jess' heavenly family home with her Henley kitchen sat front and centre as its heart and soul. Documenting the whole build on her Instagram account @cornishwife.cornishlife, she invited us inside to take a closer look at two of her Neptune-designed rooms…
Home profile
One year ago (give or take a week or two), here stood nothing but a small, red brick bungalow on a generous plot of land not too far from Padstow overlooking the bay. Today is a wildly different story. The bungalow is long gone (though hints of its original character remain – more on that shortly), and instead a whitewashed castle on the coast stands proudly in its place. Built from the ground up, this large family home is the kingdom of Jess (who designed the interior while raising toddler son. Ernie, carrying newborn son, Miles, and managing the family's multiple holiday apartments), her property developer husband, Ash (who runs bespoke home construction company Alkenby), and Benjamin the black and white cat.
The project
Turn back the hands of time and Jess' family home might feel a little familiar to her. As a little girl, she in fact once spent a lot of time on this very plot – the bungalow that occupied just a tiny portion of this seaside spot once belonged to her granny. Her family owned nearby Harlyn House (which they decided to pass into the hands of The Pig hotel a few years ago) where she also spent many years living as a child, but together with Ash decided that home for them needed to be something different, something new, something they could completely and utterly put their stamp on. 'Harlyn was home, yes, but it's just so unrealistic to live in that scale of property because it needs so much repair. When you sort one end, the other starts falling apart again and we didn't have the funds or the time to give the house what it deserved anymore. It was time to start a new chapter,' explained Jess.
The couple toyed with the idea of buying another, smaller period property inland or building afresh somewhere with beach views, but it was the latter that won the debate. 'We knew that the family who bought the bungalow hadn't gone ahead in the end to develop the land, so we got in touch and, low and behold, they were thinking of moving so we bought it back off them and away we went,' she continued. Staggeringly, it took just over a year from bulldozing the bungalow to walking in, keys in hand, ready for their first family Christmas in their new home.
When designing their new home, Jess was very clear that she didn't want it to feel in any way 'big glass box'. All shiny and new from the exterior wasn't her cup of tea, and so she specified wanting the charm of a period property's nooks and crannies that, through both the interior and exterior design, she could make feel as though her home had evolved over time. 'We made sure to set aside a chunk of budget for landscaping the garden as that always gets forgotten and it needed to play its part in softening everything too. It's full of wildflowers and just feels so…natural,' Jess pondered.
Back to all things interiors, Jess was no stranger to Neptune. Having had the original oak Henley kitchen in the holiday apartment in which they stayed during the renovation of both The Pig at Harlyn and their new home, she had her sights firmly set on the very same kitchen for their forever home. 'I did have that beach house vibe vision in my head and so that swayed us from having the exact same oak kitchen to the version of Henley that's painted. Pinterest was screaming at me with its Hamptons-style beach houses so I said, let's do it, let's go all white. It seemed crazy with two little people in our life, I know, but your home is for you too, not just the kids. Plus, they don't stay little or grubby for long do they? So we went white everything – white countertops, white cabinetry, white Aga.'
Being based in Cornwall, Jess' closest Neptune store wasn't quite a hop, skip and a jump away. Neptune Bristol was tapped into the sat nav and off they went, four months' pregnant with baby Miles, for a design consultation with designer Becky. 'It might've been a long day but there was no question we'd be having a Neptune kitchen, and so heading to Bristol for the day wasn't really a hardship,' Jess continued. 'We went in with a clear-ish picture of what we wanted – the Henley in Snow, a layout that was as symmetrical as possible and an island as big as possible! We really wanted the wow factor to complement the impressive vaulted ceiling and both felt a showstopper of an island would do that. The rest we left to Becky's imagination. She even incorporated the bungalow's red bricks as the Aga's splash back – such a lovely detail and nod to the building's past.'
While beauty was naturally the end goal for Jess' kitchen, utility played a huge role too. The kitchen really would be the heart of the family home, and so it needed to cater to cooking, entertaining, dining, a homework spot, a study, and a play area. It's the very definition of a hardworking kitchen. 'That's why I was so set on having more than one bin! It might sound daft but one of the things that drives me mad is the recycling piling up on the worktop. I wanted plenty of room for everything so that the kitchen did what it needed to do. I asked for three bins at first but was negotiated down to two big ones in the end. Then we have our boot room that acts as a utility space too which frees the kitchen up no end.'
The utility room tells a very different colour story, painted in an archive paint shade (Navy from spring 2016) and with cabinetry from the Chichester laundry collection. At first, they were wary of going so dark for fear it would date, but ultimately decided their home was a place to have fun, to be bold, and they could repaint it later down the line should they have a change of heart. 'The cabinetry and the design is the timeless part, but the colour is the fun bit!' said Jess. In a home where the washing machine is always on, having a separate space to house not just the white goods but all the paraphernalia that comes with it is heaven-sent. 'Benji's stuff lives in here too. Becky popped in the double bin cabinet just for him – one compartment for his kibble and the other for his pouches. Then I have my laundry basket cabinets – I went for the four-basket version but I could've kept going and going; they're endlessly useful.'
Whether it's the kitchen or the boot room (or one of the family's many Neptune bathrooms filled with Edinburgh and Chichester washstands), the word that Jess kept coming back to was 'timeless'. Yes, they wanted their home to look like something off a Pinterest board, and yes they wanted it to feel like a space in which they could embrace the chaos and live in at the same time (hence why they wanted a freestanding fridge so that they could pin up pictures painted by the boys as they got older), but more than anything, they wanted it to be a home that would grow old with them and that their family could grow into as time ticked on. 'I love everything about it. I love my pan drawers. I love my larders around the fridge. The oak inside the cabinetry makes me happy. But what I really love is that I can so clearly picture the boys in 15 years' time, sat at the island, mumbling something about going to the beach with their friends after supper. It already feels like our forever home. It's perfect.'
Life in her new kitchen
What's your favourite thing to do in your new kitchen?
'Being around our island as much as I can. It's like a 360 degree experience because you can look out to sea on your right, watch the boys playing around the corner sofa, and then keep an eye on whatever's cooking on the stove – Ash does most of that! Even better when I have a glass of wine in hand.'
What's your favourite part of the new kitchen?
'It just has to be the island. I can't help it. It's just so generous and I love it. I can't wait to treat it like a big feasting table filled with delicious food for everyone to tuck into, family and friends. If you've stayed at The Pig before, you'll know what I mean when I say their big breakfast table – just like that.'
What could you now not live without?
'My bins! But if I had to pick a second, the built-in microwave with the little drawer underneath. A microwave is such an ugly, bulky thing to have out and so this makes everything feel so much nicer. All the baby's stuff goes in the drawer underneath, which I like because then I can keep things neat and concealed – at least some of the time!'
What's next?
'After the guest suite is finished (aka our garage), we're looking to renovate our holiday apartments in Trevone Bay. Positioned on an old Victorian terrace with lots of timeless charm and uninterrupted sea views, they're crying out for a little love, and quite frankly, another Neptune kitchen!'