A blueberry, elderflower and yoghurt loaf cake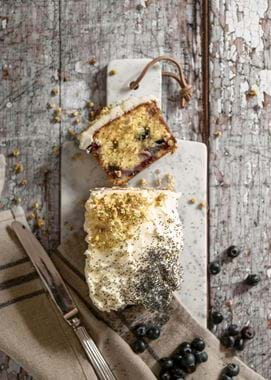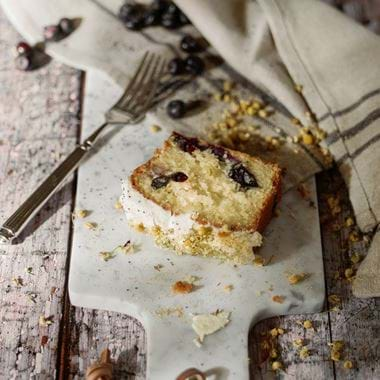 A blueberry, elderflower and yoghurt loaf cake
A spot of baking is one of our favourite ways to make the most of the flavours of summer. But, when the temperature climbs, we've found it's often best to keep things straightforward and simple. Enter this loaf cake: topped with cream cheese icing and decorated with edible flowers, it'll look suitably seasonal and pretty for tea in the garden with friends, but is oh-so easy to make. And really, is there anything more sunshiny than fresh berries, sweetly floral elderflower and a hint of zingy lemon?
What you'll need
For the cake:
200g caster sugar
225g self-raising flour
150g unsalted butter
2 free-range eggs
140g Greek-style yoghurt
1 lemon zested and one half juiced
1 vanilla pod just the seeds
150g blueberries
For the icing:
200g cream cheese
30ml elderflower cordial
A dusting of poppy seeds (to garnish, optional)
A sprinkling of dried chamomile flowers (to garnish, optional)
What to do
1 Grease and line a 21cm loaf tin, and preheat your oven to 160°C fan.
2 Over a gentle heat, melt your butter, than set aside and allow to cool to room temperature.
3 In a large bowl, whisk together the sugar, eggs, yoghurt, lemon zest and juice, and vanilla extract, then slowly incorporate the melted butter. Add in the flour and mix to combine.
4 Before adding the blueberries to the batter, toss them in a little flour until they're coated. This will help stop them from sinking to the bottom of the batter when in the tin. Make sure you don't use too much flour, you just want them to be lightly dusted.
5 Fold the blueberries into the batter, being careful not to crush them.
6 Pour the batter into your lined loaf tin and place in the oven. Bake for an hour to an hour and ten minutes, making sure you keep an eye on things – depending on your oven, you may need to cover the top of the loaf with tin foil to stop it from burning.
7 To check whether it's cooked, insert a skewer into the centre of the cake; it should come out clean with a few crumbs on, but not with wet batter. Once done, remove your cake from the oven and leave it to cool in its tin for ten minutes before transferring to a wire rack.
8 Combine the elderflower cordial and cream cheese together and whisk using a fork. Once your cake's completely cooled, spread the cream cheese mixture over the top and garnish with the flowers and some poppy seeds.
And by the way...
This is one of those cakes that'll taste just as good the next day, so it's perfect if you need something to make ahead of time or for storing in an airtight container and taking a slice here and there. Just make sure to pop it in the fridge if you've already added the cream cheese.
You can often find whole, dried chamomile flowers in the fancier kinds of loose-leaf chamomile tea. But, if you don't have any to hand, we think this cake would also look lovely with any other edible flower atop it, or even a sprinkling of blueberries and a touch more lemon zest.