Behind the walls of Houghton Lodge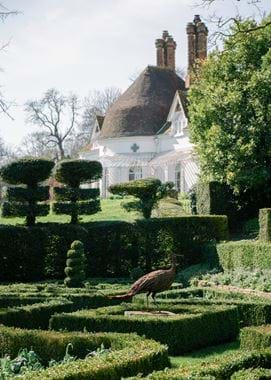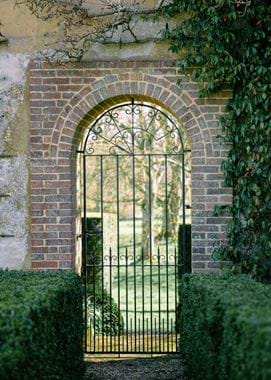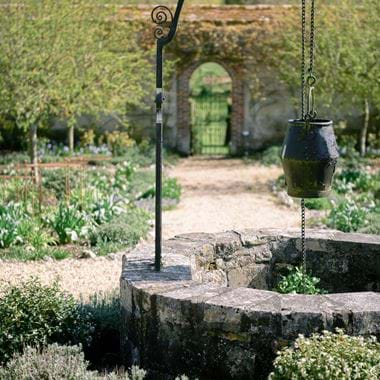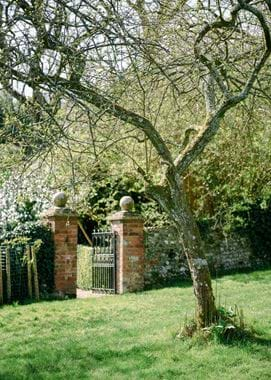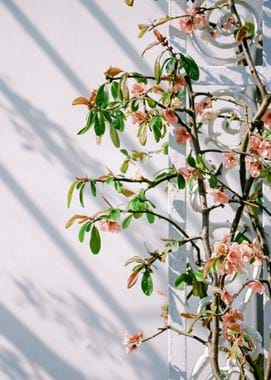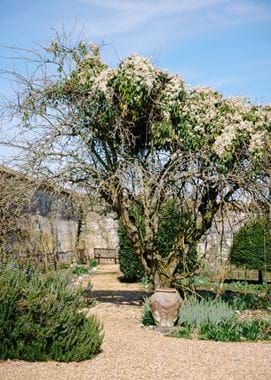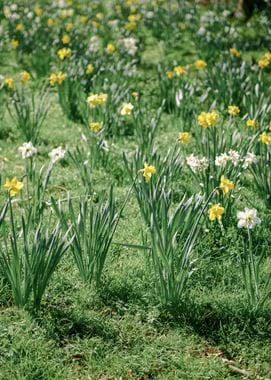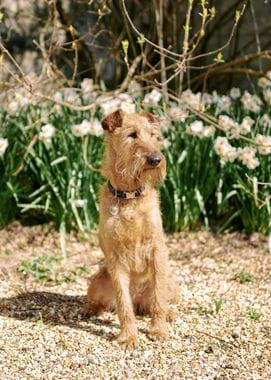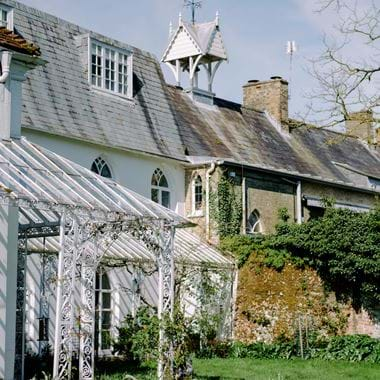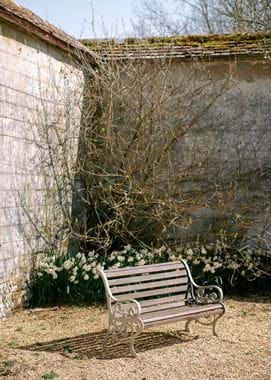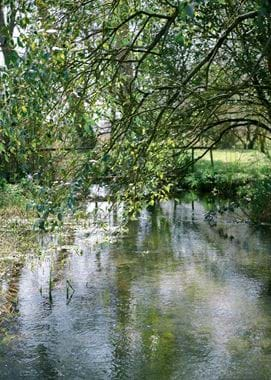 Behind the walls of Houghton Lodge
Back in early spring 2020, just before we all found ourselves spending a lot more time at home, Kat and Alex from our communications team took a trip to the walled garden at Houghton Lodge in Hampshire. Armed with notebook (Kat) and camera (Alex), they captured their visit and the arrival of spring in the garden – as well as picking up a few planting ideas from garden owner Sophie Busk – so, whether you're able to visit or not, you can still delight in this beautiful space and look forward to the gardening season ahead.
The day we visit the walled garden at Houghton Lodge is a gloriously sunny March one, and even though it's still early in the season, it feels as though spring has well and truly begun here. Warmed by the tall, chalk cob walls, the space benefits from a microclimate that means, even on cooler days than this, you're snugly sheltered from the wind. The plants are making the most of it too: 'The walls are particularly amazing for fruit tree growing,' Sophie tells us. 'They trap the heat from the sun during the day and then release it overnight, and the espaliered pear trees that we grow against the walls just love it.' So much so in fact, that one tree, a 'Beurre Diel' pear, has grown to just over 16 metres long. The widest pear tree known to exist, it was named a 'Champion Tree' last year.
And it's not just the pears that love the warmth and shelter the walls provide – Houghton Lodge's walled garden is also home to a heritage orchard of 32 different varieties of apple trees with delightfully romantic names like 'Ribston Pippin', 'D'Arcy Spice' and 'Peasgood Nonsuch'. 'Heritage orchards now only exist in private use,' explains Sophie. 'After the Second World War, a lot of orchards were scrubbed to make way for development and agriculture, and so you'll only find a lot of these older varieties in private collections like ours now, which is what makes them so special.' There are also figs and plums that join the pears in lining the walls, a newly replanted quince, all the family's favourite vegetables, melons (a new experiment for 2020), a kiwi arch and golden raspberries that share their fruit cage with Sophie's friendly millefleur Pekin bantam hens.
But the walled garden isn't just for edibles. From the lavender-filled borders surrounding the central well to the peony walk (also filled with heritage varieties) and beds of bearded irises (planted over the winter to pay homage to Houghton Lodge's former owner, Iris Wells), this space will be a tapestry of colour come summer. It's something we can glimpse now as hyacinths and daffodils bloom underneath the trees, the quince comes into its coral-red blossom and a romping Clematis armandii settles, snow-like, across the top of an apple tree. 'I love colour and I love cut flowers, so we have beds dedicated to just that,' says Sophie. 'About to come up are hundreds of tulips and wallflowers, and then, following those, delphiniums and gladioli, with dahlias later on in the year. Then, along the fronts, we plant salvias, calendula, white and pink cosmos, and a beautiful white, lacy annual called Orlaya grandiflora. While the wildflower patch next door to the cutting beds is, this year, sown in a palette of blue and white.'
The most beautiful part of the walled garden though, for Sophie, is the rose arch. Planted, for the most part, with two rambling varieties, 'American Pillar' and 'Narrow Water', it's a profusion of pink in July, taking on a new hue in August as the brighter pink 'American Pillar' is replaced by the deep purple Clematis viticella 'Royal Velours' that clambers through the rose's stems. Then, as the arch wanders its way into the herb garden, newly planted rose 'Ghislaine de Féligonde' adds its shades of palest peach and buff yellow well into autumn. Here, the beds are divided into four, each one filled with herbs for a specific purpose, be it medicinal (antiseptic marigold, feverfew to ease headaches and dill to calm), for brewing into teas (bergamot, Lady's mantle and common thyme), to use as natural dyes (blue from woad, delicate yellow from sorrel and even black from the roots of meadowsweet) or for their scent once dried (hyssop, chamomile and southernwood).
As we continue on up the garden (literally, as it perches on a slight slope), Sophie leads us to a series of glasshouses sheltering against the top wall. Almost an essential for any walled garden, Houghton Lodge's – which include an orangery and an orchid house – are particularly special because it's here that, each year, happy couples say their I-dos. 'The orangery was once used by my father-in-law to grow hydroponically. It meant we could have strawberries and fuchsias – and even grow banana trees – all year round, but it was quite expensive and had a few problems with pests. Then when the head gardener at the time retired and we couldn't find anyone to replace his specialist knowledge, we decided to start again.' Keeping the olive tree, they cleared almost everything else out, laid down tiles from Italy that pick up on the russet and brown hues of the walls outside, and it's now where ceremonies take place underneath the arch of the old 'Black Hamburg' grape vine, before spilling out into the walled garden or down to the water meadows for dancing under the stars. An idyllic thought indeed.
The Houghton Lodge plant list
Pyrus communis 'Louise Bonne of Jersey'
One of the oldest varieties in the garden (and easier to find than 'Beurre Diel'), this early-fruiting pear has very juicy, very smooth, pink-tinged flesh. A good one for growing if you live up north (and have a warm, sheltered wall to protect it), it can sometimes suffer from the humid summers in the south of England and Wales, although it's doing just fine at Houghton Lodge.
Malus domestica 'Lane's Prince Albert'
A late-cropping Victorian variety, 'Lane's Prince Albert' is a sharp cooking apple that holds its shape well, making it perfect for tarte tatin. It's self-fertile, but will still do better if you pair it with another variety that flowers at the same time. Like 'Ribston Pippin', a dessert, cooking and cider-making apple that's also grown in the walled garden.
Clematis armandii
The most striking flowers in the walled garden in early spring come from this clematis. A little bit rampant, it'll quickly cover a sheltered, sunny wall (or, in this case, tree) with its creamy-white, almond-scented blooms. As a bonus, it has evergreen leaves too.
Rosa 'Ghislaine de Féligonde'
Of all the roses at Houghton Lodge, many of which are old varieties, 'Ghislaine de Féligonde' is Sophie's favourite. 'She's the most beautiful rose in the garden in my view. She flowers all the way through the season until October and November, and has buff-yellow and pink, very pretty, very lovely clusters of small double flowers.' A not too vigorous rambler, you'll still ideally need a wall or arch to grow it over.
Paeonia lactiflora 'Sarah Bernhardt'
A lot of the peonies in the walled garden are now hard to find, including the very rare 'Emperor of India', but 'Sarah Bernhardt' is among the easier to get hold of. It has large, romantically ruffled flowers in soft pink and a delicate scent, and is also excellent for cutting.
Lathyrus odoratus 'King Edward VII'
All the sweet peas in the garden are sown from seed and tended voluntarily by expert grower Jim McDonald. He grows a mix of both the old-fashioned grandiflora sweet peas and the more modern Spencer varieties for Houghton Lodge. But while it's the Spencers that have the more sought-after long stems and large, blousy petals, Sophie still prizes the heirloom varieties, like deep pink 'King Edward VII', for their strong scent and more understated flowers.
Mentha longifolia subsp. schimperi
This variety of mint is grown in the bed set aside for creating herbal teas and has very long, elegant leaves, equally slender spires of mauve flowers and a strong peppermint flavour.
Houghton Lodge is a Historic Houses and RHS partner garden, as well as an idyllic setting for weddings. To find out more, visit their website.