Mother's Day breakfast-in-bed marmalade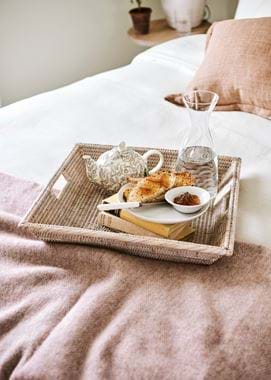 Mother's Day breakfast-in-bed marmalade
If there were ever a time to treat somebody to breakfast in bed, it's Mother's Day. A gesture that's thoughtful, an indulgence seldom enjoyed (because she's probably busy running around doing things for everybody else), a treat that starts the day off on the right side of the bed, it's certainly a Mother's Day ritual to take up – that is, if you haven't already.
This couldn't be more true in the times that we find ourselves in right now. Amidst the trials and tribulations of the current global situation, there is joy to be found at the stove. Using whatever your local shop's shelves have to offer, home-cooked and baked fare is a source of simple pleasure.
While, for some of us, bustling about the kitchen to bring up a tray of breakfast delights for mum might not be possible this year (if you, or they are self-isolating), what you can do is cook up a batch of home-made marmalade and leave it at her doorstep, ready to spread on toast or crumpets and take back to bed. Failing that, pour it from pan to jar, pop it in the cupboard and tell her it's there, ready and waiting (our recipe will keep for up to six months) for the belated Mother's Day breakfast that will be, the moment that normal service resumes…
Mother's Day marmalade
Makes enough for: six jars (ones that hold up to 450g so there's plenty for yourself and neighbours too)
Put aside: two and a half hours
What you'll need
A short, simple shopping list to make ingredient-hunting as easy as possible – but make sure you have muslin and jars for decanting.
One (large) lemon juiced
1kg (large) oranges
1.8kg caster sugar
A pinch of saffron strands
What to do
1 Start by sterilising your jars so that they're ready to be filled when the time comes. Either pop them in the dishwasher or hand-wash them in boiling water and let them dry completely. Then, put a saucer in the fridge – you'll need this later, trust us!
2 Next, wash your citrus fruit under the cold kitchen tap and place to one side.
3 Fill a large saucepan – one that will take two litres of cold water. Place the fruit in the pan and bring it to the boil, leaving it to steadily simmer (with the lid on) for two hours. Prod them with a fork to make sure they're nice and soft before you turn off the heat.
4 Take the softened fruit from the pan and leave it to cool. Meanwhile, using a measuring jug, check you have 1.5 litres of the cooking liquor remaining. If you don't, just top it up with filtered water and pour it back into the pan for later.
5 Halve the cooled fruit and spoon out the pulp along with the saffron strands into a muslin bag or cloth that's tied tightly into a pouch. With the rind, slice it very finely (unless your mum prefers a coarse cut marmalade), and tip it all into the saucepan, as well as any après-chopping citrus juice, and the muslin.
6 Turn up the heat under your filled saucepan and decant the sugar, stirring occasionally until it's fully dissolved – it should take about 10 minutes. At this point, you can bring the mixture to the boil and let it bubble away for roughly 25 minutes to reach setting point.
7 Remember the saucer you left in the fridge at the start? Retrieve it so that you can see if your marmalade has set. Dollop a teaspoon onto the saucer, leave it for one minute, and if a slight skin forms and the mixture wrinkles when you push the marmalade with your spoon, then it's time to take your pan from the stove. If it's still runny, let it boil for another five minutes, try again, and repeat as necessary. If you have a jam thermometer, just wait for it to hit 105℃.
8 Take out the muslin bag and then let the mixture cool while skimming away any layer that could have formed on the surface. Pour into your ready-to-go jars and it'll keep for up to six months in a cool, dark cupboard.
You could always…
Experiment by putting in less sugar and adding honey instead to reduce the levels of refined sugar. But watch out – the natural pectin from the fruit reacts with the caster sugar to create the jam-like consistency which can be tricky to recreate with a sugar substitute.