A spiced fig & thyme winter cocktail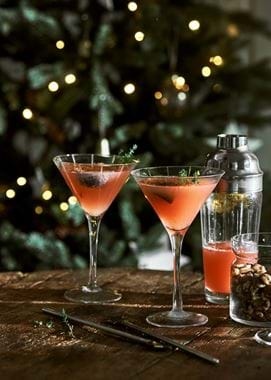 A spiced fig & thyme winter cocktail
Is a celebration ever quite complete without something extra special for sipping on? A glass of wine is glorious, a champagne in hand magnificent, even a gin and tonic with an unexpected garnish is a drink to mark an occasion, but nothing quite tops the spectacle of a cocktail. Always indulgent and quite often adventurous, a cocktail never fails to feel like a treat. And when they're created with seasonality in mind, they become ever more enjoyable and relevant to the time of year and event in the question. And so, ready for Christmas, here's the recipe for the aromatic elixir that we'll be serving up.
P.S. the thyme syrup makes for a charming hand-crafted gift if you're short on ideas or if somebody's present somehow slipped your mind.
Makes enough for one serving.
What you'll need
For the thyme syrup
65g sugar
120ml water
5 sprigs of fresh thyme
For the cocktail
45ml pisco brandy (Pisco Bauzá works especially well)
10ml Cointreau
15ml homemade thyme syrup
15ml fresh lime juice
1 fresh fig, quartered
For decoration
1 sprig of fresh thyme
Half a fresh fig
What to do
Begin by concocting the homemade thyme syrup, for which you'll need a small saucepan on a medium heat. Add the sugar and water, stirring until the water gradually heats and the sugar dissolves.
Once there are no remaining sugar granules, place the thyme sprigs into the pan, leaving them to simmer and infuse for ten minutes.
Simply leave the thyme blend to cool before bottling it up and taking it to the fridge where it can stay chilled for up two weeks. You can choose to leave the thyme in the bottle for a stronger fragrance, or remove if you're happier without.
Now you can turn your attention to cocktail-making. For this part, you'll need a cocktail shaker. Fill it with the thyme syrup measure and a single fig quarter. Muddle them together with a stirrer and the fig will begin to break down and lightly colour the syrup.
Next, add plenty of ice, pisco, Cointreau and lime juice to the shaker, and with the lid on, shake vigorously for at least ten seconds.
Serving time. Take hold of your chosen cocktail glass (our Mayfair martini glasses are perfect for the task in hand), and make sure the strainer is in place on the cocktail shaker.  It's best to double strain for a smoother finish, so take a tea strainer or sieve and place that over your glass and pour.
Garnish each serving with a small sprig of thyme and half a fig in the base of the glass.