Dressing for the occassion - New Year's Eve tabletop styling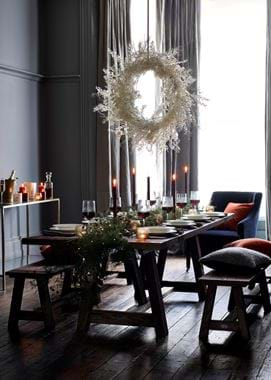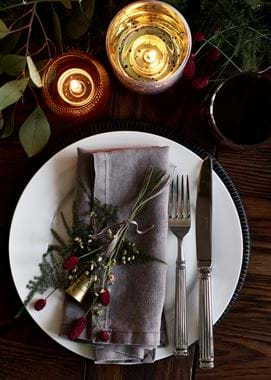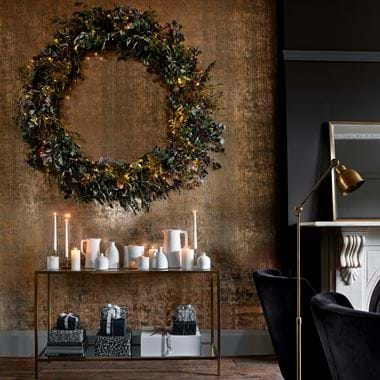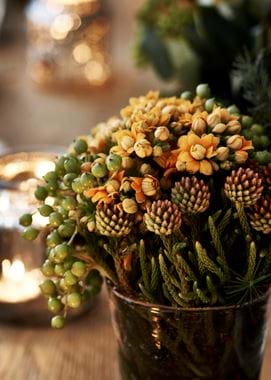 Dressing for the occassion - New Year's Eve tabletop styling
December is generally dominated by all things Christmassy, which is no bad thing of course. Waiting for its moment to shine however is New Year's Eve – the second wave of festivities emerging from Christmas and Boxing Day's shadows. Perhaps you have a party to attend or are keeping things casual at the local pub, but if not, and you're planning on being the host for a New Year's supper and supping soirée, here are some dining table dressing tips to borrow from the Neptune team.
Go lighter on Christmas decorations
Every home has a different rule on when to take down the Christmas decorations. At Neptune, we're more in the camp of gradually reducing them so you don't go from all to nothing, instead gradually transitioning out of all things festive. This way of thinking works well for creating some difference between a Christmas Day dining table and a New Year's Eve scheme.
While Christmas spirit is still alive and kicking on the 31st, now is a time for celebrating the year that has been and is about to be gone. So, tone down your decorations, keeping to a few motifs and the odd bit of sparkle.
In our New Year's dining room pictured, we chose to keep our understated pine garland for the table's centrepiece, but swapped the starry Hazlitt fairy lights for the beaded Goring ones – a subtle difference that means there's still a sense of magic but without the festive-shaped motif.
Create a sense of spectacle
New Year's Eve is a cause for celebration, pomp and splendour. So make sure your dining room decor is up for the task in hand by giving your table a multi-dimensional centrepiece. What you put down the length of your table's middle is just the beginning; think about what catches the above the centrepoint by hanging a showpiece from the ceiling that falls just above your eye-line when seated.
Continuing with the less-is-more Christmas theme, we felt it was too soon to do away with having a beautiful wreath on display. In place of a quintessentially Christmassy one like Harlow and Bedgebury, consider a dried, feathery design that's pale in colour so that when it catches the light, it appears almost metallic or luminous. Hang it with clear wire and it'll look as if it is floating mid-air, or a fine piece of black ribbon if you'd rather some contrast – just steer clear of anything too thick or colourful for New Year.
Lay out place settings
No dinner party is complete without each person's place setting having been given care and attention.
On Christmas Day, we're big fans of bringing Christmas decorations onto the tabletop, putting a bauble in each person's bowl or scattering our Stella stars down a runner – if you're using one. For New Year's Eve however, we'll be sticking to a bouquet garni of sorts – a lovely herbal cluster that will lightly scent your table and hint at what food's to come – with a touch of colour tucked into the twine for good measure (try a sprig of rosehip or snowberry) laid on top of a linen napkin.
If you did want to sneak in something a notch festive, we'd suggest just one of our Clement bells hidden amongst the herbs, peaking through with just a glint of gold – a colour made for celebrations.
Make sure everything's aglow
Candlelight is always one of your closest companions when creating atmosphere. Tapered candles and elegant candlesticks are a prerequisite for any dining table, but don't limit the glow to them alone. Indulge every guest by adding to their place setting a couple of tea light holders around the top arc of their plate (two works well if each person will have one glass at the table, or just one if you're serving both water and wine – more three items gathered around the plate will appear cumbersome). This way, you'll have both low-lying candlelight and then another layer slightly higher so the glow is seen and felt.
Remember also to illuminate beyond the tabletop, resting candles on nearby ledges, mantels and occasional tables to bring the whole room together.
Set up a beckoning bar
Whether you want guests to be able to serve themselves or just want them to see the available options for sipping and toasting all New Year's eve long, establishing a bar area in your dining room is always a fun touch.
If you didn't fancy a bar trolley, then a console table performs the bar role with utter ease. Position it close by to the dining table and dress it with a few of the same accessories to link the two surfaces – one or two of the same dining table candles is a good move as it makes the bar all the more tempting. Because remember, there isn't just one table to dress at New Year, but two – one for quaffing and the other for toughing.
Wishing you the happiest of New Years