In the floristry workshop: the making of our handmade wreaths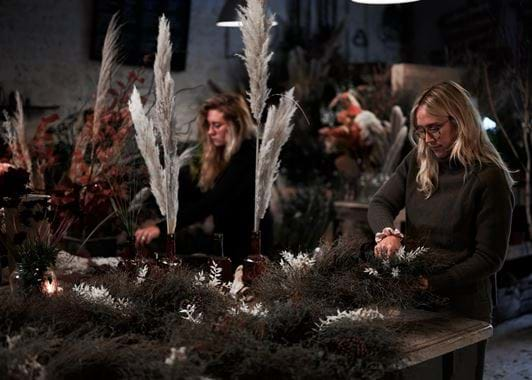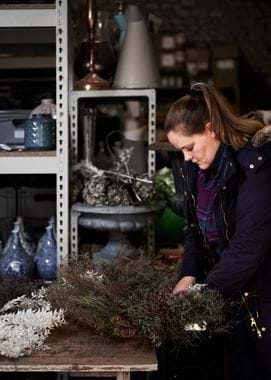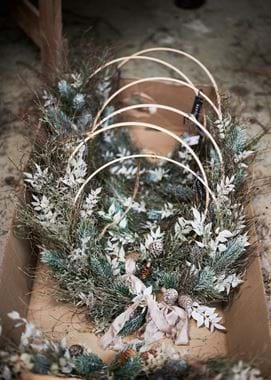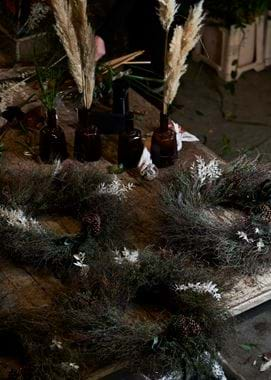 In the floristry workshop: the making of our handmade wreaths
The Christmas decoration that spells out the festivities from your front door onwards, a wreath is there to welcome, to branch out beyond spruce and fir, and to adorn doors and walls indoors and out. This year, instead of remaining in the reserve of life-like wreaths like Alban, twiggy formations like Hollington and Oralie, and frothy evergreens like the mini eucalyptus wreath, we've added two dried designs made by hand by a favourite local florist of ours – Flowers by Passion. The Bath countryside-based floral studio's quintessentially English creations are found across some of Britain's most discerning establishments, including the Soho House properties, as well as society weddings and leading lifestyle magazines. In this exclusive interview, we caught up with Jo, the founder and lead florist of Passion to learn more about the thinking and the making that goes into each of our made-to-order Christmas wreaths…
Which flowers and fillers did you choose to use in our festive wreaths?
We particularly like using thyme, dried heather and bleached ruscus in dried wreaths, so have used all three in both the Wisley and Norbury. On top of these, there are different species in each design such as locally-picked, fresh winter greens like pine and mixed cones to ensure they aren't just different in their shape and size but their style and colouring too. Of course, the foliage is the hero of the wreath but the silk and velvet ribbon ties that we use to finish the designs really contribute to their character too.
What makes each of those species special and work so well in a Christmas wreath?
The unifying character in our festive foliage is their delicate nature and soft tones. Such an ethereal spirit comes through and I find that especially timeless at Christmas. The subtle scenting is also important as it means the wreath isn't just a visual experience. The fragrance needs to be strong enough to be detected but not too heady, nor too typical of the season. By selecting less-expected scents like thyme and heather, your wreath could even remain in use long after Christmastime.
Could the same foliage be used in other Christmas decorations? And if so, what would you suggest using them in?
Absolutely. We often use the same species in garlands for mantelpieces and staircases. Creating movement and texture is key as it softens the space and makes delicate shadows in the low winter light typical of December – and this is precisely what this foliage selection provides.
Is wreath-making a time-consuming task? How long does it take to make a single one of your wreaths?
Handmaking wreaths is such a beautiful and meditative task, creating a continual circle of foliage piece by piece, layer by layer. After gathering the ingredients needed, we carefully and securely bind the foliage onto the frame – no part of it should be rushed. I would say each wreath takes generally upwards of an hour from start to finish.
Any tips for making your own wreath?
Of course! The frame is your foundation, and you can purchase wire or wooden ones from your local florist. Ask them for some bind wire too, so that you can secure your sprigs into place as you go, and then the rest is up to your creativity.
These days, wreaths range from loose and wild to dense and full, so do some research first, be it on Pinterest or magazine mood boarding to see which style you like most. Collecting materials and perhaps laying them out around the base can be helpful in deciding your design direction. Also, look at which additions you might like to incorporate, such as rustic bells, dried seed heads, and ribbons. These help to personalise your wreath to your home.
Can you use your dried wreaths both inside and out?
They certainly can, but we generally advise that an indoor environment will suit them better where the dry conditions preserve them well. Try, if you can, to style them away from direct sunlight or areas where there might be moisture – they prefer stable conditions.
Would you say either of the wreaths better suit a contemporary or country home?
Are there any incredible Christmas displays you're working on at the moment that feature wreaths that you can tell us about?
Right now, we're in the midst of making some amazing wreaths for a few of London and Bath's finest hotels. For them, we're using a lot of dried bracken, thyme and statice. Inspired by hedgerows, we want to keep things natural, but with hints of gold and copper. Our biggest wreath to date is a 10ft-wide pine wreath, which will be amazing to see lit up and in place come December.
And finally, would you say that wreaths are the new Christmas tree?
Maybe not the new Christmas tree – we can't see those ever being replaced. But wreaths definitely seem more popular than ever. With boundless styles and variations, they're perhaps the most accessible Christmas decoration to welcome people into your home. We're expecting the demand for them to only grow and grow…
See our dried wreaths by Passion up close.