Sourcing stories: Teeny Greeny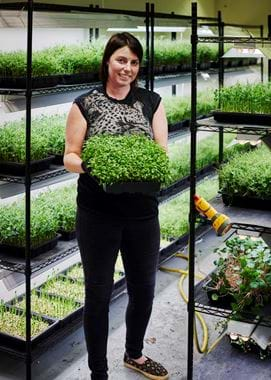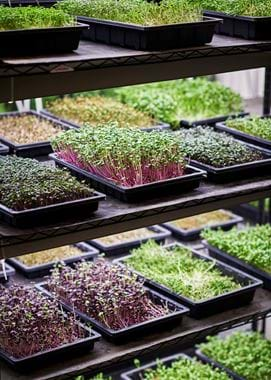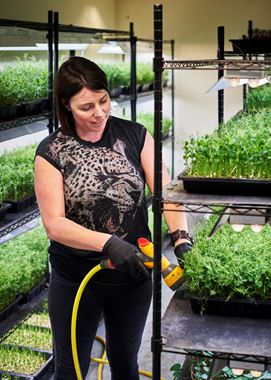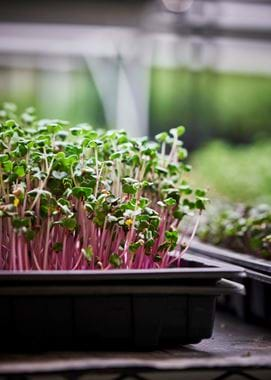 Sourcing stories: Teeny Greeny
Micro in name, micro in size, but microgreens aren't to be confused with seedlings or shoots. These small but mighty herbs and vegetables are known for their incredibly high nutrient profile as well as adding a delicate touch of colour and texture to a plate. We use a combination of different microgreens on lots of the dishes served at our Bath-based café, The Provenist, and here we talk to their growers – Teeny Greeny, Wiltshire's first and only urban farm.
Can you remember the moment you decided to set up Teeny Greeny?
"Absolutely. Not just because it felt pretty momentous but because it was actually only a year or so ago – Teeny Greeny's still a baby of a business. After I'd had my eldest son, I had this new-found interest in food and traceability. I set up a business called Mayfield Organic to build a network of superstar local food producers to make it easier for people to buy from them. I absolutely love connecting like-minded souls so we can all do some good together. Through Mayfield, I met a man called Lee and found we had the same vision. He's the one who set up Teeny Greeny but then I took the reins and now run our urban farm a stone's throw from our family home."
If you had to sum up what makes your farm different, what would you say?
"If I had to say what makes us, us, I'd say it's the fact that we're biodynamic cheerleaders first and organic growers second. I really believe in spreading the word about the incredible nature of microgreens."
So, what makes microgreens so great?
"There are two main fab factors. One, you can grow them from floor to ceiling or even in a space as small as a window box. And two, they're jam-packed with nutrients – up to 40% more than their adult counterparts. Every millimetre of a microgreen is nutrient-dense. An excellent example is our Purple Radish microgreen that contains vitamins A, B, C, E, K, alongside iron, magnesium, zinc, phosphorus, potassium, and plenty of protein. They're also choc-a-block with calcium, carotene and chlorophyll, not to mention antioxidants and amino acids. They're not kidding when they say the best things come in small packages!"
Have you got a personal favourite micro?
"I use microgreens every day, from garnishing a soup or salad to throwing some into a smoothie – I love them all. But if I had to pick one, I'd say Blue Pepe Nasturtium because it starts off looking as ropey as heck but within a few days, it transforms into having the most glorious jungle-like leaves."
Tell us more about what it means to be biodynamic.
"There's no back-up planet out there that we're aware of. So we've got to do whatever we can to take better care of the one we've got, and that's why everything we do at Teeny Greeny comes back to being kind to the environment. Synthetic fertilisers, pesticides, herbicides and GMOs never come anywhere near what we do. We also think about our carbon footprint as much as we can by sourcing local compost, buying our seeds from British suppliers and letting any of our own green waste compost down on our farm. Our packaging is made from plant-based starch too and will compost within 12 weeks."
You're an urban farm. What exactly does that look like and how does it work?
"We don't need hectare upon hectare of field space to be able to call ourselves farmers – the whole microgreen process can take place somewhere urban, and we're the first and only business doing it in Wiltshire. Urban farming also gives you more control over the conditions rather than relying on the climate, which means we can grow superfood all year long.
"In terms of what it looks like, from the outside it looks like a standard garage, but go inside and it's a magical green wonderland. You wouldn't have a clue from the other side. It's only a 10 x 20 ft space but we're able to grow ten different varieties of microgreen. Not the whole rainbow like some people do; I want to stay small and artisan with quick turnaround sorts. That works best for me and my family. Aside from lots of racking, my garage is basically filled with happy plants and people. We even sing and play music to our micros – the vibrations are meant to be good for their growth!" 
What's your ultimate aim with Teeny Greeny?
"To get people far and wide interested and excited about the great things that come from growing microgreens. This is about so much more than just me, my family and our business, it's a public health and consciousness thing. I want to show as many people as I can just how easy it is to get going and growing. You don't need loads of room, knowledge or time to sow your seeds, they need very little TLC and they'll be ready for eating in as little as 10-21 days. I like to think of us having a Teeny Greeny tribe all over the world where we're all lapping up the superpowers that come from these unsuspecting shoots. We care about health and happiness, and for me, that's what microgreens are jam-packed with."