Getting creative with tester paint pots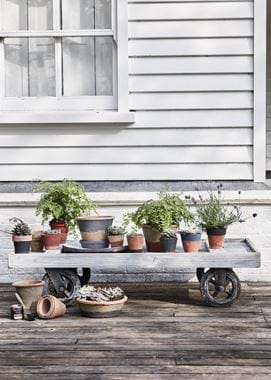 Getting creative with tester paint pots
Have you ever ordered a tester pot (or two, or ten) to help you decide what colour to pick for your next decorating project? Even though we always suggest painting a good-sized sheet of paper to know whether that particular tone suits your scheme, its light and your taste – a simple stroke on the wall is never quite enough to give you a clear picture – there's always a lot of leftovers, waiting and wanting to be used. So what to do with the remaining paint? Here are five easy ideas from five faces at Neptune HQ.
Paint your pots – Meaghan
"I love having a mixture of terracotta pots in my garden, but brand-new ones can look too smooth and shiny. To help them blend in, I use leftover tester paint to colour in any newcomer plant pots. By adding a band of colour, the pristine terracotta pots are toned down and feel more rustic. Usually, when you decorate, you're torn between a few like shades rather than ones wildly different. This is good news for your garden, because you know that when you're using up the tester paint, the tones you'd picked are likely to all complement one another."
Be creative on walls and woodwork – Heather
"I have to admit, I haven't actually done this yet, but I've been saving tester pots with plans to try a little decorative painting on timber furniture. I was inspired by the patterns and motifs painted by the Bloomsbury Group artists Vanessa Bell and Duncan Grant all over their home, Charleston, in Sussex. They decorated everything from the walls to the fireplaces with trompe l'oeil panelling, classically-inspired figures and wallpaper-like paisley patterns. I'm not feeling quite that brave, but I do have plans to try adding geometric detail to my TV cabinet. Hopefully it'll bring in a touch of Charleston's imaginative, artistic feel to our living room."
Paint unloved areas – James
"Unused paint from your tester pots is a really good opportunity to look around the house and think about any small bits you've overlooked that would benefit from a bit of attention. When we moved into our place, there was a fitted cabinet in the bedroom with plain pine shelves inside that we'd never done anything with. There were only five of them and they're not very big at all, so I used the remnants of one of my tester paint pots to jazz them up. It looks so much better for it. Another time, I specifically ordered a sample paint pot to get creative with the upstands on our painted wooden stairs. I knew a 2.5l tin would be too much and I didn't want to waste any. Because they're so inexpensive and the result's so impactful, I find that tester pots really help to unleash your arty side."
Freshen up any picture frames – Krystle
"Meaghan might take her tester paint to play with pots, but I like to use mine to freshen up picture frames. There's a school of thought that says you should be using eggshell paint on anything wooden, but that's not the case; emulsion is perfectly suitable and just gives a matt finish rather than a glossy one. If I'm doing things properly, I'll use a primer beforehand, but I'm not always hugely worried about doing that. At some point soon, I know that I'll fancy changing the colour again so a pristine finish isn't vital."
Keep it to hand – Oliver
"I feel like my idea is hardly as creative as everyone else's, but don't knock the sensible suggestions! We've got a few bits of painted furniture in the house and it's handy to have a tester pot to do any touching up. In fact, my wife got us a tester pot of paint only last week because one of our dining chairs has got a fair few chips. Our daughter likes to drag her chair across the kitchen to help with the washing up, so it's looking a bit worse for wear, and like James said, it'd be a bit wasteful to buy a massive tin of paint for what's quite a small area to correct. It might be a year before I actually get around to doing it, but it'll be there when I'm ready!"
Remember that when your paint's all used up, you'll need to dry out the tin before you recycle it. Sand and sawdust are a good way to make sure any paint lining the tin hardens completely, and then take it along to your local household waste recycling plant. Or, keep it and use it for storing things like nails and tools in the shed.