Top tables: choosing a dining table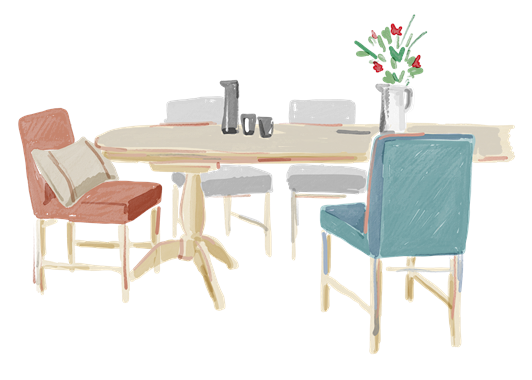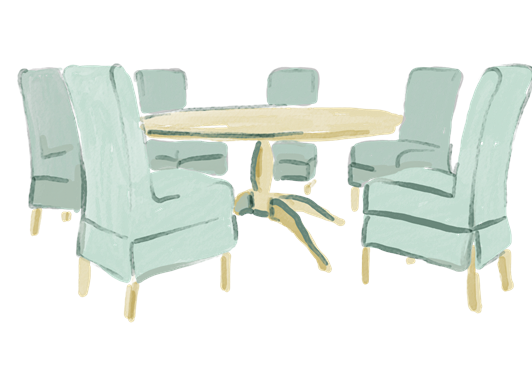 Top tables: choosing a dining table
Choosing a dining table isn't a decision to rush into. It's an investment piece; one of those items of furniture that acts as the hub of your home and that everyone will gather around for years and years to come, be it for good food, doing the paperwork or, preferably, reading the papers. But how to choose? Size versus shape. This style or that? Extending or no? And should your chairs dictate the table or the other way around? We've written a collection of advice pieces on helping you to find your top table, but here, interiors writer Jo Leevers provides us with a concise guide of considerations to bear in mind while table hunting.
Years ago, I saw a mesmerising film clip. Shot from above, it was speeded-up footage of a young couple getting their newborn baby ready to go out. Back and forth they flit, dashing in and out of shot, doing 101 other things but always returning to the compelling centrifugal force that was their baby. That film came back to me when I started thinking about dining tables. If you're thinking, "Nope, she's lost the plot…" just stay with me on this one.
Definitely less needy than a baby, your dining table still exerts a similar pull. It's a hub that draws you and your family around it. If you were filmed from above for a day, chances are you'd also be captured dashing to and fro, laying plates, clearing them, grabbing a coffee, helping with homework and, finally, relaxing around it.
Your table is a centrepiece in the truest sense. It gets used countless times a day, a week and a year. It's where suppers are hosted, and life admin is tackled. Which is why it has to be practical as well as good looking. Here's how to choose the one that's right for you.
Size
The perfect table is neither so small it looks lost, nor so vast that it dominates. You also need to allow space for chairs to be pulled back, so guests can get to their places without everyone shuffling in a bit. Modern tables are generally a standard height – leaving around 74cm from base to floor – but vintage pieces can vary. Antiques restorers often have to add extra inches to French farmhouse tables because today's diners are much taller than your average 19th-century farm worker.
If you can't decide between a size that works for day-to-day meals and a larger one for entertaining, an extendable style is your friend.
Shape
Rectangular is the norm, echoing the shape of most rooms, but there's something very appealing about a round table. King Arthur made a point of its egalitarian shape and it does feel instantly inclusive when everyone faces each other. Circular tables also do away with what mid-century designer Eero Saarinen famously called the confusing 'slum' of table legs. A central slender plinth solved the issue for his iconic Tulip table – and works equally well on Neptune's wood versions, Chichester, Henley and Sheldrake.
Material
Wood has an unbeatable warmth and grain (which Neptune recommends preserving with its IsoGuard® oil), but if you prefer a contemporary look, glass, marble or powder-coated steel will add a bit more edge. Which brings us to…
Style
Your table is an investment, so it needs to go beyond the bland with a character that suits your own innate style. If it makes you think, "It'll do," it really won't. If you're thinking, "I love it – those tapered legs are gorgeous and it'll works with our chairs," you've found it. 
Chairs
Ah, yes, chairs. They really shouldn't be an afterthought because they also influence whether a table works. That's not to say you're restricted to a style identical to your existing chairs – far from it – but some correlation is a very good thing. Look at tones, materials or shapes that overlap. A table in a grey-toned oak would work with chairs in grey-toned upholstery, like wool. Or a simple trestle table looks right at home with spindle-backed chairs because it echoes the simple, smoothed angles.
And if you're choosing new dining chairs, sit on them…then sit some more. Because a good chair is designed with behinds and backs in mind. And a bad one will have you shifting, stretching and fidgeting within minutes.
Is there really a logical link between a baby and a dining table? Probably not (except in my mind's slightly random filing system). Nevertheless, when the time comes, congratulations on your beautiful new arrival.