A simple, spiced and subtle Easter cake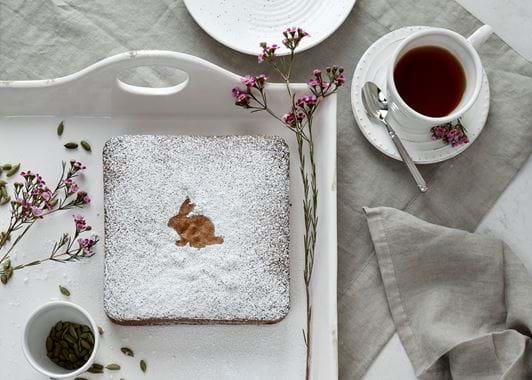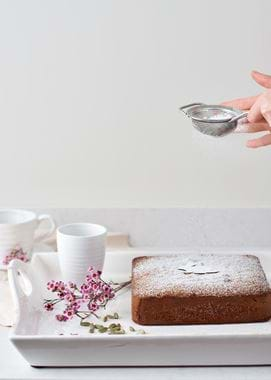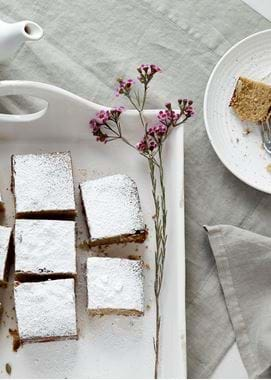 A simple, spiced and subtle Easter cake
With Easter baking, it's so tempting to do one of two things – chose a classic like Easter Simnel Cake, or, to focus on decoration that involves eggs, rabbits and chicks-in-nests. Over the years, we've certainly done both of those things, and will certainly be doing them again. But this Easter, we've decided to do things a bit differently, picking a cake that's much more understated in looks but packed with flavour. Lightly spiced was a must for Easter, but we wanted it to be delicate too (it just felt right for spring) and to have some sort of link with our just-launched spring collection. So, we brought in a few drops of rose extract, as a little nod to our newest colour – Old Rose.
To turn what we had in mind into a recipe for us all to follow, we turned to our resident cook, Sam Wylde, from local, independent café and restaurant – Sam's Kitchen Deli. This is what he had to say: "This is one of those simple, beautiful and light cakes that does all the talking. It doesn't need any decoration apart from a little icing sugar and it suits any time of day. It's particularly good with a pot of Earl Grey."
Cashew, rose and cardamom cake
Makes: ten slices
Put aside: 30 minutes for prep, one hour and ten minutes for cooking, and two hours (ish) for cooling 
What you'll need
375g cashews raw and unsalted
315g caster sugar golden, ideally
250g semolina
200g butter unsalted and at room temperature
80ml honey clear and runny
8 egg yolks free-range
4 egg whites you can freeze the other four for meringues
2 tsp rosewater
1 tsp ground cardamom
1 tsp ground cinnamon
¼ tsp ground nutmeg
A knob of butter for greasing
A dusting of icing sugar for decorating
What to do
1 Preheat your oven to 150°C fan, or 170°C.
2 Grease a 20cm square cake tin with butter. You can melt it and brush it on if you prefer. And then line the base and sides with non-stick baking parchment.
3 Now onto the bake. First, blitz the cashews in a food processor until they're finely chopped. If you don't have one, you can do this by hand but make sure you keep chopping until the pieces are a similar size to breadcrumbs.
4 Beat the butter and sugar until pale and creamy – either by hand or with an electric mixer.
5 Add the yolks, one by one, beating them into the mixture each time.
6 Next, add the cashews, semolina, honey, rosewater, cardamom, cinnamon and nutmeg using a metal spoon (it'll stick to the spoon more if you use a wooden one). 
7 Using a clean, dry bowl (and ideally an electric whisk), beat the egg whites until they form stiff peaks. Then gently fold them into your other bowl, being careful not to mix them together too roughly or you'll lose some of the air from all of your whisking.
8 Tip the cake mixture into your tin and bake it for roughly one hour and ten minutes. Keep an eye on it as some ovens are quicker; you're looking for it to be firm to the touch and golden brown in colour.
9 When it's baked through, turn off the heat and leave the tin in the oven with the door ajar for half an hour. This helps it to set a bit more and reduces the chances of it sinking in the middle.
10 Take your cake out of the oven and leave it on the side to cool completely before dusting the top with icing sugar, cutting into three-inch squares and putting the kettle on.