Mix and match crockery: why one style isn't always the way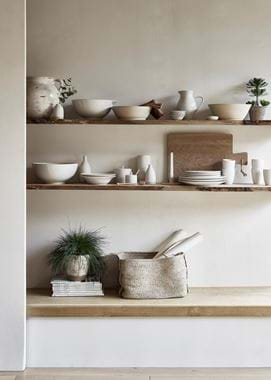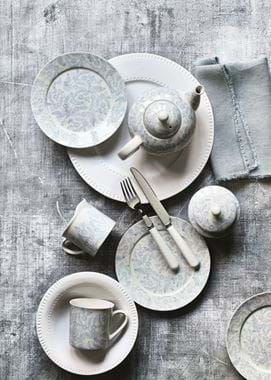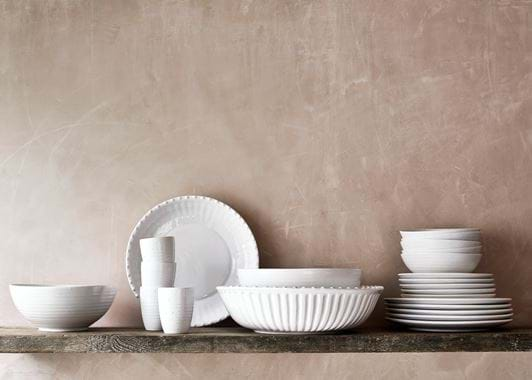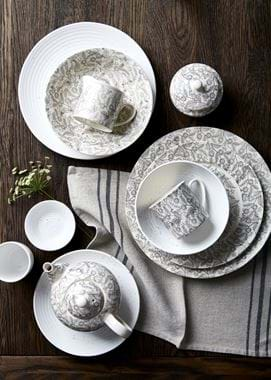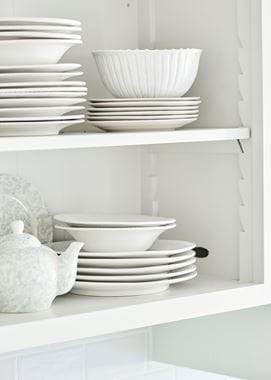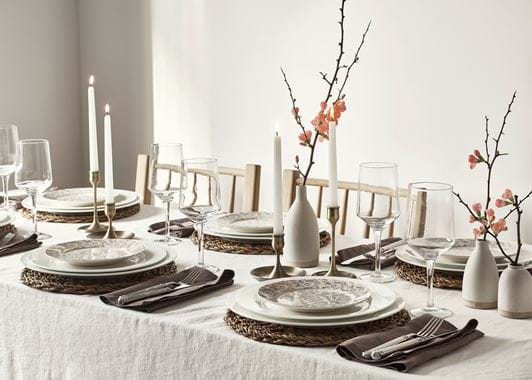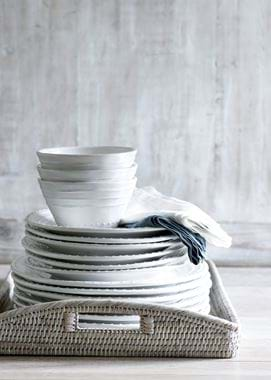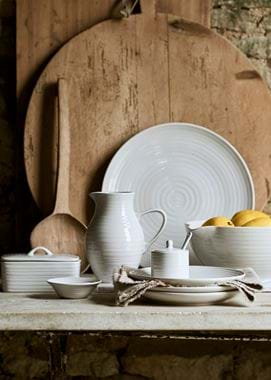 Mix and match crockery: why one style isn't always the way
Because crockery generally comes in matching sets, it's easy to find yourself using them that way every day. But when you buy them individually (all our designs are available individually in store), or when you buy two sets so you have plenty for guests, and then mix a few different designs together, things quickly become more creative. It's an easy way to build a setting that's far from run-of-the-mill.
Patterned meets plain
Start with white crockery. Just like a crisp white shirt, it's a staple. 
Lowther is a very less-is-more collection that's got a matte finish and texture and is full of speckles and swirls, as though straight off the potter's wheel. Combine it with something like our ribbed Lamorran bowls (ideal for serving big salads) and you'll see a very subtle play on pattern. Instead of being an obvious clash, the quietness of Lowther's speckles against the pattern-free ridges of Lamorran's sides is a very sophisticated way of creating an understated backdrop against an understated pattern. 
Or, take Bowsley, a textured white design with subtle edging in grey. We often pair it with Olney: Bowsley creates a calm backdrop while Olney continues the white palette but introduces us to a second colour, Flax Blue or Walnut, and an intricate pattern. If you used Olney on its own, it could feel quite formal. Combine them though, and your table becomes more relaxed.
Dimpled meets smooth
Contrasts can be quiet ones and don't always have to be about pattern and colour. If you prefer a pure white palette, introduce texture instead.
Croxton is a mix of smooth white glaze and crimped marks and dots (like the pricks and presses you do when making pastry). Layered on its own, it's simple and elegant, and its details stop it being flat.
Don't be afraid to combine collections with different details though. Bowsley is a great partner to Croxton – still white, but with raised markings rather than etched ones. 
Matte meets gloss
You could also try mixing glossier plates and bowls with more textured serving pieces and accessories.
Lewes has an even, glazed finish all over, so try putting it together with Bayham, our handmade collection. Parts of these pieces are glazed, although in a slightly specked, 'vanilla' finish, and other parts are left bare so the natural clay shows through. This combination of textures and finishes makes the whole setting feel laidback, calm and composed.
And going back to the Lowther and Lamorran pairing again, the other contrast at play between these two is down to texture. It's another example of how matte and gloss come together to bring about a satisfying amount of variation. 
The scenery of storage
If you have a dresser, glazed cabinetry or shelving, a combination of crockery styles (and glassware) all becomes part of the display
To stop things from looking busy, keep like-designs together, but then spread out what you keep on each shelf instead of having one for plates, one for bowls and one for glasses. We also like to add in potted plants and the occasional pile of linen napkins to soften the look even more.
Classic and consistent
Remember, one style of crockery is still a look to love. It's familiar, it's consistent, it's easy and it's effortless. Mixing different collections is just another way of doing things.
Fittingly, we like a mixture of the two. Sometimes we'll mix-and-match, other times we'll match-and-match. It depends on our mood, it depends on the occasion, it depends on our guests and what we think they'll like the most too.
Decisions, decisions. Options, options...