Your living room with the roof down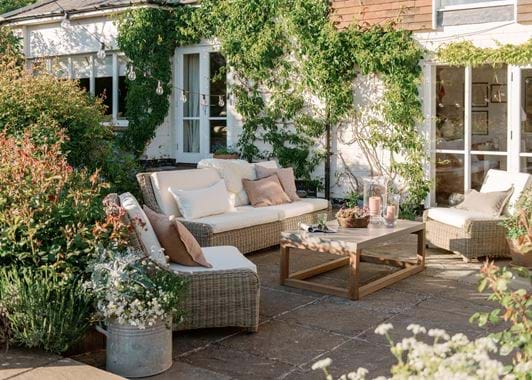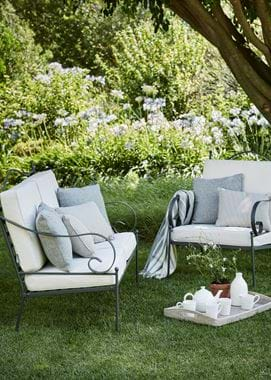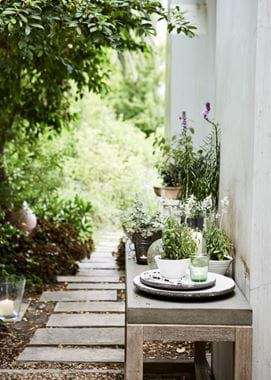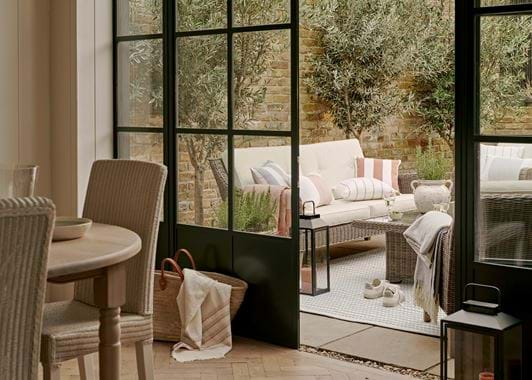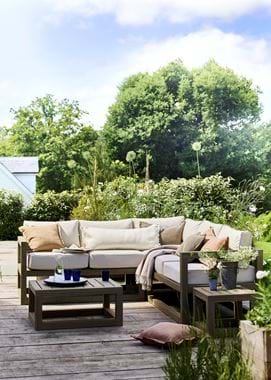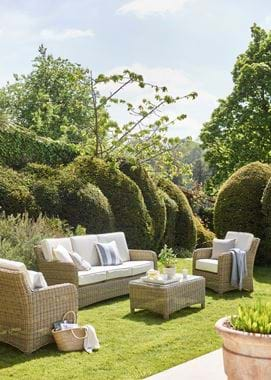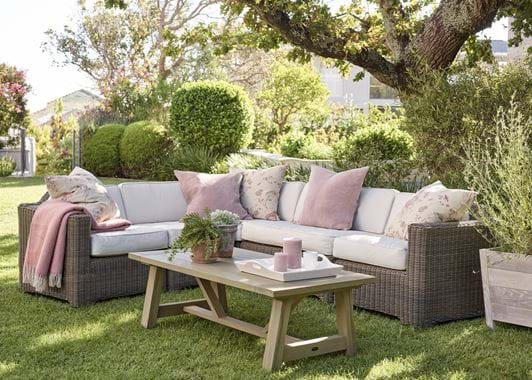 Your living room with the roof down
The living room is generally the space everybody thinks of when you want to relax somewhere comfy. It's the place you retire to; the place where you curl up. So, why not double-up your living room space? One for inside, and the other in your great outdoors. Here are our five tips for doing just that.
Think small, not big
Garden zoning is when you section up different parts of your garden to do different things. And it's absolutely the right approach when you're trying to create an outdoor version of your living room. By focusing on a small area, it naturally mirrors your interior – the whole of your downstairs isn't one big sitting room, even if it's open-plan, so neither should your garden be – and always adds to the feeling of comfort.
Starting with your garden's landscaping, consider features such as a plant-draped pergola, low-level walls, raised beds or even a sunken garden (in which a section of terrace is lowered down a few steps and surrounded by planting at head height) to section off your living space and create that sense of cosiness.
Furniture, too, can help (and is useful if you can't do any major building works). Try a corner sofa such as Tresco, or a high-backed design like Purbeck. You could even place a console table behind to place lamps and potted plants on, or use as a drinks table. 
Make a feature out of passages and covered pathways
A sense of a sitting room isn't all about the zone itself. Consider what leads up to that area of your garden and how you're going to set the scene – again, much like what's going on inside your house. Narrower sections of your garden can be treated as mini rooms too. We like to think of them as like a hallway or entryway, with a console table on the one side that you can use as a potting table, and an outdoor light or hurricane lantern to set the tone when the sun has started to set.
Softly does it
This one's hardly rocket science, but the effect that cushions and blankets have on a garden is often underestimated. Keep a basket by your back door that you can keep a selection in specifically for the garden.
Rugs are also a feature worth considering, not only because they create cosiness underfoot, but also because they'll help with the zoning. If you want to keep your rug out all summer long, opt for a special outdoor one (there are lots around these days that are made from recycled plastic but feel akin to natural materials). Or, if you're just setting up a living space for a special get-together, you can simply take one from inside. Either way, the same principles as indoors apply: your rug should be big enough to sit under at least the front feet of the principle pieces of furniture.
It's not all about terracotta
We love terracotta pots for our gardens, but outdoor planters aren't where it ends. Much like with cushions, to encourage your living room zone to feel like the real thing, bring out with you a small collection of vases, pots and any other decorative pieces to style your space as you would your interior. Try to look beyond the fact you're outside...
…while not forgetting you're outside
The garden sitting room is 100% trying to mimic your interior, but, for obvious reasons, it can't be a replica – a bookcase in the garden might not see through a single summer, and don't get us started on the television. It's a version of. Instead, we asked Caroline Beck, flower farmer and garden writer for the likes of Gardens Illustrated and House & Garden, if she had any tips on decorating with flowers: 'Planting can create intimacy, or it can make an area feel even more perfect for that summer gin and tonic with pals. The same thought you give to your garden sofa should be given to the planting – it's a question of style and what sort of feeling you're trying to achieve. Me? I like to create a simple, fragrant setting that feels fresh and awakens me, so I love using lots of herbs in that area of my own garden. The parameters for planting are vast though. It's certainly worth investing the time in doing in-depth research or consulting a gardener to find a balance that suits your soil but that also has a clear purpose in your al fresco living room's scheme.'