One man and the Matterhorn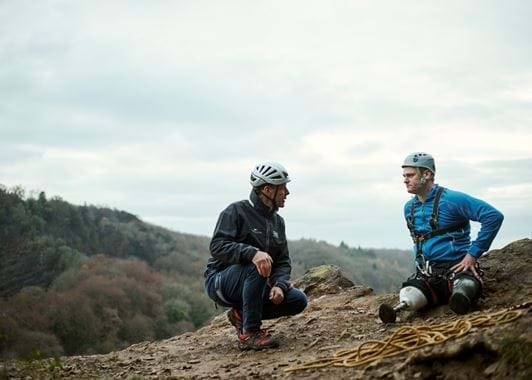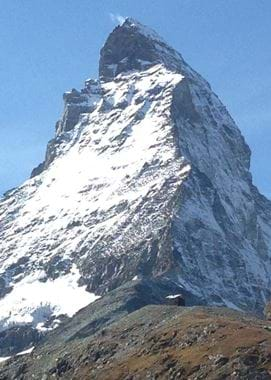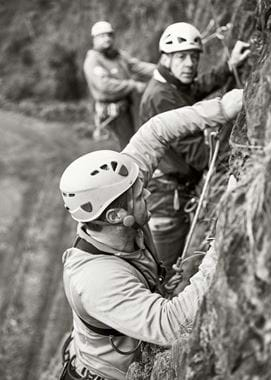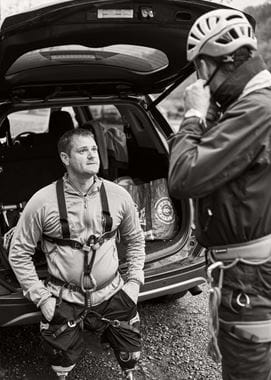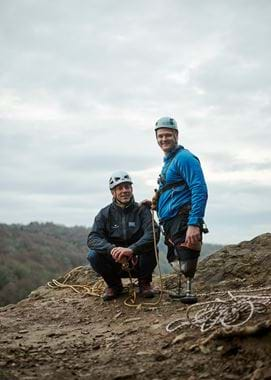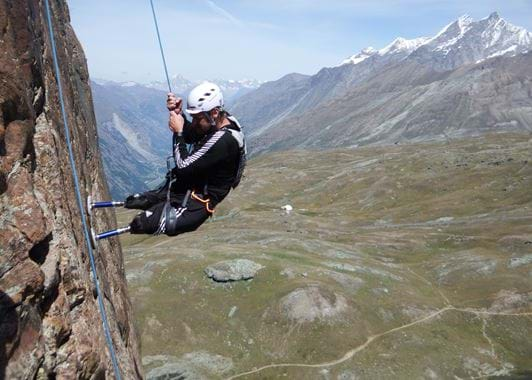 One man and the Matterhorn
There are some causes that are especially close to our hearts. Climb2Recovery is one of them.
If you haven't heard of them, they're a charity that helps ex-soldiers with life-changing injuries rebuild their lives. They do this through alpine climbing. It's about gaining confidence as well as mobility, to help them get back to their version of normal and maybe even find a new career.
It's a charity that was set up by Neil Heritage – a former solider and double leg amputee. We met him through one of our founders John, who served in the army himself and has been mentoring Neil during his own recovery. 
This summer, Neil will be making his third, and possibly final, attempt to climb the Matterhorn as part of Climb2Recovery.
We're honoured to be able to tell you his story.
Neil. In brief
In 2004, Neil was serving as part of a bomb disposal unit in Iraq when a suicide bomber detonated nearby. Neil lost both his legs from above the knee.
As part of his recovery, he's been setting himself physical challenges – not just learning to ski, but also competing in triathlons and rowing across the Atlantic as part of the first injured crew to do so unsupported. For his latest feat, he's trying to climb the Matterhorn, one of the highest mountains in the Alps.
We'll let Neil tell you about that though…
So, our first question is, why climbing? And why the Matterhorn?
"After I was injured, it took five years of recovery before I could walk full-time on my prosthetics. It wasn't exactly a great time, but at the five-year point I started to get really involved in fitness – you kind of have to so that you can physically cope with recovery, but it really helps mentally too.
"I began with triathlons as a way of staying active, but after a while I got a bit bored of the training. That's when I got into climbing. I like the technical aspect – it's more than just walking up a mountain. When I started thinking about the Matterhorn, the general consensus was that I wouldn't be able to do it with my disability. I just thought – perfect! That's the one.
"I think it's safe to say I like a challenge."
How've you been preparing for the climb?
"This isn't actually the first time I've tried it. The first was in 2016, but we got it wrong. My prosthetics were too slippery because the rubber we'd designed wore out – climbing on plastic is no good – and I was exhausted from the effort. There were only a few places we could stop and rest on the route we chose, so we had to turn back.
 "So, I went back again in 2017. This time we picked a different route with more places where we could stop and camp safely overnight, and we redesigned my prosthetics to last. But, despite it being early August, we got there to find three metres of snow. No one climbed it for the rest of the year. It was frustrating because we had everything in place and couldn't get to do it. It takes a lot of work just to get to the start point."
What's the plan this year then?
"We're sticking with exactly the same plan as last year. I'm happy and confident with it. We'll be heading out there around 20th July and start climbing on 30th. We've given ourselves ten days to get to the summit and back down again, although we hope it'll only take about six. We wanted to make sure we'd paid for the mountain guides for ten days though, just in case. They're awesome. We couldn't even think about doing it without them."
Fingers crossed you make it! How will you be celebrating if you do?
"I'm not sure yet. I almost don't want to think about celebrating yet, in case it doesn't happen. Right now, I'm just concentrating on coming down safely, then I'll figure it out. I'll probably be shattered!"
So what if it doesn't work this time, will you try again?
"I don't know. It's so hard to raise the funds, so probably not. This is it. [He pauses.] I think."
You said you like a challenge, have you started thinking about the next?
"I'd like to think I'll have a rest but, knowing me, I'll get bored. So maybe I'll go on holiday and do some scuba diving [Neil's also a qualified scuba diving instructor] rather than attempt another big challenge!
"I'll also be concentrating on building Climb2Recovery. Climbing, and being active in general, were so important to my recovery. I think everyone in the same boat as me should have these kinds of opportunities. That's my aim."
To be able to even attempt the climb, Neil needed to raise enough money to fund the travel, the kit and the incredible team who'll be with him up every step of The Matterhorn. That's what we're doing. And if you'd like to help him too, and the charity he's raising money for, Blesma, you can donate on his JustGiving page.