How to make an entrance: repainting your front door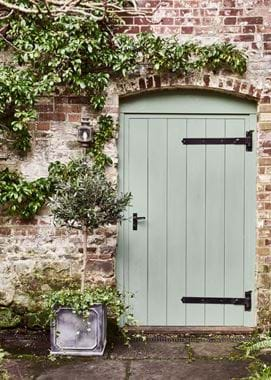 How to make an entrance: repainting your front door
Do you always notice when a house has a lovely front door? We certainly do.
Seeing as we call Wiltshire home, we're lucky to be close to lots of sleepy villages where French Grey and Sage tones tend to be loved the most, but neither are we too far from Bath and Bristol where townhouses often opt for bolder primary shades (yes, even bright yellow) or deep grey. It's hard to walk past them and not be tempted to rethink your own – or any of your exterior doors for that matter, be it garden doors or back doors.
So, every few years, that's exactly what we do. That's one of the best things about water-based paints – they're easy to change and not too expensive to do so either. If you've gone for a dark shade and you want to change to a paler one, you'll need to sand down the paintwork a bit more thoroughly and then use an exterior primer to help dilute the dark base. It might take two coats of primer and up to three coats of your new colour though (depending on just how dark your door was before) before you completely mask it. If your door's pale and you're going a shade or two darker, it's much easier, but you'll still need to use an exterior primer undercoat to get the best possible finish. As for the topcoat, you can go for specific masonry paints, but our eggshell finish fares just as well.
Late spring feels like the best time for exterior painting – when spring's time-for-a-refresh sentiment is still with us but when the weather should be drier and milder. A hot summer's day can actually be a bit too much; water-based paints dry quickly, and painting in direct, strong sunlight of course speeds it up and makes it a little more difficult to paint with and can affect the finish.
And, if all this talk of doors get you onto thinking about repainting window frames, they're really a different ball game. Repainting an exterior door or gate every couple of years isn't too daunting or too time-consuming, but window frames mean serious ladders (or even scaffolding), far more intricate work, and a much bigger budget. Plus, it's best to have a contrasting colour on your front door so it's not too matchy-matchy. Our advice? Keep your window frames the same tone, giving them a fresh coat of paint only when they need it. But for your exterior doors, update them, switch them up and try something new, as much or as little as you please...