Keeping your garden well-lit after the sun has set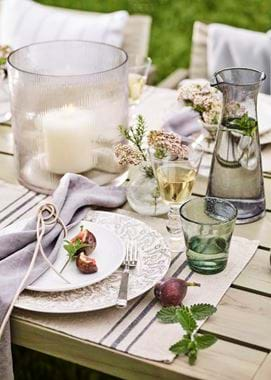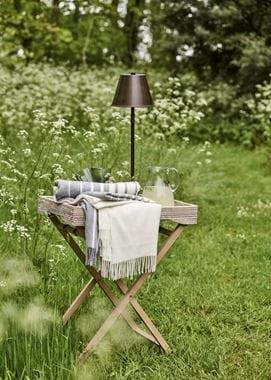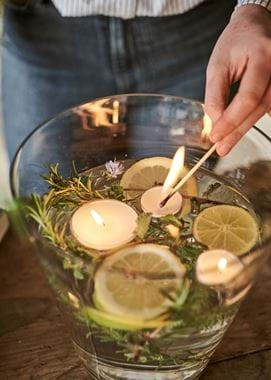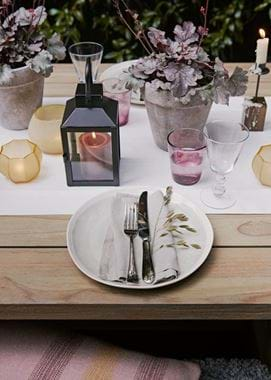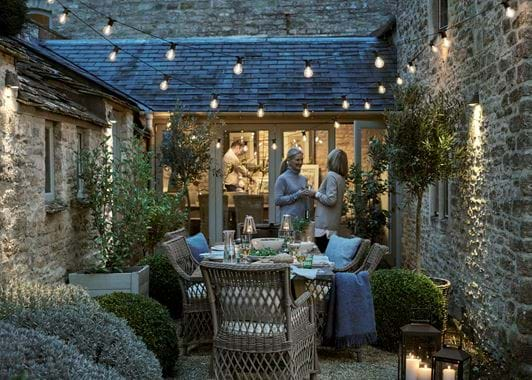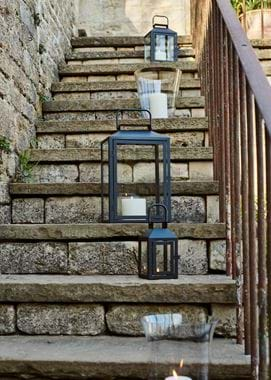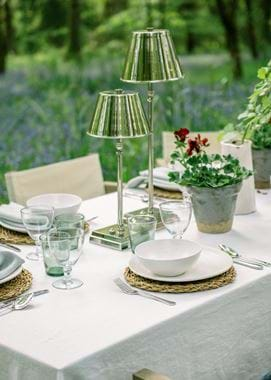 Keeping your garden well-lit after the sun has set
In the summer months, you can't move for talk about taking the indoors out. But it's not all about furniture. Whichever room (or rooms) you're trying to echo in your garden, you'll need to spend more than a few minutes thinking about lighting. Just as indoors, it's a key atmosphere creator.
Here are our four outdoor lighting tips to always bear in mind. They're simple as pie, and while any of them on their own will help you to create atmosphere, they really are best when done together. Lighting shines brightest when you treat it as a scheme.
1 Think small and narrow-minded
Not something you're often encouraged to do. But the best parts of your garden to illuminate are the slender pathways and the depths of your garden where there might be small, shaded spots.
The first reason is to do with practicality. Walkways need lighting so that you can easily and comfortably find your way as you pop in and out.
The second is for ambiance. A path that's lit along its length beckons you out into the garden. The same can be said for the tucked away areas. When they're gently lit, they become pretty and enchanting rather than murky and unknown.
2 Be romantic
Think about how you light your home in the evenings. As night falls, generally speaking, you'll instinctively dim down your lights. It's all part of the wind-down process.
Your garden is no different. In the day, the sun will do all the bright activity for you, but when dusk falls and the light becomes more soothing, you'll want to play on that feeling for the rest of the evening. 
Candles are a definite. Just because they're easy and obvious, doesn't mean they should be discounted. Quite the opposite. Sit them in glass hurricane lanterns and dot them around your garden – from corners of decking or paved areas to in-between shrubs – or on your garden table. Clusters of pillar candles on plates are a lovely touch for the table too. And mix up heights with candlesticks and tealights as well.
Candles aren't your only option though. A cordless lamp like our Hanover can offer you a little more light for reading or dining by, but as it's dimmable, is just as atmospheric. 
3 Look up
Indoors, overhead lighting is generally more about function than anything else, and you'll rarely have it on in the evening when you want to relax. But things are decidedly different in the garden. Stringing up fairy or festoon lights can add to the romance, and done subtly, is most certainly not just for Christmas. Concentrate these around your main entertaining space, be that a dining table or group of relaxed seating, to enhance the party atmosphere. 
Meanwhile, outdoor wall lights placed up high along walls and fences can be used to shine down on planting and create pools of illumination. Try our small and subtle Dartmouth. 
4 Don't forget indoor lighting
The main point with all this conversation on bridging the gap between your interior and exterior is that they should be seen and used as connected spaces. When you're outdoors, your interior lighting should become part of your garden's backdrop. The familiar scene of your kitchen, your sitting room, or whatever room looks out onto your garden, is all part of how you light your outside space. So, make sure you keep the shutters or curtains open, and one or two lights left on.