Why we love the humble garden bench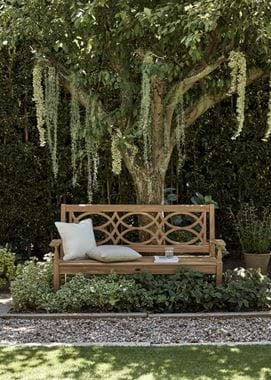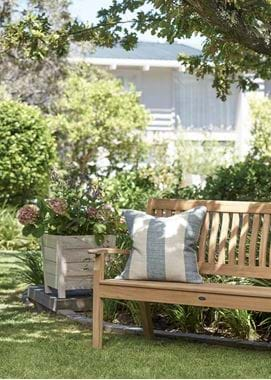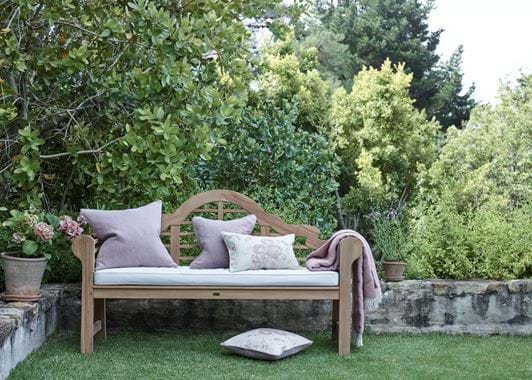 Why we love the humble garden bench
Outdoor seating almost always starts with a dining table and chairs. The idea of eating al fresco is one of the things we love most about our gardens in spring and summer months. From there, outdoor sofas and armchairs follow, even a sun lounger or two if you have the room. But what about the classic garden bench? Has it slipped further down the seating wishlist? Is it simply a bit overlooked? Not on our watch. Not if we can help it…
It's a classic
Wooden benches have been around for centuries. Towards the end of the 18th century, public parks and gardens started to become more mainstream and, a few decades later, were commonplace in most cities in Britain. People needed a place to sit. On something which was strong, sturdy and needed little upkeep. And so the wooden park bench was born. Until it came along, anyone lucky enough to have a garden took their wooden chairs from inside the house outside. But the wooden bench put an end to that, and garden benches became the go-to.
They're part of British park life and garden heritage.
It's low maintenance
The wooden park bench needed to be able to take care of itself. It needed to be a material that was tough, reliable and asked for very little. Teak was the obvious choice. It's a hardwood that's full of natural oils that put off any pests and repel water, making it rot-resistant too. And it's incredibly strong so can take some stick. It'll always fare better with a bit of TLC, but the point is, it's not vital. Teak will survive without it, because as it silvers over time, it forms a natural layer of defence. (Look out for our article all about teak in the upcoming volume of Stories, out this May).
It's 100% natural
Providing you go for a solid wood bench, there really is nothing else going on behind the scenes. It's a completely and utterly natural piece of furniture.
It's not a 'one look suits all' approach
There are wave-back benches like Canterbury – simple, slatted designs that are the most understated in looks but have a contoured back and are perfect in more contemporary garden schemes; latticed-back benches like Hatfield that are more intricate and soft on the eye and most suited to country gardens; and the most iconic of all garden bench designs, Lutyens – a majestic, statement seat based on the original created by the architect Sir Edwin Lutyens in the early 20th century. Its shape is bold yet soft, so suits both modern and traditional homes.
It's made for hidden spots
Garden benches can go almost anywhere. They're an alternative to dining chairs, they can take the place of a sofa, and they're lovely against a wall by the door as a place to sit while you take off (or put on) your shoes.
But probably our favourite place to put a bench is in those spots around your garden that might otherwise be forgotten, or at the very least, not fully savoured. The quiet corners, the patch beneath a tree, the part from where there's a lovely view, even amongst the bedding so you can surround yourself in your garden's sights and scents. Because they're made from timber, they just blend in. Like the living and breathing part of your garden that they are.