A different perspective, part four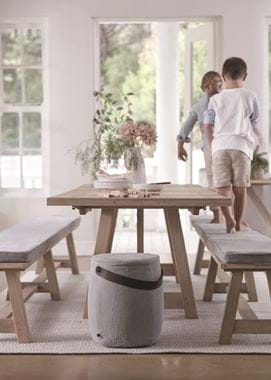 A different perspective, part four
A phrase that means a lot to us. A phrase that we think best sums up our ethos and our way of thinking. A phrase that we use as our compass, to guide everything we do.
We believe in a different perspective, from the way we design our products to the way we build our stores. Every few months, we'll be writing a short article for our journal because we'd love to share our perspective with you. We hope it sheds a little more light on what makes us tick.
So far in our 'A different perspective' series, we've spoken about designing with both perfection and imperfection in mind, and both form and function. In part II, we delved a bit deeper into design, discussing how we never want to be followers and instead prefer to balance research, innovation, engineering and learning from others to create things our own way. Then we heard from our creative director, Emma Sims-Hilditch, in part III, who shared our edited approach to colour and curation. And now we're in part IV, where I take us back into another design tenant – how we make collections that will last a lifetime, in every sense.
You'll often hear us say, or read in our literature, the word 'timeless'. That's precisely what we're trying to achieve in everything that we make. It's a goal that has two key strands. Aesthetically speaking, we want everything in our collections to endure. And doing that takes immense rigour in the design process. We have to encourage creativity to give rise to ideas that will surprise (and hopefully delight), but in a way that has constraint too so those ideas don't run away with themselves into something unnecessarily fussy. Overthinking can lead to a piece having a lack of focus and direction, underthinking can lead to something feeling rushed and without true purpose. While we have a good view on what styles won't fall out of favour in the years to come, we're not stargazers or fortune-tellers; we can't know for sure. But, by committing to the highest quality materials, focusing our eye for beautiful yet understated detail, not subscribing to fads and trends, and creating pieces that are about making life easier, we're confident that the look and feel of our collections will last the course.
The second strand of timelessness considers performance. Will it actually last? Will it actually stand the test of time? The one aspect of timelessness without the other doesn't make sense. To make something that would endure in terms of looks and usability, but that isn't built on strong foundations seems like a waste, a missed opportunity. That's why we won't compromise an inch on how we make. That may result in us crafting our collections more slowly, but the positive result far outweighs the negative consequence. And though we might talk about using traditional joinery like mortise and tenon and dovetails (because they're tried-and-tested techniques that we know can be relied upon), we won't ever choose a method for sentimental reasons. The method that will promise the structural integrity of a piece is what guides us. A dovetail sounds lovely, but if a dowel pin would perform better in a certain instance, then that's the way we'll go. 
The reason I believe this lifetime vision is part of our different perspective viewpoint is because it all goes back to our design approach, and design is fundamentally our beating heart. When we sit down as a team to create something, we don't say that we want to simply make a table and chairs. We think about all of the things that are going to happen around it, on it, under it (pets, we're looking at you). We design by thinking what's life going to throw this table's way and what can we do to make sure it can handle it for now and for many more nows to come? For you, it's a place to sit and eat. For them, it's a rather lovely looking adventure playground. Our job is to make sure it's ready for both, whether it's for this generation, or the one after.
John Sims-Hilditch is the co-founder of Neptune. He's officially the joint managing director, but when asked what job title he'd give himself, he said 'director of doing the right thing'. He's a father of three, the husband of our creative founder, Emma, and an avid sailor.