Reasons to love linen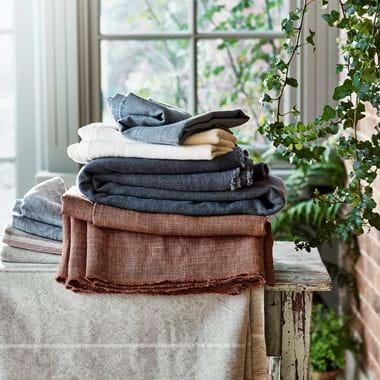 Reasons to love linen
As we add three new linens to our fabric collection, we wanted to tell the story behind this oldest of yarns, and why it's so wonderful for the home…
There are so many things to love about linen. Simply in terms of appearance it can be textured and earthy, smooth and strong or sheer and gossamer fine; it's one of the most versatile fabrics there is. Over millennia, people have kept going back to linen for its beauty and longevity. Many of the world's oldest surviving fabrics are linens, with examples dating back to prehistoric times.
At Neptune, we use linen in a variety of ways: pure and in blends with other fibres, printed and plain, lightweight and heavy. This spring, we introduce two new linens – Chloe, a stonewashed plain fabric in Old Rose and Ash, and Rebecca, an ikat print – as well as a new colourway for our classic Emma floral. As with all our linens, the yarns are sourced in Belgium, the country that's become known for producing the highest quality linen.  
Flax, the plant from which linen is made, has been grown in Belgium since the Middle Ages, thanks to uniquely favourable climatic conditions. Fine, fertile clay soil, mild temperatures and high moisture levels (the Belgian landscape is dotted with small rivers) enable it to thrive unlike anywhere else in the world. Healthy plants produce the longest flax fibres, which in turn make the softest, strongest and most luxurious linens.
By the time of the Renaissance, Belgian linen was considered the height of refinement and had generated a huge industry. In 1840, it's estimated that 71 per cent of households in the Flanders town of Tielt were involved in linen production. Today, the industry still prospers, with over 100,000 acres of flax cultivated each year – there's even a museum in the city of Kortrijk dedicated to the history of linen.
To fully understand what makes Belgian linen so remarkable though, it's important to study the flax plant itself. Sown each spring, it rapidly shows its strength, putting down roots that are as long as its stems. In June, flax fields in bloom are a joyous but brief spectacle, with clouds of blue flowers that last just a couple of days. After these fall, seed pods are formed, which are harvested for food and to make linseed oil (every part of the plant has a purpose – no wonder the Romans christened it 'Linum usitassimum', or 'most useful linen').
Harvesting the flax fibres is a lengthy procedure that requires great skill. The crop is not cut but pulled up (roots and all) using special machines; these lay the plants out in horizontal rows as they move, creating a wonderful green-striped pattern on the fields. The flax is then left exposed to the summer sun and rain for up to six weeks, a process known as retting. Sugars in the plants gradually break down, loosening the flax fibres. Only a well-trained eye can discern exactly when the plants are fully retted and ready for the next stage. Weather conditions will determine the exact shade of beige that the flax will turn – one of the prized qualities of natural, unbleached linen.
Once retting is complete, the fibres move on to the factory. Only the longest ones are spun into fine linen yarns, but the others are not discarded, and are used to make paper, chipboard and other materials. Nothing is wasted. This fact, combined with the low level of pesticides and water needed for farming, makes flax highly environmentally friendly. After it's woven into linen, it's also non-allergenic and retains its natural antibacterial properties.
The finished fabric has an easygoing charm that might best be described as 'perfectly imperfect'. You have to embrace its natural crumples and the slubs in the weave – tiny 'weaver's knots' used to mend any broken flax fibres before they're woven, that give linen its characteristic texture. These aren't flaws, but rather evidence of linen's organic beauty and the skill that goes into making it. Every piece of fabric is unique.
If properly cared for, and washed only with the gentlest detergents, linen can last a lifetime or more, becoming softer and prettier with age (the flourishing trade in antique linen sheets and tablecloths is testament to this). It can also be used all the year round, because the fibres are highly absorbent but also conductive: linen will feel cool in summer and insulating in winter.
It's extraordinary how adaptable this humble yarn really is – if you're interested in learning about it in more detail, we suggest reading this book. It'll make you see linen in a whole new light.