How to create cosiness in the kitchen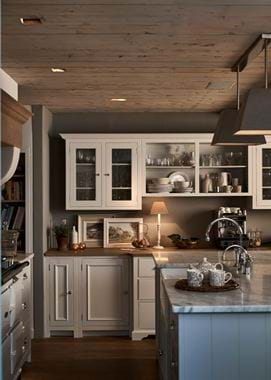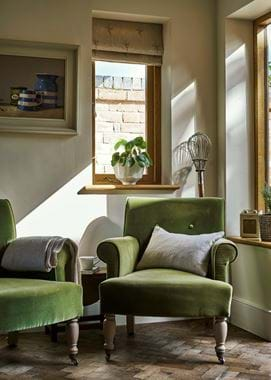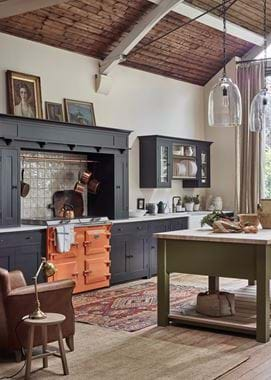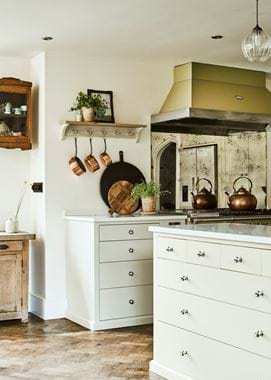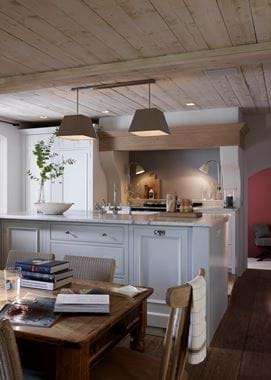 How to create cosiness in the kitchen
When it comes to kitchen design, it's all too easy to focus on layout, cabinetry combinations, appliance integration, work surface space, and so on. All things utility. Then, you might home in on handle choice, the colour of your cabinets and what light fixtures to pick. All things aesthetic. But what about touches that you can apply to your kitchen that add atmosphere, that create a particular feeling? Kitchens are said to be the main living space of the whole home, so, with autumn fast approaching and winter on the horizon, let's discuss what we can do to make them a cosy contender for sitting rooms and snugs alike.
Texture
A need for every room. Texture isn't just about visual interest, in terms of cosiness, it's a way to bring in all sorts of warming touches. Exposed stone on walls and timber flooring will make a room feel snug (especially with underfloor heating!) because we associate both materials with keeping us safe and sheltered. Take it to the ceiling and consider cladding in wooden panelling. Your kitchen will be as good as a cocoon.
Colour 
Unsurprisingly, paint has a big role to play. In the kitchen, you've got both walls and cabinetry to play with. If you're unsure of what shade to choose, speak to an expert like one of our home specialists, because not all dark shades have a warm base and light shades don't have to be all about freshness. 
Lighting
Two of our absolute musts in a kitchen are table lamps and dimmer switches. Table lamps, because they're associated with sitting rooms and bedrooms and so, as soon as they're brought into the kitchen, it immediately makes the room feel softer. Plus, they're perfect at providing a dim, soothing glow. Dimmers on all other light fixtures – from pendants and spotlights to wall lights – will give you complete flexibility to reduce light intensity and, in turn, boost the cosy factor so it becomes less like task lighting and more about ambience.
Rugs and throws
If you're worried about the practicality of a rug in a kitchen, put one close to the entrance so you walk into and onto softness, but it's away from cooking areas. You could go for a natural fibre like seagrass or sisal for more practicality. Or, if you have a kitchen table, place a rug underneath so the edges peep out and make their presence felt, and your feet are somewhere snug while you're sat down. Throws or sheepskin rugs over the back of dining chairs or on a dining bench are cosy on the eye, nevermind when you sit down or lean back into them.
Furniture
Furniture isn't just a practical thing. It makes a statement about how you're going to use a room. Having a table in the kitchen invites people in. Picture a table with a pendant over it (dimly lit of course) with a centrepiece display (be it an inviting fruit bowl or bowl of scented pine cones) and those dining chairs grouped around (with your blanket or sheepskin over the back). It's an open invitation to get comfy and stay close to where a cup of tea and a bite to eat is sure to follow. The same applies for an armchair in a kitchen with a small side table next to it, a dresser or console table. Furniture like this is another way to make your kitchen feel like a living space and not simply a place to cook, ergo making it more welcoming and cosy.
Fireside
If you're having a kitchen redesign or an extension built, why not consider having a fireplace or logburner built into the room. Wherever there's a fireside, there's warmth, there's comfort, there's cosiness.
Little touches
The presence of comforting things like cookbooks (perhaps one could even be left open to show use and love), teapots and mugs on shelving, family photos and ornaments, clusters of lit candles with matches to hand so it's clear they're not just for show, and artwork with scenes of people or food in them will all contribute to your kitchen's cosseting atmosphere. Consider what would make you enjoy spending time in a room and wish to stay there for longer. Remember, cosiness isn't all about being warm and snug (though that's a lot to do with it), it's about what people find comforting.
Curtains and shutters
Window treatments in a kitchen are an overlooked way to bring in one last dose of cosy. If your room is on the large side, and you have windows further away from the stove and hob, a pair of fully-lined curtains is such a homely addition and will keep the warmth in beautifully. Just be sure to air your kitchen as often as you can and look into having your curtains cleaned more regularly to keep them fresh. Roman blinds are another option; it's a case of bringing fabric into the kitchen that can help it feel cosier. Shutters, if your window allows them, are a way to avoid having fabric if you're not so keen though. Going for solid panels over slatted if you can, because when they're shut tight, it's as good as feeling all tucked in.
Combine a few of these elements, or the whole lot, and your kitchen will quickly become the busiest spot in your whole home in the coming months…
For help with creating a characterful kitchen, you can book a free initial consultation with one of our kitchen designers. Or, find out more about our Kitchen Design Service here.