Courgette & pea risotto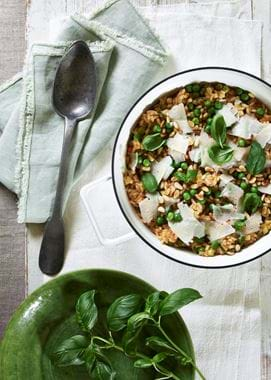 Courgette & pea risotto
A good risotto is a very handy dish to have as part of your repertoire. Provided you keep a watchful eye over it, a risotto can be a doddle to do and take on such an immense amount of flavour. You can reduce the portion size to serve it as a light lunch on a sunny afternoon, or keep it as it is with a selection of tempting salads to the side.
Makes enough for four
What you'll need
375g risotto rice
1.5l piping hot vegetable stock
150g peas
3 courgettes, finely diced
2 garlic cloves, minced
1 red onion, finely chopped
1 tbsp olive oil
1 (heaped) tsp fresh rosemary, finely diced
A large handful of fresh basil, torn
A sprinkling of pine kernels, lightly toasted
A pinch of salt and pepper
A few shavings of pecorino to serve
What to do
With all of your ingredients prepared as described, begin by heating the olive oil in a large saucepan.
Add the onion and garlic, cooking on a mid-heat until the onion starts to soften and avoiding the garlic browning – five minutes should be plenty.
Next comes the rice. Most recipes call for arborio, but it can be tricky to use unless you're a seasoned risotto maker as it's easy to overcook. If you don't make risotto often, you might find carnaroli easier. It's the most forgiving and won't make you suffer if you neglect to stir it for a while. Rice chosen, tip it into the pan in one go, followed by the fresh rosemary.
Pour in half of the vegetable stock and let it cook for ten minutes or so (until the liquid has disappeared). Try to stir it every two minutes, and increase that to one minute when there's little liquid left to avoid the rice from catching. Now add the remaining stock and cook for five–eight minutes longer.
The mixture should at this point be wet, with some liquid remaining. Place the courgettes and peas into the risotto and allow them to cook through for no more than five minutes. You want them to still have a touch of bite so there's a variation in both colour and texture.
While your greens are cooking, take a frying pan and turn it to a medium heat, but with no oil. This is to dry roast your pine kernels which boosts their flavour. Two minutes is plenty and if a few char slightly, don't worry too much. Then remove them from the heat.
Taste your risotto mixture to check everything is cooked properly. The rice should be soft but not to the point of losing its form. Mush is not the aim of the game. If you're content, it's time to add the finishing touches. You can also freeze your risotto at this point too should you want to.
Add salt and pepper to your taste and as much basil as you like, stirring to let it wilt.
Spoon generous amounts onto plates and add a few shavings of pecorino cheese on top along with a sprinkling of pine kernels, a glug of olive oil and a sprig of fresh basil. And be sure to leave enough in the pan for seconds!
You could always…
We enjoy this recipe most just the way it is. But you can always add in some free-range chicken if you like. Roast it separately with a squeeze of lemon and some cracked pepper, then tear it up and stir it in at the end.